Human Race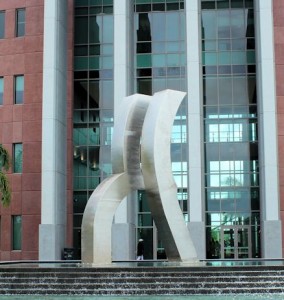 Situated at the front door of the campus' academic core, Raymond L. Lutgert's imposing geometric sculpture, Human Race, greets faculty, students and visitors to Florida Gulf Coast University. The minimalist piece consists of two 24-foot-tall curved stainless steel columns set in a reflecting pool. When the sun hits the textured columns just right, the water sparkles with patterns.
"The work symbolizes the competition of individuals whether in business or in other aspects of life," noted Lutgert, who died May 28, 2010. Allegorically, the columns can be regarded as two figures competing, the one curving forward in victory, with the other folding back on itself in defeat.
Lutgert Hall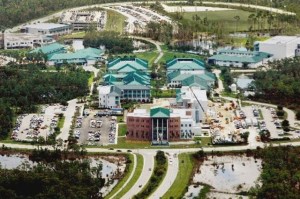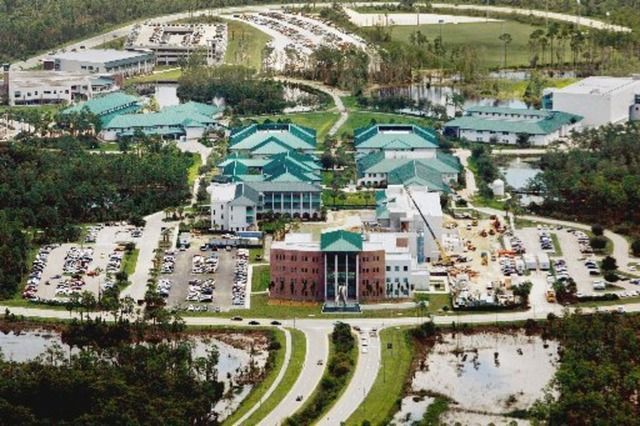 The sculpture stands guard outside Lutgert Hall. The state-of-the-art four-story facility contains 10 classrooms and two-tiered case study classrooms, three conference rooms for students and faculty, a student affairs suite, a career development suite with an interview room, a student management portfolio room and an executive training room, the dean's suite and faculty offices. The building also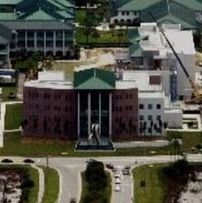 features a student advisement wing, a training classroom for EMBA and SBDC seminars and a faculty lounge. Its three-story atrium and exterior courtyard encourage small group gatherings and allow large group events to be hosted on site. The Lutgert College of Business is dedicated to providing business students with an education that mixes the tools of analysis and creativity with application, communication and team skills. The college is also a leader in serving the area business community with both credit and non-credit services.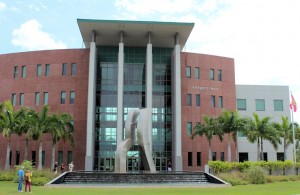 Lutgert Hall was designed by Schenkel Shultz Architecture, which has designed more than 3.8 million square feet of higher education projects nationwide, including the award-winning Stetson University Lynn Business Center, the first LEED®-certified building in Florida. Headquartered in Fort Wayne, Indiana, Schenkel Shultz has 11 offices around the country, including one in Naples and another in Fort Myers.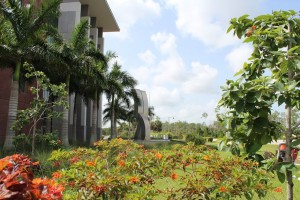 Owens, Ames, Kimball Company of Fort Myers served as construction manager for Lutgert Hall.
Naples residents Raymond and Beverly Lutgert donated $5 million in 2007 for the new academic building. A $5 million dollar-for-dollar gift match in state money, plus previously appropriated funding of $9.4 million, was used to construct the $19.4 million facility
About Raymond L. Lutgert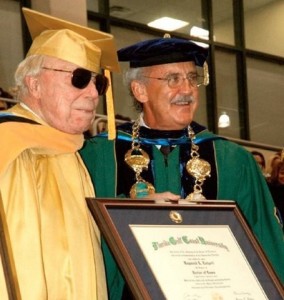 Although in his later years he became an accomplished sculptor, Raymond L. Lutgert left his mark on Naples as a businessman and founder of Lutgert Cos, whose signature projects include the Mercato in North Naples, the Promenade in Bonita Springs, the Neapolitan Way shopping center in Naples and the Northern Trust building at U.S. 41 and Park Shore Drive. Lutgert also helped start a specialized cancer center for the NCH Healthcare System and over the years his company branched out into insurance, title and mortgage underwriting, and real estate sales through it real estate division, Premier Properties of Southwest Florida, Inc.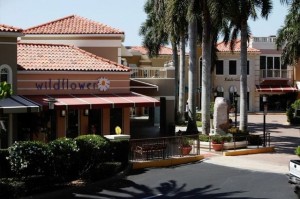 Lutgert was born in Chicago in 1919. He was introduced to construction early, working in his father's building materials yard before going into real estate development in the 1940s. After "retiring" to Naples in 1964, Lutgert saw an opportunity to develop 760 acres of barren land north of Naples that became Park Shore – a picturesque community that includes beach-front homes and high-rises and the waterfront shopping center, Village on Venetian Bay.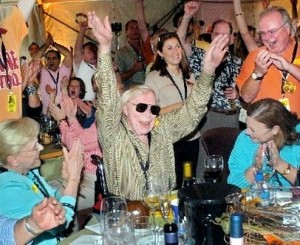 Of course, many questioned the wisdom of developing Park Shore because it was, at the time, far from town. But today Park Shore is widely regarded as Lutgert's most visible and enduring legacy.
In January 2007, the Edison College Foundation honored Raymond and Scott Lutgert with its LIFE Award, which recognizes leadership in advancing educational opportunities. It was the first time the award went to a father and son.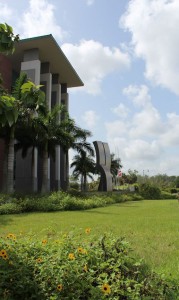 A veritable "who's who" of business leaders gathered for the luncheon in their honor. They were still talking about the record $2 million bid that Lutgert had made a few days earlier at the Naples Winter Wine Festival auction, where he won a 2008 Rolls-Royce Phantom Drop convertible albeit at a cost of four times the actual value of the car. "Everybody is telling me congratulations for buying the car," he said at the awards ceremony. "That isn't what it was all about, of course." The annual auction raises millions for children's charities in Collier County every year.
The Lutgert family has been a leading supporter of the Naples Children & Education Foundation, which organizes the Naples Winter Wine Festival and gives out the grants every year to charities that benefit children. Scott Lutgert has become a pillar in the community, carrying on the proud tradition he father began 50 years ago.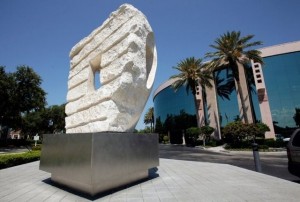 Lutgert came to sculpture late in life, taking an interest in the discipline at the age of 65. He took a class at Appalachian State University in North Carolina and studied with noted American sculptor Wayne Trapp. Over the years, he created several hundred pieces, winning numerous awards. Today, his sculptures are found throughout Naples, including Genesis, a modern,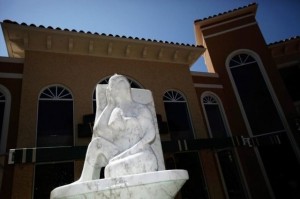 mirrored statue in front of the Northern Trust building (right), and Prelude, Water Nymph (right) and Transitions at the shops at the Village on Venetian Bay. One of four replicas of Human Race also sits on the corner of Park Shore Drive and Gulf Shore Boulevard North near The Village on Venetian Bay.
Florida Gulf Coast University President Wilson Bradshaw called Lutgert's death on May 28, 2010 devastating for the community.
[Photo credit and thanks for aerial shots goes to Lexey Swall-Bobay/Staff; credit and thanks for photos of Ray Lutgert and off-campus sculpture goes to Savid Albers.]