Theatre Conspiracy's 2014-2015 Show Schedule

Theatre Conspiracy has released its 2014-15 schedule.
"This season has something for everyone . . . a true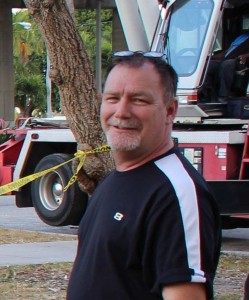 theatre classic, an exciting Florida premiere, and a world premiere from our Annual New Play Contest," promises Theatre Conspiracy in its press release making the announcement. "This season covers the gamut of great theatre."
"Once again I am pleased to offer our patrons and the visitors to Fort Myers a wide range of shows," adds Producing Artistic Director Bill Taylor "I am so excited to see these shows in production. I know our audiences will be pleased!"
August, 2014
The Season kicks off with the comedy The Morning After the Night Before the Wedding by Peter Quilter (right), which consists of three one-act comedies that create three times the fun for theatre-goers. Each show is a gloriously funny examination of the chaotic world of love, sex, relationships and why the grass is never greener. Theatre Conspiracy audiences will remember the wonderful production of Peter Quilter's show. Glorious; The True Story of Florence Foster Jenkins, the Worst Singer in the World, from a few years ago.  The Morning After will be performed at 8 p.m. on August 15, 16, 21, 22, 23, 28, 29 and 30 and at a 2 p.m. matinee on August 24.
September, 2014
On September 13, Theatre Conspiracy presents its Annual New Play Contest Fundraiser performance. Tickets for this one-night event are $50. The magical evening consists of food, wine, dessert, and readings from the top three entries to Theatre Conspiracy's 16th Annual New Play Contest. Conspire with Theatre Conspiracy and have a say in which of these three new shows gets a full production in 2015!
October, 2014
October brings the classic Harold Pinter masterpiece, Betrayal, winner of the Laurence Olivier Award for Best New Play in 1978. Harold Pinter's semi-autobiographical play describes the complex web of lies and deceit that are spun over a seven year extra-marital affair. Pinter's usage of reverse chronology was particularly innovative at the time. Emma is caught in a love triangle between her husband Robert and her lover Jerry, who is also her husband's best friend. But who is betraying who? Often regarded as the most accessible of Pinter's plays, it is as much an examination of the men's friendship as the deterioration of the romantic relationships.
November/December, 2014
Swell Party by Topher Payne comes to the stage in November/December. This witty drama is set in 1932 at the estate home of the R.J. Reynolds family and is based on a very mysterious event which took place that summer. Smitty, the 20 year-old orphaned heir to the family fortune, returns to his Southern home with a controversial new wife, a trunkload of gin and his new wife's acting coach, who is quite possibly insane. A party is thrown, someone turns up dead, and the plot thickens. For Southerners, the truth isn't nearly as important as a good story.
January, 2015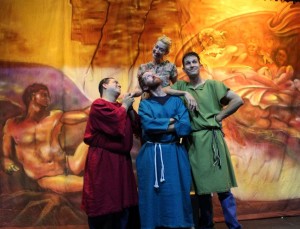 Back by popular demand, Theatre Conspiracy bring Southwest Florida The Bible: The Complete Word of God (Abridged) by Adam Long, Reed Martin and Austin Tichenor. Whether you are Catholic or Atheist, Muslim or Jew, Protestant or Purple People Eater, you will be tickled by this romp through old time religion. The Bible: The Complete Word of God (Abridged) is an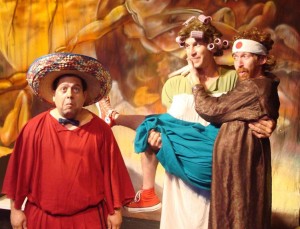 affectionate, irreverent rollercoaster ride from fig leaves to Final Judgment as Theatre Conspiracy tackles the great theological questions: Did Adam and Eve have navels? Did Moses really look like Charlton Heston? And why isn't the word "phonetic" spelled the way it sounds?
Also starting in January is For Colored Girls Who Considered Suicide When the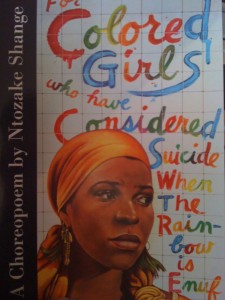 Rainbow is Enuf, a groundbreaking "choreopoem" that features a spellbinding collection of vivid prose and free verse narratives about and performed by Black women. Capturing the brutal, tender and dramatic lives of contemporary Black women, For Colored Girls… offers a transformative, riveting evening of provocative dance, music and poetry. Winner of the 1977 Obie Award for Distinguished Production, Ntozake Shange's For Colored Girls … will be performed by Theatre Conspiracy at Florida SouthWestern State College on January 29, 30 and 31 and February 5, 6 and 7 at 8 p.m., as well as 2 p.m. matinee performances on January 31 and February 7.
February, 2015
February brings a show that was the winner of the New York Drama Critics' Best Play Award and nominated for a 2011 Tony Award for Best Play. Good People is a funny, tough and tender story about the insurmountable class divide. When Margie Walsh loses her job at a South Boston dollar store, she reaches out to her old flame Mike, a neighborhood boy who escaped and became a successful doctor. Margie's attempt to hit Mike up for a job takes on a surprising twist when she realizes the power a secret from Mike's past holds. From Pulitzer Prize-winner David Lindsay-Abaire, Good People looks at the extraordinary consequences of choosing to hold on to the past or leave it behind. Performances are at 8 p.m. on February 6, 7, 12, 13, 14, 19, 20 and 21 and 2 p.m. February 15.
March, 2015
Theatre Conspiracy presents Gary Busey's One-Man Hamlet (as performed by David Carl)  at 8 p.m. on March 6 and 7. It's an absurdist romp through Shakespeare, pop culture and life in the theatre. Directed by Michole Biancosino (AD of the award-winning Project Y Theatre Company), created by Gary Busey (as imagined by David Carl), who has decided he will perform all the parts in Shakespeare's Hamlet in order to prove that he still has "the chops." Switching between beat poet narrator, puppeteer, musical theatre singer, horror film director, and "great" actor, Gary Busey (as imagined by David Carl) plays each scene in the style he feels appropriate. A mix of high- and low-brow comedy, Gary Busey's One-Man Hamlet (as performed by David Carl)epony celebrates Shakespeare's eponymous masterwork by proving it is still relevant, applicable, and moving in the jaded, celebrity-crazy, meme-obsessed world we (and David Carl) live in.
Speaking of the greatest works in the history of theatre, Theatre Conspiracy presents a play that is widely regarded as the masterpiece of one of today's most talented contemporary playwrights, Tom Stoppard. Arcadia is the perfect marriage of ideas, wit, language, passion and comedy. A true theatrical feast, the scenes shift back and forth between the 19th century and the present. A marvelous story unfolds that addresses art, science, history, love, truth – and how they intersect. A varied and vastly entertaining cast of characters takes the audience on an amusing journey to explore a possible scandal involving the rakish poet, Lord Byron. Performances are at 8 p.m. on March 13, 14, 19, 20, 21, 26, 27 and 28 and at 2 p.m. on March 22.
April, 2015
A co-production with Florida Southwestern State College,  Jane the Plain by August Schulenberg will be performed for two weekends only in April. This show was a finalist in last year's new play contest. Football, popularity and the clash of the gods: it's all going down at Plainview High School's homecoming game in this comic fairy tale. Jane's status at school takes a sudden rise after she is given the gift of beauty. Everyone starts falling for her: Even the football team's starting QB.  What if the wrong choice in high school really could end the world? Performances are at 8 p.m. on April 2, 3, 4, 9, 10 and 11 and at 2 p.m. on April 4 and 11.
May, 2015 
Finishing out the year will be A Position of Relative Performance by Hal Borden, winner of Theatre Conspiracy's 16th Annual New Play Contest. "This year we received over 600 entries to the contest from all over the United States, Canada, Australia and England," notes Producing Artistic Director Bill Taylor. So this promises to be a truly exceptional production. Performances are at 8 p.m. on May 1, 2, 7, 8, 9, 14, 15 and 16 and at 2 p.m. on May 17.
Performances are Thursday, Friday and Saturdays at 8 p.m. with one Sunday matinee for each show at 2 p.m. in the Foulds Theatre at the Lee County Alliance for the Arts in Fort Myers. Season tickets are on sale now. You can buy all eight shows, excluding the New Play Contest Fundraiser in September, for just $120 ($15 per ticket) or 7 shows for $112 ($16 per ticket) or 6 shows for $102 ($17 per ticket) or 5 shows for $90 ($18 per ticket) or just 4 shows for $80 ($20 per ticket). Individual tickets are $22 or $11 for students with ID.
For more information on the shows or to purchase tickets, please go to www.theatreconspiracy.org or call the box office at 239-936-3239.
_____________________________________________________________
Theatre Conspiracy raffling playwright-autographed copies of this season's plays (10-11-14)

Theatre Conspiracy will be raffling off autographed copies, signed by the playwright, of each of its plays this season! Starting with Swell Party in November, Theatre Conspiracy will have one copy of each play signed by the playwright(s) up for grabs. Beginning in November, tickets will be available for your chance to win a signed copy of Arcadia by Tom Stoppard, Good People signed by David Lindsay-Abaire or The Bible (Abridged), Swell Party or Jane the Plain all signed by the playwrights. Raffle tickets are $2 each. Winners will be announced at the end of the run of each respective play