Patricia Collins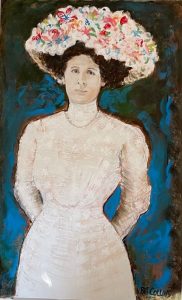 Among the 57 murals on display at the river basin adjoining the Luminary Hotel in downtown Fort Myers are three by mixed media pop artist Patricia Collins: one of Fashionista Flossie Hill, another of Tootie McGregor Terry driving the first piling for the seawall she persuaded riparian owners to install along the bank of the Caloosahatchee River and a third that depicts a turkey hunt in the pine forests east of town.
Patricia Collins creates mixed media works, with a focus on painting & printmaking, as well as murals and interactive mixed media constructions/installations such as the pieces she presented in her 2022 solo show titled Action Reaction Interaction at Florida Gulf Coast University's ArtLab.
The Massachusetts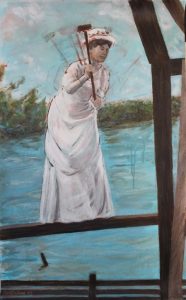 native earned a BFA in Communications Design at Pratt Institute in Brooklyn, NY. Living and working in New York's Lower East Side, a community of artists, music, street art energized her artistic development. Since moving to Southwest Florida, Collins' work has been exhibited twice at the John & Mable Ringling Museum of Art in Sarasota; Lesley University in Cambridge, MA; Florida Museum for Women Artists in Deland, FL; Scope Miami; the Morean Arts Center in St. Petersburg; and other venues. Past solo shows include Past Present, Future Tense at the Collier County Museum of the Everglades and Visual Rhythms at the Sidney & Berne Davis Art Center.
A recipient of City of Fort Myers Individual Artist Grants, Collins seeks to engage the community through participatory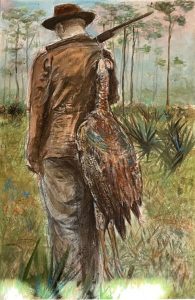 (Voting Priority 2020) and public art (Ft. Myers River Basin) projects. Utility box art commissions are on view in Pompano Beach and Cape Coral. Murals for Habitat for Humanity's ReStore, N. Ft. Myers, FL, and the Kappa Development Foundation, Fort Myers, FL can be found on the cultureNOW website. Her limited edition artist book, Urban Anxieties, is in MoMA Queens Artists' Books collection.
"The challenge to communicate an idea, suggest a narrative, a sense of place, or convey a concept is ongoing in my mixed media works," Collins remarks. "Cutouts, patterns, stencils, the positive and negative space created, are elements to explore through whatever medium I'm working with, as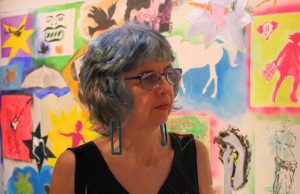 each process suggests new possibilities."
Patricia looks for public art opportunities and creates projects involving viewer participation to expand the visibility of art in the community.
"The Fort Myers River Basin presented a challenge to engage the passerby to connect with local history through artistic interpretation of these photographs (of varying quality) from long past."