Spotlight on River Basin muralist Lesley Morrow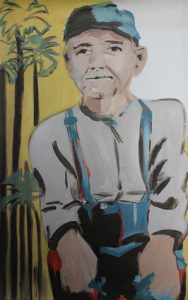 Lesley Morrow is one of 39 artists who have painted murals for the River Basin Mural Project being conducted by the City's Public Art Committee, Community Redevelopment Agency and Fort Myers Mural Society. Lesley painted the portrait of John Alexander Weatherford that appears on one of the stanchions across from Ella Mae's Diner at the Luminary Hotel. Weatherford was one of Fort Myers first four settlers, arriving on the shores of the Caloosahatchee River on February 21, 1966.
Morrow is locally known for expressive oil, acrylic, airbrush and mixed media paintings that express the feminine experience and mystique. Featuring vibrant brushstrokes and a distinctive palette, Morrow's paintings are bold, raw and eye-appealing. Her catalogue includes both celebrity and iconic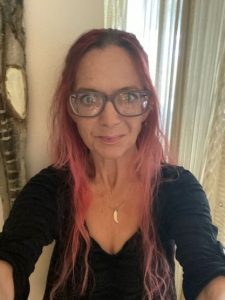 women, capturing not only the strength she sees in her subjects and their faces, but the chaos behind the facade. So, in a sense, her portrait of John Weatherford represents something of a departure from her customary subject matter.
Lesley's recent exhibitions include Esprit d'Ambiance (Spirit of the Mood) at Arts for ACT Gallery (January 7-30, 2022) and The Feminine Mystique in the Grand Atrium of the Sidney & Berne Davis Art Center (2020). An artist in residence at the Union Artist Studios, she has also exhibited at DAAS Co-Op Gallery, Space 39, The Loft, Chico's TAGA Gallery and the Alliance for the Arts. Her work can be found in public and private collections both locally and abroad.
For more information on Ms. Morrow and her work, you can follow Lesley on Facebook @ Lesley Morrow-Art and Instagram @leslesart.
January 16, 2023.