Eric Riemenschneider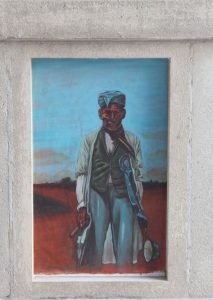 Eric Riemenschneider is one of 39 artists who have painted murals for the River Basin Mural Project being conducted by the City's Public Art Committee, Community Redevelopment Agency and Fort Myers Mural Society. Eric's contribution to the project is a portrait of a Miccosukee warrior named Billy Fuel who fought alongside Seminole Chief Billy Bowlegs and Miccosukee Chief Sam Jones during the Seminole wars. Billy Fuel's story will be told on Otocast in the coming weeks.
Riemenschneider graduated from Ringling College of Art and Design with a B.F.A. in Illustration. He is the recipient of several awards, including Southwest Florida's Best Up-and-Coming Artist, Angels of the Arts Award,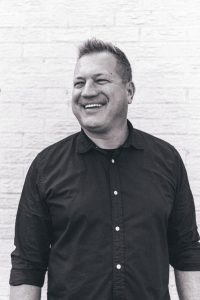 All Florida Best of Show, Lee County Golden Apple Teacher and Lee County Arts Teacher of the Year. He was also the recipient of the Robert Rauschenberg Scholarship.
Eric is a portrait artist who also reimagines commercial spaces to match the theme of the business through murals and collections of paintings.  His artwork has been exhibited in the Robert Rauschenberg Gallery, the Sidney & Berne Davis Art Center, and other galleries and commercial spaces throughout the country. He resides in the historic downtown Fort Myers River District with his wife, Katie, and three children, Kyle, & Rhys.
You can find out more about Eric and his art at www.ArtofEric.com and on Instagram@_artoferic. You may reach Eric by email at eric@ArtofEric.com.