'A Midsummer Night's Dream: Abridged' play dates, times and ticket info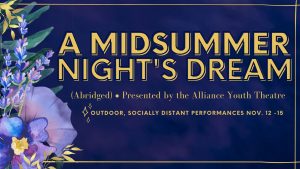 Play:  A Midsummer Night's Dream: Abridge
Playwright:  William Shakespeare
Synopsis:  When Hermia and Lysander decide to elope, Demetrius, who is also in love with Hermia, follows with his girlfriend, Helena. But a magical interference by the king and queen of the fairies results in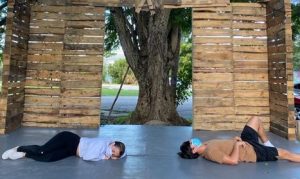 hysterical mixed-up pairings. In the end, all the couples are brought back together for a happy ending, complete with a final performance by Peter Quince and his company of players.
Director:  Carmen Crussard
Cast:
Megan Salerno plays Actor 1 (Quince, Hermia, Fairy, Puck)
Harvey Evans plays Actor 2 (Bottom, Demetrius, Puck, Fairy)
Yuliana Garcia plays Actor 3 (Snout, Helena, Titania, Puck)
Alex Leeds plays Actor 4 (Flute, Lysander, Oberon, Puck)
Play Dates and Times:
Thursday, November 12, 7:00 p.m.
Friday, November 13, 7:00 p.m.
Saturday, November 14, 7:00 p.m.
Sunday, November 15, 7:00 p.m.
Tickets:  $25 for a 6×6 foot square that seat up to 4 people
Location:  Outdoors on GreenMarket stage on Alliance for the Arts campus.
More Info:  For more information, please visit https://www.artinlee.org/event/midsummer/2020-11-12/ or telephone 239-939-2787.
October 29, 2020.