While daunting, Lauren Perry up to the challenge of choreographing 'Pippin'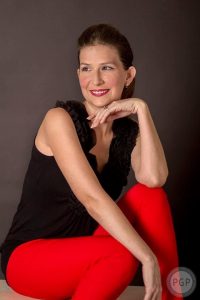 Pippin resumes in the Foulds Theatre at the Alliance for the Arts for its final weekend on Friday night. The iconic 1972 play was originally directed and choreographed by the legendary Bob Fosse. It's a choreographer's dream – and nightmare – to follow in his hallowed footsteps, but AYT Choreographer Lauren Barnhart Perry not only accepted the challenge, she's made the dark musical her own.
"It's certainly a daunting task to choreograph a show like Pippin," Perry concedes. "It's so iconic."
Which means that audiences come to a performance with preconceptions about what they expect to see on stage.
"Every time I've seen a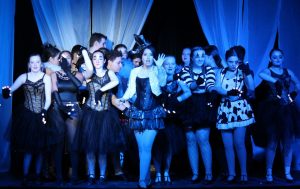 production of [Pippin], the choreography has been pretty much identical. But I really wanted to break the stereotype. There's a risk to that, of course. If you don't do exactly what people expect, it better be pretty darn good or people will think you're just not competent, not capable of replicating the original Fosse choreography."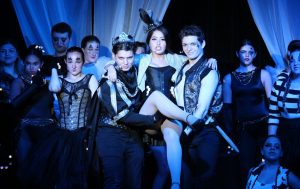 Pippin is Perry's absolute, unqualified all-time-favorite musical. That made the stakes that much higher. Not only did Lauren identify with the character ("Like him, I didn't feel that I really fit in, couldn't find my place."), she did her senior thesis on Fosse and really delved into the show.
"So lots of sleepless nights," Lauren smiles demurely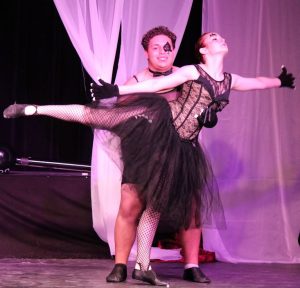 before sleepily giving in to a wide yawn exacerbated by the fact that her two-year-old isn't sleeping through the night.
But besides the whole thesis thing, Perry is uniquely qualified to tackle a production as challenging as Pippin.
She's been dancing for more than twenty years.
"My mom co-owned a dance studio. I started dancing while I was still in the womb," she quips.
But in truth,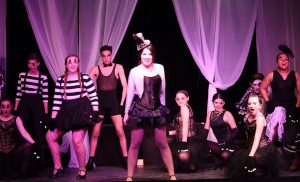 she was already teaching dance and doing choreography by the time she was 14.
"My father was a drama teacher and he used to call me in to choreograph all of his middle school productions. When I got into the Cypress Lake Center for the Arts, I would help out doing the choreography there too."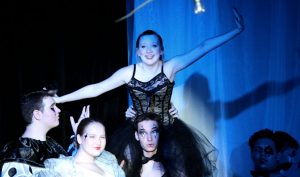 While she was in high school, she worked as an entertainer for the Walt Disney Company, and upon graduating from the Center for the Arts, Lauren received a contract on the Disney Cruise Lines and performed on the Disney Wonder for two years.
Working for an entertainment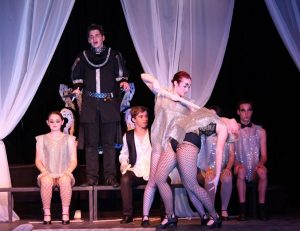 company like Disney provided Perry with so many great learning experiences, but none exceeded the fundamentals and fine points that she learned when she got the chance to help workshopp a brand new show for the cruise line.
"They brought in Broadway choreographers and we put together the show from start to finish. That was the biggest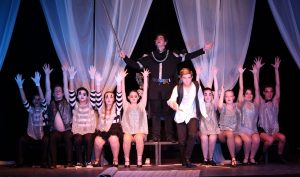 learning experience of my life. Even on days I wasn't called, I came in just so I could observe and soak it all in. I even sat down with the wig people so I could learn how to do wigs."
After her stint with Disney ended, Lauren returned to Fort Myers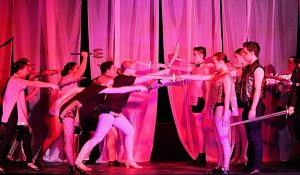 and began teaching. In addition to dance experience, Lauren has her degree in early childhood education and has worked teaching Pre-K and 1st -6th grades for several years in both private and public schools.
She has also taught and competed professionally in ballroom dance with Fred Astaire franchised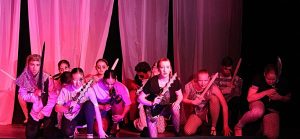 studios.
But there was something missing.
"I wanted to do choreography again, so I posted on Facebook that I had all these ideas that I needed to get out of my head. The very next day my boss told me that the Alliance Youth Theatre had called to offer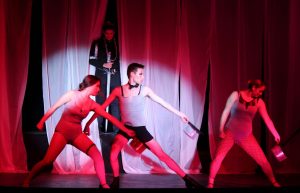 me a job.
That was a mere two years ago, and since joining AYT, Lauren has provided the choreography for a handful of shows beginning with Spamalot the Musical, where she took the reins after her predecessor moved on midway through rehearsals.
Spamalot was followed in quick succession by The Hunchback of Notre Dame, Princess Camp, and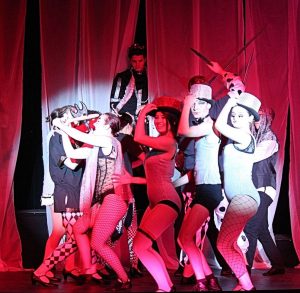 a little bit with Freckleface Strawberry. Children of Eden Jr., Rent and Charlotte's Web are already in the offing. Charlotte's Web will also represent her AYT directorial debut.
But Pippin is on a different plane than any of these for a variety of reasons.
First is the sheer number of performers included in the cast. The musical has a cast of 30.
"Pippin is the kind of show everyone wants to be in and the play calls for a bigger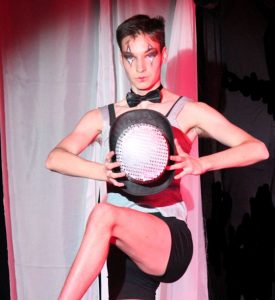 cast anyway because of all the Players," Lauren points out.
But sheer numbers aside, Perry and the rest of Director Carmen Crussard's creative team had to contend with a wide disparity of experience.
"With so many kids and with the disparity in age and experience, you start slowly," Lauren explains." You build the show in pieces, adding in more and more actors/groups as you go along. In the routines where there's so much movement, everyone learns the routine and then we make cuts until we get the right number of dancers for that particular number."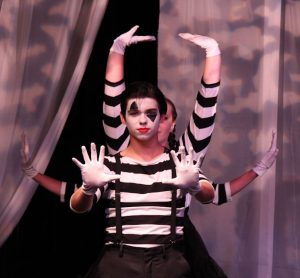 It's here that some of the attributes that Perry has picked up along the way come into play. Like all good choreographers, Lauren possesses a strong spatial sense, enabling her to visualize spaces, movement and space. She is not just the adult in the room. She's charismatic and possesses the vocabulary and language skills necessary to articulate her vision and drive her dancers and other performers to new heights and "personal bests." And she has an uncanny grasp of energetic flow – not just between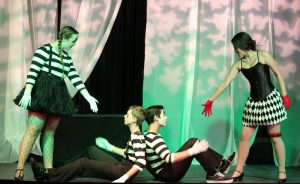 the performers themselves, but between the troupe and the audience they are entertaining.
However, there's another element that's engrafted on all AYT shows. Because the Alliance Youth Theatre is educationally oriented, every actor learns and gets the experience of being in every routine. Although they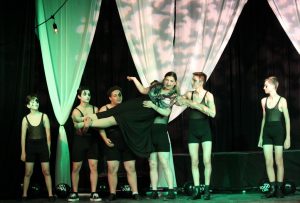 can't be included in every single number, Perry and her AYT cohorts employ a principle she calls equitable distribution, which means that everyone gets to be in at least some of the performance numbers so that everyone gets stage time.
That said, Pippin's strong sexual undercurrent imposed certain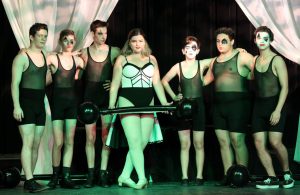 limitations and restrictions on casting and development. For the more sensual moves and dance numbers, Perry insisted on using "more mature" actors because she thought it inappropriate to place younger kids in roles like that.
"Parents have to sign a waiver, and we do post a video of choreography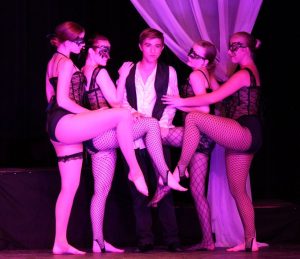 on a private links that the parents and families can view. But I'm still the one who's teaching them to do these sensual moves, which added to my sleepless nights."
In the end, she navigated these challenges by creating a safe environment for her young performers and inviting them to speak up if at any point they did not feel comfortable with what the script or choreography was asking them to do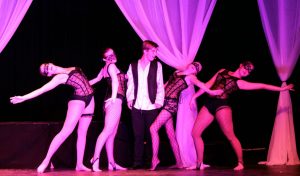 ("and sometimes they did"). She also strived to emphasize each routine's beauty and artistic merit, rather than simply making them sensual or even risqué.
While Perry and the AYT team go to great lengths to give every young actor an opportunity, the creative team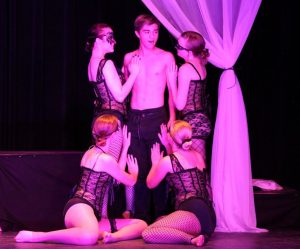 typically goes with who they know when casting the leads in a show – not because they're playing favorites, but because they're known quantities. They've proven through past productions that they're dependable, they're going to show up and when they do, they're going to know their lines.
They're also likely to serve as cheerleaders and tutors for younger or more neophyte cast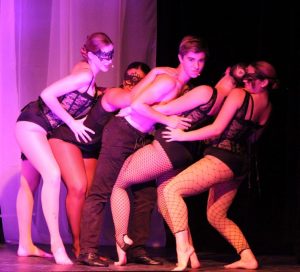 members.
"But there will always be students who come in a blow our socks off, who have references that we trust, and we give them the opportunity to grow," Lauren is quick to point out. "After all, and I said it before, we are an educational program. We're not just here to showcase our good and talented students, we're here to grow and develop talented students. So we always want to give opportunities to those who show promise.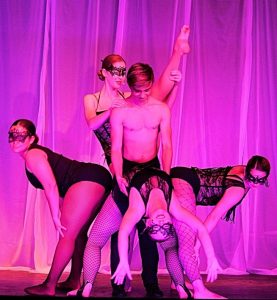 For Pippin, the creative team built the show around Yuliana Garcia, Elijah Grant and Giselle Meyer.
Frame to frame, scene to scene, Yuliana Garcia's poise and stage presence are remarkable.
"She's stunning," Lauren nods. "She's a natural and she's always engaged. She never takes a scene off. She's always in the moment. And that's why she gets featured – because she shows us that."
Perry can't say enough good about Giselle Meyer either.
"Giselle is a legit triple threat [meaning she can sing, dance and act]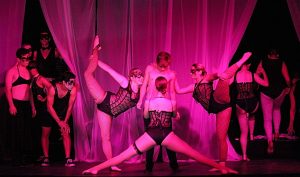 and she's a beautiful person too. My daughter is obsessed with her. She's her idol."
Lauren appreciates her talent as well.
Actors like Yuliana and Giselle give Lauren the opportunity to showcase yet another of her numerous strengths.
While Lauren is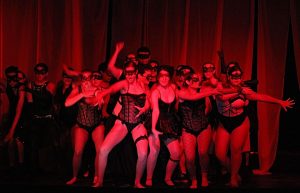 not the pure dancer that Giselle Meyer is ("I cannot do 90 percent of what Giselle can do."), she is an adroit storyteller. She's a great judge of movement with an eye for art, design and the elusive elements of balance, texture, color, energy, flow, white-space, connection, pulse and rhythm. That enables her to take a talent like Meyer and teach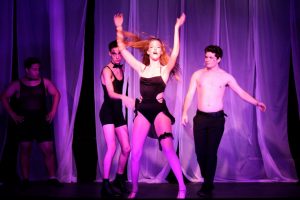 her how to fit the moves of a dance routine to the music and execute the creative vision for the show.
While Grant, Garcia and Meyer may be featured, all the kids cast in Pippin are hungry. And because of the team approach employed by Crussard, Perry and the rest of their creative partners (e.g. Lindsay Warren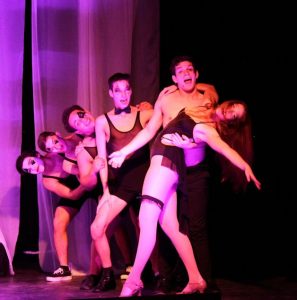 as Musical Director, P.J. McCready as Lighting Director and Rachel Jenney as stage manager), youngsters performing for the first time or discharging supporting roles will be the actors who are featured in future productions.
They're even likely to go on to make a splash in musical theater at the collegiate level or in equity and community theater productions for years to come.
And in this way, the Alliance Youth Theatre is helping train,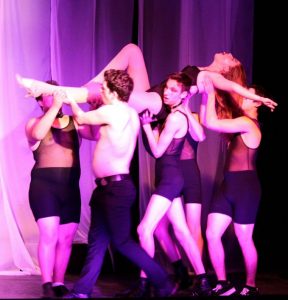 develop and incentivize new generations of thespians that will contribute to our entertainment, enjoyment and level of discourse.
So do your part, and support these young actors, who clearly love what they're doing. Remaining shows are Friday at 7:30, Saturday at 2:00 and 7:30 and Sunday's 2:00 closing matinee.
November 21, 2019.
RELATED POSTS.
Spotlight on resourceful 'Pippin' costume designer Lauren Perry