'Anything Goes' love triangle still resonates with audiences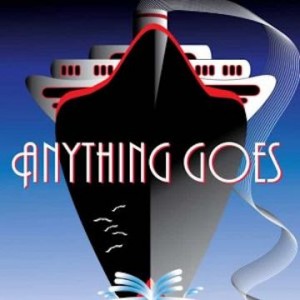 Is it possible for a musical written 83 years ago to still have relevancy today? With Cole Porter's Anything Goes, Broadway Palm Dinner Theatre answers this question with an emphatic yes!
To be sure, this classic musical is quaint and quirky in an Old Time kind of way. How could it not be? It's a microcosm of the Roaring Twenties, a period of post-World War I peacetime euphoria in which hemlines were rising, hipsters congregated in swank smoky speakeasies, and mores were changing so rapidly that people hoped and feared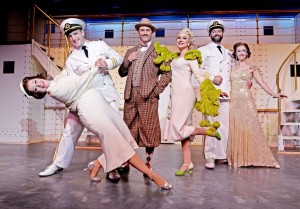 within no time at all anything could and would be acceptable. This sensibility manifested itself in the idiom of the day, as reflected by the opening lyrics of the show's title song:
Judged by the standard of today's hook-up culture, rainbow of sexual orientation and identities, and no-holds-barred discussion of sex and sexuality, the musical's flirty dialogue and doubt entendres seem tediously tame. But what endures is the love triangle around which the musical revolves.
In Anything Goes, a poor, lower echelon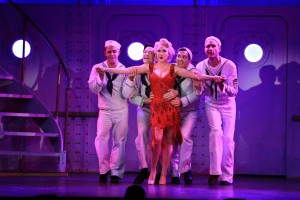 stockbroker by the name of Billy Crocker falls in love with a debutant by the name of Hope Harcourt after the two enjoy a five-hour romantic interlude in the back of taxi in Central Park. But to Billy's chagrin, Hope is marrying a stuffy British aristocrat by the name of Lord Evelyn Oakleigh in order to rescue her family from financial ruin following the stock market crash of October 29,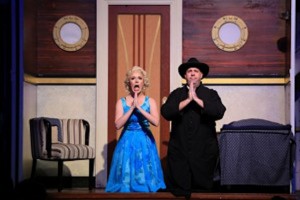 1929. When Billy discovers that Hope and her fiance' have boarded a ship bound for England and their planned nuptials, he stows away in a last ditch effort to win her heart and hand.
Love triangles have been a staple of theater from Elizabethan times to the present (think Twelfth Night, Gone with the Wind, Casablanca and 2001's Pearl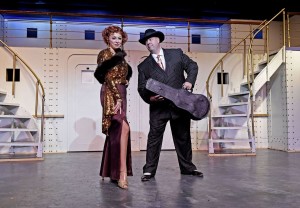 Harbor starring Ben Affleck, Kate Beckinsale and Josh Hartnett). And if Cole Porter's poor-boy-pursues-rich-guy's-fiancée plot line sounds familiar, it is probably because it likely inspired the storyline of Titanic, in which a penniless gambler woos a rich girl who is being forced to marry a rich man in order to save her family's fortune.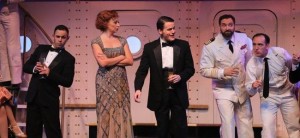 The triangle is not just a creation of film and theater. Variations appear in a host of hit songs. Look no further than Shawn Mendes' current chart-topping pop song "Treat You Better" to see that the male-female-male triangle resonates with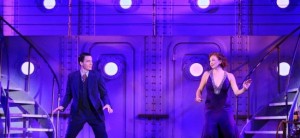 Millennials as strongly as it does for Boomers and beyond.
That said, the stars of Anything Goes are not Billy, Hope and Lord Oakleigh, but Cole Porter's timeless tunes. And that puts Christina Tompkins front and center as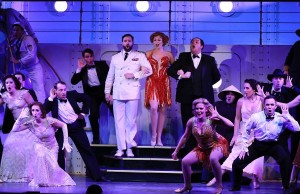 evangelist-turned-entertainer Reno Sweeney. Reno goes through the most dramatic growth of any character in this play. Outwardly brash and self-assured, Reno is inwardly uncertain and introspective in her opening numbers ("I Get a Kick Out of You," and Act One, Scene Three duet "You're the Top'), as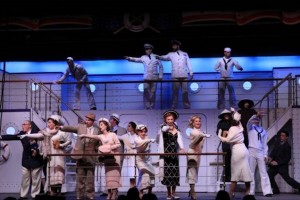 she comes to terms with the disappointing fact that her friend, Billy, is just not that into her. Reno finds strength in "Friendship," the upbeat, feel-good song she shares with a gangster known as Moonface Martin, and shines in the terrific tap title, "Anything Goes," with which she and the ensemble close out Act One. But it's in the gingery gospel number, "Blow, Gabriel, Blow," that the audience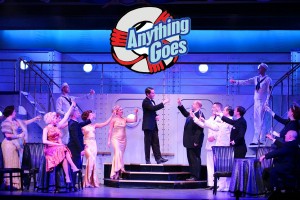 finally glimpses the real Reno Sweeney, and Tompkins' rendition would not only please Ethel Merman and Patti LuPone, her vocals would elicit a smile from the likes of Sandi Patty and Whitney Houston.
Although Tompkins is without a doubt the star of this musical, both Conor Robert Fallon and Allison Fund, who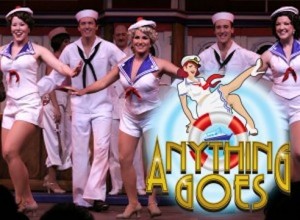 play Billy Crocker and Hope Harcourt, have terrific voices. Their duets, "Easy to Love," "It's De-lovely" and especially "All Through the Night" are highlights of the show. Craig Smith is a hoot as Lord Evelyn Oakleigh, and Theresa Walker simply sizzles as mobster moll Erma, whose on-board sashay brings the America's deck-swabbing sailors to their shaking knees. But the show stopper in this production is Victor Legarreta, who plays Public Enemy No. 13. On opening night, his Act Two, Scene Two solo, "Be Like the Bluebird," brought down the house.
All Broadway Palm main stage productions are known for intricate choreography, exceptional dancing, over-the-top sets and extravagant costumes, and "Anything Goes" is no exception. It's a tribute to both cast and crew that the SS America's double set of swinging doors and matched curved staircases can accept the slamming and pounding they take during this foot-stomping, toe-tapping production.
So whether it's allegorical, metaphorical or superficially simplistic entertainment you crave, there's something for everyone in Broadway Palm's revival of Cole Porter's "Anything Goes."
"And though I'm not a great romancer
I know that I'm proud to answer when you propose
Anything Goes!"
February 21, 2017.
RELATED POSTS.