Melissa Whitworth practically perfect in Broadway Palm's 'Mary Poppins'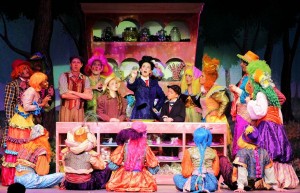 There are certain roles in film and theater that are so daunting it takes an actress with, well, unflappable temperament to undertake the part on stage. Dorothy in The Wizard of Oz springs instantly to mind because of Judy Garland, but Vivien Leigh's Scarlett O'Hara in Gone with the Wind, Audrey Hepburn's Holly Golightly in Breakfast at Tiffany's, and Anne
Bancroft's Mrs. Robinson in The Graduate are not terribly far behind. Following in the footsteps of the incomparable Julie Andrews as Mary Poppins requires a quantum of audacity and self-assuredness of another magnitude, but as area audiences are quickly learning, Melissa Whitworth is practically perfect in Broadway Palm Dinner Theatre's production of Mary Poppins The Broadway Musical.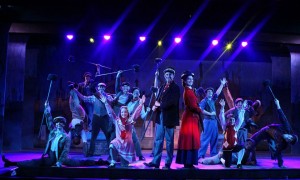 Admittedly, Whitworth has grown in the role since she first performed the part for Theatre Winter Haven in 2014. (She reprised the role for Titusville Playhouse in 2015, as well.) From her facial expressions and the way she commands the stage to her interactions with her wards, Michael and Jane Banks, she's the very epitome of the spic and span, prim and proper nanny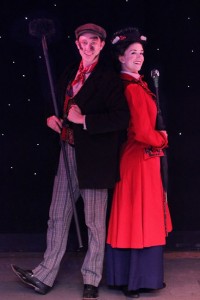 who's never too stern and unspeakably kind.
If you know the story, then you are aware that Mary Poppins is a magical creature who arrives out of nowhere when Michael and Jane's stern and flummoxed father, George Banks, tears up the advertisement his unruly, petulant children have written for a new governess and tosses it to the wind. But Whitworth's Mary Poppins possesses the aplomb of David Copperfield, the quiet confidence of David Blaine and the irreverent mischievousness of Criss Angel. (You would too if you knew that Set Designer Darcy Bert, Lighting Designer Russell A. Thompson, Technical Director Dominic Lau and Stage Manager Jayar Garcia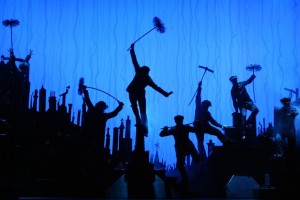 had your back each and every show.) Nowhere is this more in evidence than the never-ending props that Poppins pulls from her bottomless bag during "Practically Perfect" or her definitive Paso Doble-style duel with George Banks' former nanny, Miss Andrew, in "Brimstone and Treacle (Part 2)."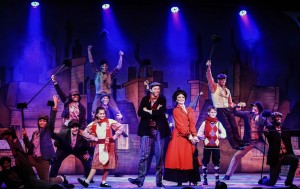 At its heart, Mary Poppins is a fun and fantastical musical, and its success inheres in no small measure in the gorgeous singing voice and strong vocals of Ms. Whitworth and Chris Duir, respectively. Duir plays the part of Bert, the chimneysweep who opens the show with a tone-setting performance of "Chim Chim Cher-ee" from his perch on a chimney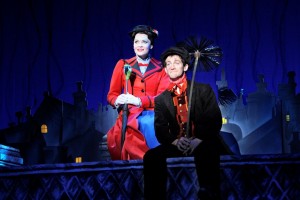 stack stage left.
Every one of Whitworth's numbers was flawless, but her renditions of "Practically Perfect," "A Spoonful of Sugar" and "Supercalifragilisticexpialidocious" were practically perfect in every way.
The dance numbers in this production are equally strong. For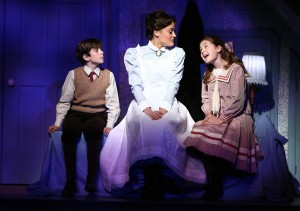 this, Choreographer/Associate Director Samantha Hewes Cramer and the Broadway Palm ensemble deserve a huge shout out. There's a scene in the park where a Greek or Roman statue comes to life ("Jolly Holiday") that's truly superb, but the best number of the evening goes without question to "Step in Time," a tap dance number that showcases Chris Duir (Bert) and his Sooty Sweeps
dancing on the rooftops as the sun sets on the London cityscape below their lightfooted boots. Mary Poppins The Broadway Musical would be worth going to see if this were the only dance number in the entire show!
Lest you conclude that Mary Poppins is just superficial fare for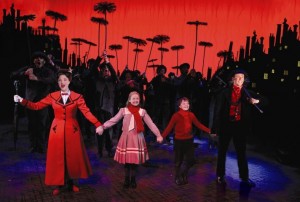 children and grandchildren, there's actually a modern-day message for the adults in the audience. It's the task of the Banks children and their father to learn the difference between worth and value.
Midway through Act One, one of George Banks' loan applicants gives Michael and Jane each a coin and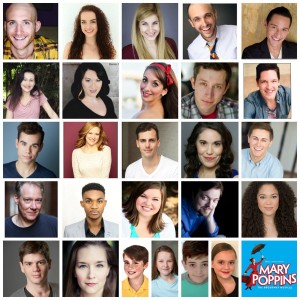 tells them to consider not what the sixpence is worth, but the good it can create. It's a lesson worth pondering in a world in which inordinate value and emphasis is placed on wealth and winning at any cost rather than the good in a person's heart or the good they perform. Perhaps this explains why "Feed the Birds" and "Playing the Game" struck such a responsive chord with the Broadway Palm audience during the performance this writer attended.
There is not a weak link in the cast. James Taylor Odom proves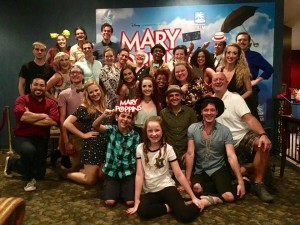 himself redeemable as the insufferably distant George Banks. Desiree Dillon is endearing as the woman who gave up a promising career in theater to play his devoted wife. The children are exceptional, as are Meagan Mapson and Danny Boman, who play the Banks' droll cook, Mrs. Brill, and erstwhile butler, Robertson Ay.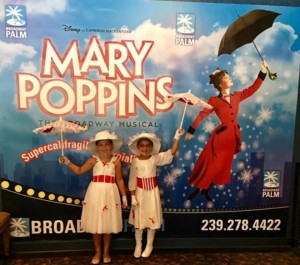 While the entire show soars, the production's most memorable moments take place as, umbrella deployed, Mary Poppins flies off, carried by the east wind. One can only imagine what goes through Melissa Whitworth's mind as she is whisked into the air high above the audience and Broadway Palm set. For the audience, though, it's definitely a goosebump moment. And in life, as in theater, moments like that are to be cherished and celebrated. So enjoy the show.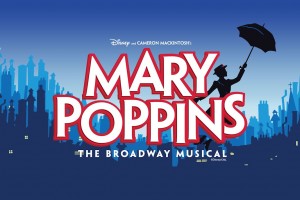 Mary Poppins is playing at Broadway Palm through August 12, 2017.
June 15, 2017.
RELATED POSTS.