Sarah Mae Banning impressive in role of Roxie in Broadway Palm's 'Chicago'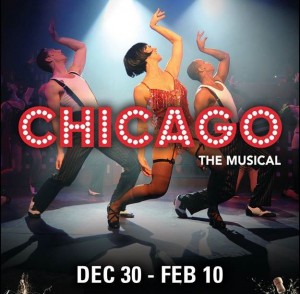 On stage at Broadway Palm Dinner Theatre through February 10 is the musical Chicago. It's the story of Roxie Hart, a 1920s wannabe cabaret star who, with the aid and succor of a unscrupulous lawyer by the name of Billy Flynn, engages in a campaign of misdirection and subterfuge in order to beat a murder wrap after she guns down an extramarital lover when he tries to end their affair. Sarah Mae Banning stars in the role.
Banning is making her Broadway Palm debut, and oh what a debut it is!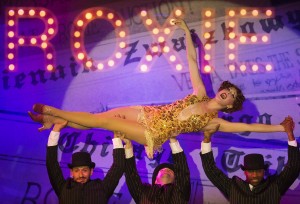 She's impressive in the role. The part, of course, contemplates an actor who can both sing and dance, typically at the same time. Banning delivers on both scores.
First, there's Banning's voice. It's richly expressive, which serves her and the audience well in Roxie's acerbically derisive numbers like Funny Honey. At one moment,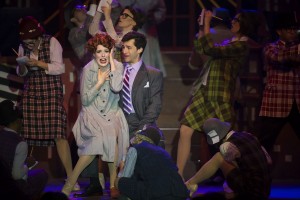 Roxie is lovingly poking fun at her dimwitted husband as only a wife can. ("He ain't no sheik, that's no great physique, and lord knows he ain't got the smarts. But look at that soul, I tell you that whole is a whole lot greater than the sum of the parts."). But moments later, when he figures out she was stepping out on him with the furniture salesman and throws her under the bus with the police, she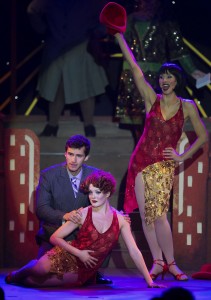 seamlessly changes the look on her face and lilt in her voice to mock the utter lack of mental acuity that an instant ago was his most endearing quality ("Look at him go, rattin' on me, with one more brain, what a half-wit he'd be").
It bears mentioning that her voice quality and control is not limited to singing. She does a mean squeaky little girl. In fact, once you hear it, it will come as no surprise that she lists a Bernadette Peters impression as one of her special skills.
Second is the quality of Banning's acting.
The part calls for a combination of farce, comedy and drama. Banning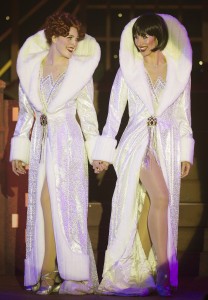 mixes and matches these disparate disciplines with the adroitness of an Impressionist painter. at her best as she vacillates between Billy Flynn's reluctant puppet and a diabolically clever manipulator of everyone who comes within the sphere of her influence.
Finally, Banning is a consummate hoofer. If she was daunted by the prospect of pairing with an accomplished dancer and gifted choreographer like Amy Marie McCleary (who portrays Velma Kelly), Sarah May Banning didn't let anyone know it. In fact, in the finale, she matched McCleary step for step. True, her movements and posturing were just a skosh softer and more languid, which is altogether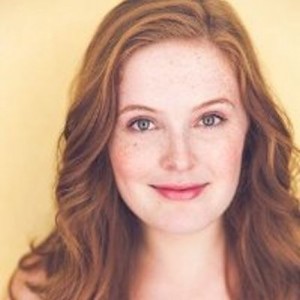 appropriate given the fact that Velma is supposed to be a more seasoned veteran of the vaudeville/burlesque stage.
Other reviewers have been equally effusive in their praise. This comes from Emily Yorgey of Broadway World:
"Sarah Mae Banning played Roxie Hart, and I thought she was absolutely perfect in the role. Her voice was wonderful, and she expressed Roxie's emotions so well through her acting; from her humor, to anger, to fear, and so much more. Near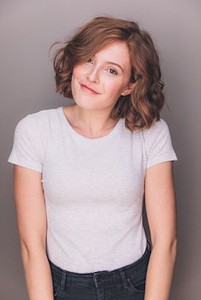 the end of her first number, Funny Honey, I was incredibly impressed with the anger she was able to portray using her voice and movements–and she had this same level of brilliance through the rest of the show. I particularly enjoyed her interactions and performances with McCleary's Velma. They both had amazing stage presence, especially when they were together."
And Di Saggau of The River Weekly News adds, "Sarah Mae Banning as Roxie is comedic and poignant as a self-absorbed and spoiled character of the downtrodden. You'll love her Me and My Baby and Roxie. They are both funny, outrageous and compelling numbers."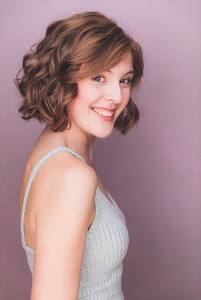 What explains Banning's success in the role is simply this: she understands her character. She lives these lines from her character's title song, Roxie: "And the audience loves me. And I love them. And they love me for loving them. And I love them for loving me. We love each other."
Banning received her BFA in Musical Theatre from Hartt School. Some of Sarah Mae's other acting credits include the roles of Millie in Thoroughly Modern Mille, Ariel in The Little Mermaid, Amber von Tussle in Hairspray, Pauline in Saturday Night Fever and Mrs. Pinkerton in Pinkalicious. In a previous production of Chicago (for Ivoryton Playhouse), Banning played Liz and danced in the ensemble. You can learn more at www.sarahmaebanning.com.
January 8, 2018.
RELATED POSTS.