McCleary brings new understanding to role of Velma Kelly in Broadway Palm's production of 'Chicago'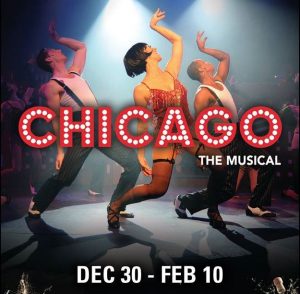 During her acting career, Amy Marie McCleary has played some pretty prestigious roles: Velma in Chicago, Lola in Damn Yankees, Bombalurina in CATS, Gladys in The Pajama Game, Tiger Lily/Mrs. Darling in Peter Pan, Lily St. Regis in Annie and Sheila in A Chorus Line to name a few. Of late, though, she has been working behind the scenes as a director, choreographer and proud mother of two little jazz babies (ages 4 and 2). But following a four-year absence, she has returned to the stage to reprise the role of Velma Kelly in Broadway Palm Dinner Theatre's current
production of Chicago. She's spectacular in the role.
If McCleary was experiencing any rust from her hiatus, she didn't show it. Her acting was crisp; her singing lusty and powerful; her dancing sharp and, at the same time, sublime. An inveterate fan of Bob Fosse, her movements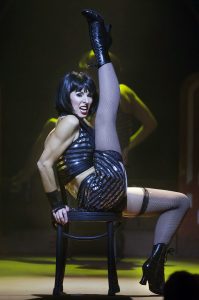 evoked the Roaring '20s as few other dancer/choreographers have the ability or insights to effectively do.
In case you've forgotten, Velma Kelly is a vaudevillian who performed a dance routine with her sister until she caught Sis practicing Move No. 17, The Spread Eagle, with her husband and killed them both. Not to worry, she tells the club owner moments after washing the blood from her hands. "I can do it alone," she asserts before extemporaneously transforming her duo into a solo act.
Yes, Velma has that much confidence and audacity. But both are shaken during her time in jail.
In the Cook County hoosegow,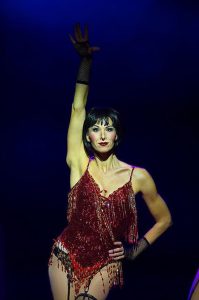 Velma discovers to her chagrin that she must depend on others for everything, from her fame as Chicago's most celebrated double murderess to her freedom. It's not a position to which she's accustomed, and she doesn't like the feeling, not one little bit. But she's able to forge a working relationship with both Matron "Mama" Morton (played by Illy Kirven) and her unscrupulous lawyer, Billy Flynn (played by Daniel A. Lopez) – at least until a fiery, redheaded interloper arrives on the scene in the guise of a cabaret wannabe by the name of Roxie Hart (played by Sarah Mae Banning).
It's not a matter of sharing the spotlight. Roxie usurps the limelight and outwits Velma at every turn. It's a bitter comeuppance for the haughty entertainer.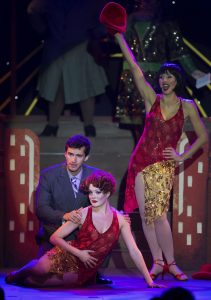 Instead of being nice to the star struck girl when she asks Velma's advice after washing her unmentionables, Velma callously dismisses Roxie's friendly overture, snarkily admonishing her to "Keep your paws off my underwear."
Oh, how the worm turns after Roxie becomes the public's new darling. In an act of desperation bordering on degradation, Velma begs Roxie to partner up with her on stage after they're both acquitted. Proving that turnabout is fair play, Roxie doesn't just rebuff Velma's business proposition. She let Velma know in no uncertain terms that she's all washed up.
"I'm the big star.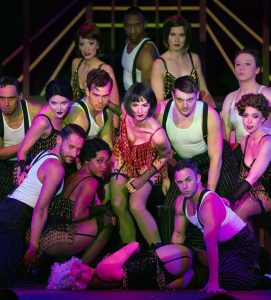 Single. Oh, I almost forgot. You were in the paper today too. In the back. With the obituaries. Velma Kelly's trial has been postponed indefintely. Ohhhh. Seven words. Wow."
It's impossible to get enough of McCleary's singing and dancing. She's a mesmerizing mega-talent in both capacities which, quite frankly, is essential for anyone who aspires to play a part like this one. But McCleary's brilliance in the role of Velma Kelly is her ability to convey to the audience that what her character craves most in life is not fame and fortune. They're merely the trappings of success.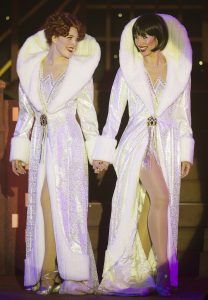 Velma desires more than anything to be appreciated, to matter. It drives everything she says and does.
That's what led her to kill her husband and sister. Their betrayal, after all, was the ultimate admission that she didn't matter to either of them in the most basic sense. It further explains why Roxie's comments were the cruelest blow of all.
McCleary clearly understands these aspects of her character, who she portrays as a highly intelligent, ultra-sophisticated but long-suffering female ingénue who is grossly underappreciated by everyone around her with one surprising exception. And, ironically, that's Roxie Hart.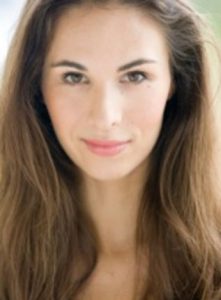 In appropriating Velma's defense strategy to win her own acquittal, Roxie actually pays homage to Velma's intellect, craftiness and savviness, especially when it comes to sizing up the public's capacity for forgiving even murder and duplicity because of their adoration of celebrity and fame.
In portraying her character in this way, McCleary (together with director M. Seth Reines are to be complimented. They bring out aspects about this character heretofore largely overlooked. And in so doing, they render the final act of Chicago much more understandable and satisfying. Roxie and Velma don't merely team up together as cabaret performers because neither "can do it alone." Because individually,
they're washed up old-time vaudevillians. No, they get each other. More, they matter to each other in fundamental ways no one else ever has. And by realizing that each gives to the other the recognition and respect that they need and deserve, McCleary and Banning close the character arc that Velma and Roxie must traverse in a way that makes pre-eminent sense.
It is possible, perhaps even likely, that McCleary has the capacity to understand her character in Chicago because she's figured out in real life the overriding importance that recognition and acknowledgment to most people, especially the singers, dancers, actors and other professionals with whom she interacts daily in the world of theater.
"Working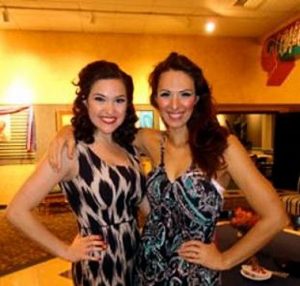 with Amy is like a breath of fresh air in this business," says Katherine Walker-Hill, who played Betty Haynes in Irving Berlin's White Christmas and was the sultry Miss Scarlett in Clue the Musical. "Not only is she well-prepared, she is also interested in creating a truly beautiful piece of art. She works well with all ages, talent levels, and backgrounds; but she also pushes each and every performer to be the best they can be in a nurturing, yet professional setting. She has raised the bar for all directors and choreographers, which is a gift to the theatre community."
It bears mentioning that McCleary not only co-stars in Chicago, she is responsible for show's choreography as well. It's no mean feat to follow in the footsteps of Bob Fosse, but it's a role she's well accustomed to playing. As Prather Entertainment's resident choreography, McCleary staged the dances for last season's blockbuster productions of Andrew Lloyd Webber & Tim Rice's Jesus Christ Superstar and Yeston & Kopit's Phantom. Other choreography credits include Evita, Cabaret, The Best Little Whorehouse in Texas, Peter Pan, All Shook Up, The King and I, Les Miserables, Annie, Dirty Rotten Scoundrels and the 2009/2010 national tour of The Wedding Singer.
Amy has also combined choreography with direction, and among her favorite director/choreographer credits are the 2015 national tour of Memphis, Irving Berlin's White Christmas, The Wizard of Oz, Footloose, Sister Act, I Love a Piano, Hairspray, 9 to 5 (regional premiere), CATS, Joseph and the Amazing Technicolor Dreamcoat, Ain't Misbehavin' (for the Herb Strauss Theatre), Spamalot (regional premiere), Buddy: The Buddy Holly Story, The Great American Trailer Park Christmas Musical, Grease and Some Enchanted Evening.
She also helped create the musical revues Holly Jolly Christmas and A Swinging Christmas – creating a Fosse version of The Nutcracker Suite and a tap ballet featuring all nine of Santa's reindeer.
In addition to Broadway Palm and the Herb Strauss Theatre, McCleary's work has been enjoyed by audiences across the country, including in touring productions and regional houses that include The Little Theatre on the Square, Allenberry Playhouse and UNCG's Department of Drama.
Amy has a passion for education through the arts, and is both creator and director of Broadway Palm's Musical Theatre Summer Intensive in collaboration with the Alliance for the Arts. "I'm a champion of education and thrive on working with young professionals," states Amy. "And as a working mother, I'm a self-proclaimed feminist who encourages tenacity and leadership in the young women I have the honor of working with on a daily basis. I hope my legacy is to encourage and enlighten other artists in the best way possible – through excellent work that has vision and heart."
Chicago runs through February 10. Go see it. You'll discover something fresh and new.
January 15, 2018.
RELATED POSTS.