Join Off-Broadway Palm at SPA-DEE-DAH for 'The 'Hallelujah Girls'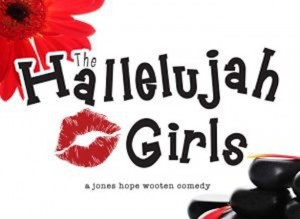 The Hallelujah Girls comes to the Off-Broadway Palm beginning January 11. From the writers of The Dixie Swim Club and The Savannah Sipping Society, this all-new, rollicking Southern comedy will have you laughing in your seat and shouting "Hallelujah" from the aisles.
The action takes place in SPA-DEE-DAH!, an run-down abandoned church-turned-day-spa located in Eden Falls, Georgia. It's where a group of feisty friends gather every Friday afternoon. After the loss of a dear friend, the women realize time is a precious commodity, and if they're going to change their lives and achieve their dreams, they have to get after it now! But there are complications and Sugar Lee, their high-spirited, determined leader, has her hands full keeping the women motivated and on course.
Having buried three husbands (one died of a snake bite in Lake Moccasin), sassy Carlene has given up on romance. Nita's a nervous wreck from running interference between her deadbeat son and his probation officer. Mavis' marriage is so stagnant she's wondering how she can fake her own death to get out of it. And sweet, simple Crystal entertains them all, singing Christmas carols with her own hilarious lyrics while dressing in costume on every conceivable holiday (including Arbor Day).
The comic tension mounts when a sexy ex-boyfriend shows up unexpectedly, a marriage proposal comes from an unlikely suitor and Sugar Lee's archrival, Bunny, vows she'll stop at nothing to steal the spa away from her.
While The Hallelujah Girls is not a sequel to either The Dixie Swim Club or The Savannah Sipping Society, Off-Broadway Palm audiences have supported everything coming from the the playwriting team of Jessie Jones, Nicholas Hope and Jamie Wooten (the latter also being a writer and producer on The Golden Girls) that it is not only producing The Hallelujah Girls this season, but bringing back last season's smash hit, The Savannah Sipping Society, for encore performance June 14 through July 22.
But for now, join Sugar Lee and her friends in SPA-DEE-DAH! Tickets are on sale in the box office, online and by calling Broadway Palm Dinner Theatre at 239-278-4422.