'Hallelujah Girls' play dates, times and ticket info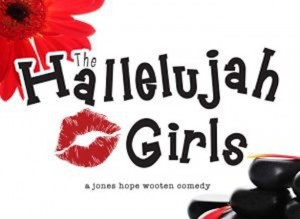 Play: The Hallelujah Girls
Playwrights: Jessie Jones, Nicholas Hope and Jamie Wooten (the latter also being a writer and producer on The Golden Girls)
Synopsis: The action takes place in SPA-DEE-DAH!, an abandoned church-turned-day-spa located in Eden Falls, Georgia. That's where a group of feisty friends gather every Friday afternoon. After the loss of a dear friend, the women realize time is precious, and if they're going to change their lives and achieve their dreams, they have to get on it now! But there are complications and Sugar Lee, their high-spirited, determined leader, has her hands full keeping the women motivated. Having buried three husbands (one died of a snake bite in Lake Moccasin), sassy Carlene has given up on romance. Nita's a nervous wreck from running interference between her problematic son and his probation officer. Mavis' marriage is so stagnant she's wondering how she can fake her own death to get out of it. And sweet, simple Crystal entertains them all, singing Christmas carols with her own hilarious lyrics and dresses in costume for every possible holiday (including Arbor Day). The comic tension mounts when a sexy ex-boyfriend shows up unexpectedly, a marriage proposal comes from an unlikely suitor and Sugar Lee's archrival, Bunny, vows she'll stop at nothing to steal the spa away from her.
Director: TBA
Cast: TBA
Play Dates and Times: January 11 through February 24, 2018, with matinee, twilight and evening performances most Tuesday through Sundays.
Tickets: Tickets range from $59 for evening dinner & show to $39 for the show only. Group discounts are available for groups of 20 or more.
Info: For more information, please visit http://www.broadwaypalm.com or telephone 239-278-4422.