For as great as the film was, 'Singin' in the Rain' is even better on stage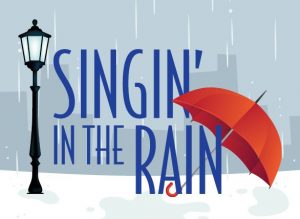 Imagine you're in the Louvre raptly gazing at the Mona Lisa. Suddenly, 25-year-old Lisa del Giocondo comes to life. She crawls through the frame, crosses the gallery and sits in front of an easel, where Leonardo da Vinci begins to paint her portrait. Well, that's precisely what director and choreographer Amy Marie McCleary accomplishes with Prather Entertainment's production of Singin' in the Rain on stage now through February 12.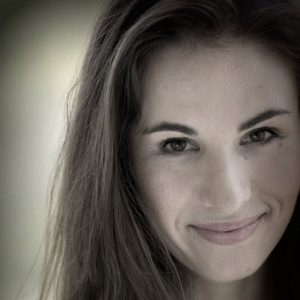 "What so wonderful about seeing Singin' in the Rain on stage is that it brings the movie to life in a three-dimensional manner," says McCleary. "To see it three-dimensionally adds this other level. It's just magical. It comes to life in a new way.
Imbued with incredible vision and a passion for storytelling, McCleary has built a reputation – both locally and nationally – for smart, unique and fresh choreography. That's on display in even greater measure in Singin in the Rain, which includes such crowd-pleasing tap numbers as "Fit as a Fiddle," "Moses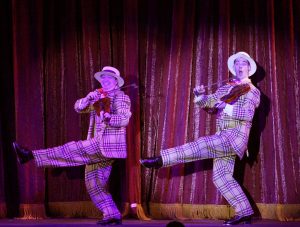 Supposes," "Good Mornin'" and, of course, "Singin' in the Rain."
That said, McCleary is careful not to deviate too far from what audiences expect.
"As a choreographer, there are certain pieces that you have to stick with the original choreography, and Singin' in the Rain is one of those," McCleary remarks. "So for the big tap numbers, for 'Fit as a Fiddle,' for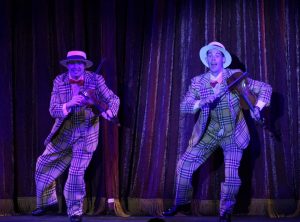 'Moses Supposes,' for 'Good Mornin,' for 'Singin in the Rain,' it is 75, 80 percent the original choreography taken from the film."
But that still leaves room for McCleary to add her trademark innovative touches – which her dancers affectionately term "McClearyography."
Like any good coach, McCleary plays to the strength of her actors. Such as Sami Doherty, who reprises the role of the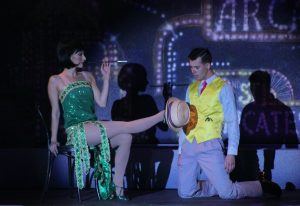 vampy gangster moll that Cyd Charisse famously played in the film. Like Charisse, Doherty can stop a man just by holding up her leg.
But while the Lady in Green sequence is mostly true to the movie, McCleary incorporated a few of her own flourishes.
"I changed some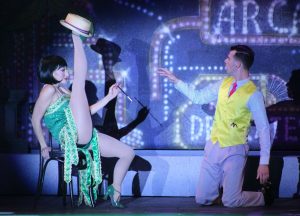 [aspects of The Lady in Green choreography] because Sami [Doherty] has some special skills that I wanted to showcase," McCleary shares.
Alex Fullerton (Crazy for You, Peter Pan, Seven Brides for Seven Brothers) portrays Don Lockwood, a man who finds himself at a professional and personal crossroads as Hollywood segues from silent to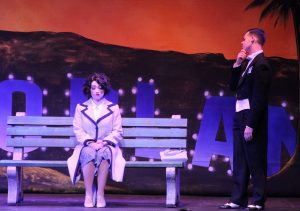 talking films.
Loren Stone (Smoke on the Mountain, Cinderella, Mamma Mia!, Crazy for You) plays his gleeful, fun-loving sidekick Cosmo Brown, who brings down the house with his Donald O'Connor-inspired antics in "Make 'Em Laugh."
And Shannon Conboy (Dames at Sea, A Man of No Importance,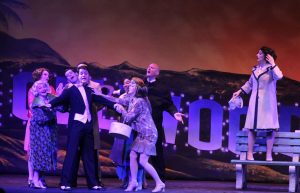 Little Shop of Horrors) scintillates as Lockwood's refreshingly honest, no-nonsense love interest Kathy Seldon.
Each provides strong, resonate vocals, particularly Conboy, who wows the audience with her renditions of "All I Do Is Dream of You" and "You Were Meant for Me/You Are My Lucky Star." But unlike Debbie Reynolds,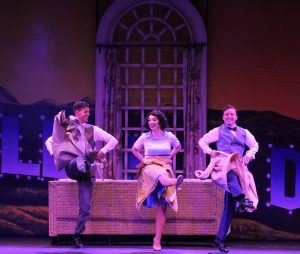 Conboy does all of her own songs.
Still, the true show stopper in this musical remains the title number.
To pull it off, Broadway Palm's technical wizards have rigged up a rain deck and  water sprinkler that reproduces – live on stage – the unforgettable early morning rainstorm that took seven days to film. It is worth the price of admission just to see Fullerton sloshing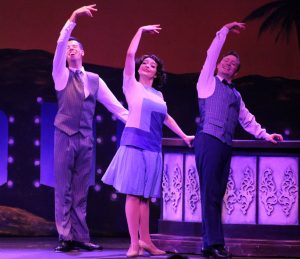 and splashing through puddles as the lights catch and refract the droplets of water that Fullerton kicks up during the scene.
And Broadway Palm doesn't even have to add milk to the water to catch the lights just right!
"As an actor, I was excited from the moment of casting that we were going to have rain on the stage," adds Conboy, whose character, Kathy Seldon, not only makes an appearance at the end of the scene, but gets to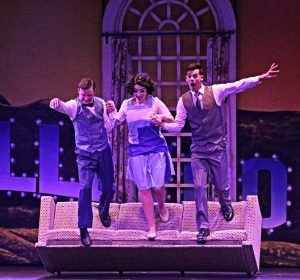 wear some really cute galoshes as well. "Water's going off the stage. The audience is excited. I was excited to be part of the scene. It's just a blast."
As a lifelong fan of Gene Kelly, directing and choreographing Singin in the Rain has been another dream come true for McCleary. But more, it has given her and her cast the opportunity to dance in Gene Kelly's footsteps in a way that brings them greater understanding of, and appreciation for, his
legacy as one of America's most iconic dancers.
"It was amazing to find, omigosh, that he uses this step over and over and over again, and my dancers and I realized that, oh, this is the Gene Kelly step … baadump, baadump, and shuffle, hop, step. He always does that. That's been really exciting – to learn those steps, and step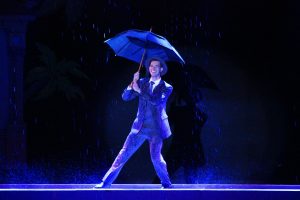 further into her persona, his creative genius."
For the rest of us, Singin in the Rain its pure entertainment – and sheer joy.
"No matter who you are, you're going to love it," promises Conboy. "You're going to laugh. You're going to smile. You're going to experience joy and also see some really great tap dancing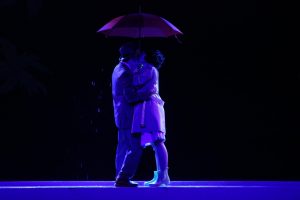 and just really enjoy yourself for two and a half hours."
Film audiences have been laughing, smiling and enjoying their way through the film for nearly seven decades. (The film celebrates the 70th anniversary of its release on April 12.) In 2005, the British Film Institute included it in its list of the 50 films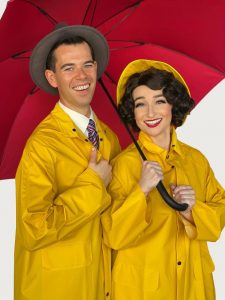 to be seen by the age of 14. In 2008, Empire magazine ranked it as the eighth-best film of all time. In Sight & Sound magazine's 2012 list of the 50 greatest films of all time, Singin' in the Rain placed 20th.
For as great as the film is, the story is even better on stage, where its magic is amplified not just by seeing the film come alive three-dimensionally, but because of the shared experience of seeing it with a whole room full of people and being able to root for – and applaud – Don and Cosmo and Kathy as they dance their way into your heart.
Singin in the Rain plays at Broadway Palm Dinner Theatre through February 12.