Leah, Fergus and Broadway Palm support paper paws program to benefit Gulf Coast Humane Society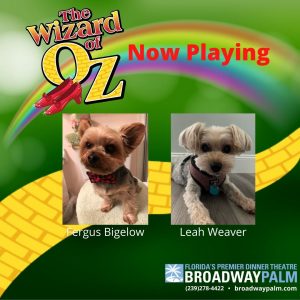 There's no place like home, so Broadway Palm (and Toto, too!) are partnering this summer to raise funds for Gulf Coast Humane Society. During the course of its production of The Wizard of Oz, which plays through August 13, Broadway Palm is selling paper paw prints for $1 each. The paws can be decorated and will be displayed throughout the theater. All proceeds from the paw print sales will go directly to the Gulf Coast Humane Society, whose mission is to rescue, provide safe refuge and compassionate care and find forever homes for abandoned and neglected animals in the area.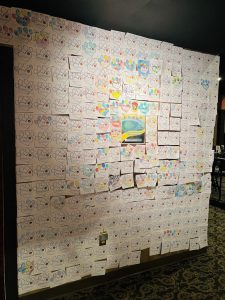 The Wizard of Oz has many memorable characters. There's Dorothy and her friends, the Scarecrow, the Tin Woodsman and the Cowardly Lion. And Glinda the Good and the Wicked Witch of the West. There's the all-and- powerful Oz. But the animal lovers in the audience all fall in love with Dorothy's flower-bed-digging-doggie, Toto, who is played alternately at Broadway Palm by two cute and cuddly canines, Leah Weaver and Fergus Bigelow.
Like Dorothy, Leah and Fergus both know the value of family and that there's no place like home. So, naturally, they want to help their less fortunate fur friends find good and safe homes with local loving families. Toward that end, they are proud to help promote Broadway Palm's paw print program.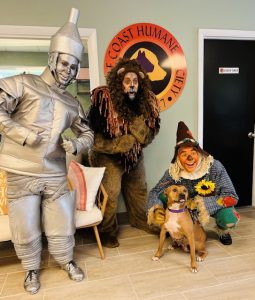 Gulf Coast Human Society was established as the first non-profit animal welfare organization in southwest Florida in 1947.  Located at 2010 Arcadia Street in Fort Myers, GCHS enjoys a high success rate in finding forever homes for the owner surrenders and transfers it receives from other shelters and rescue groups.
GCHS also maintains two clinics that are open to the public – a veterinary clinic that offers a full array of affordable services six days a week and its low-cost, high-quality, affordable spay/neuter clinic, which is open four days a week.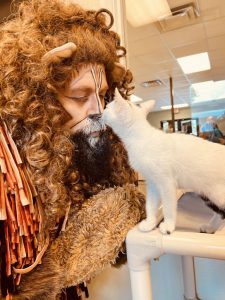 Even though he's a feline, Leah and Fergus are partial to the Cowardly Lion, who is played to purrfection by Victor Legarreta. All three want cat lovers to also know about the Cattyshack Cat Café at Gulf Coast Town Center. Co-owned by Andrew Townsend and Amber Redfern and operated in affiliation with Gulf Coast Humane Society, Cattyshack Cat Café is a coffee shop and lounge that features a glass-enclosed area that allows visitors to interact with adoptable rescue cats and kittens who might otherwise be overlooked at an animal shelter. Patrons can sip caffeinated beverages like Catpurrccino, Meowcchiato, The Tuxedo, The Tabby, The Calico and The Tortie while getting to know the cats and kittens in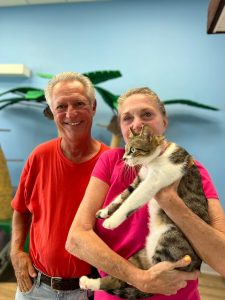 the play area. And those who make that special connection with one of Cat Café's cats or kittens can apply for and adopt that special feline. More than 1423 felines have found forever homes with Cattyshack's help and encouragement.
Based on the book by Frank L. Baum and the world famous 1939 film, The Wizard of Oz chronicles the adventures of Dorothy, the Scarecrow, the Tin Man, the Cowardly Lion and Toto, too!  Fly over the rainbow with Dorothy as she rides a twister into The Merry Old Land of Oz and learns that no matter how far our journeys take us, there's no place like home. You'll hear songs from the delightful score you know and love such as "Follow the Yellow Brick Road,"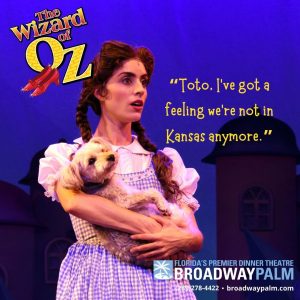 "Somewhere Over the Rainbow" and "We're Off to See the Wizard." Go here to hear more about the show on WGCU.
Performances are Wednesday through Sunday evenings with selected matinees. Tickets are $50 to $75 with group prices available. There is a summer special for children 18 and under, tickets are just $25 for the buffet and the show! Tickets are now on sale and can be reserved by calling (239) 278-4422, visiting BroadwayPalm.com or in person at 1380 Colonial Boulevard in Fort Myers.
And for more on Leah and Fergus, read: 'Wizard of Oz' cast and audiences wild about Leah and Fergus.'
July 20, 2022.