Melissa Whitworth's insights into Wicked Witch of the West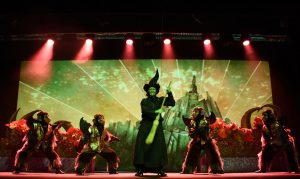 In a show characterized by extraordinary sets, colorful custom costumes, and the kind of dance sequences that are synonymous with McCleary's signature choreography, what Broadway Palm audiences may remember most about this production of The Wizard of Oz are the show's visuals – including Kate Stenzel's Glinda the Good flying across the stage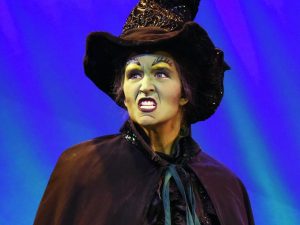 in her transparent bubble and Melissa Whitworth taking flight as the Wicked Witch of the West on her well-worn broom. Whitworth is the beneficiary of the show's other stand-out techno-moments –the smoke and flashes that announce her entrances, the fireball she tosses at the Scarecrow, and her nifty disappearing act as she melts into the floor of her castle after being doused by the bucket of water that Dorothy throws on the Scarecrow when the witch sets him on fire with her broom.
But some may feel that Whitworth's Wicked Witch is not as scary as her movie counterpart. But that's by intention. In the musical, the Wicked Witch of the West is more of a manifestation of Dorothy's psyche and emerging femininity and less a caricature of malevolent evil.
"The average audience-goer wants to see a part of [the latter] on stage," Whitworth concedes. "But then the script is very different than how the movie's written. So there's so much opportunity for change because I say things that [Margaret Hamilton] doesn't say in the movie. So it's going to end up being different. I think definitely on the stage version there's a lot of jokes written for me. There's a lot of puns. I mean there's some in the movie, but not nearly as many as we have in the stage version. So I get to lean into the comedy of her more so than Margaret Hamilton did just because of the script in front of me while still trying to be true to the version of the Wicked Witch that people come to see."
In this vein, the musical emphasizes the psychological symbolism associated with each of the characters who appear in the land of Oz. For example, the Scarecrow, Tin Man and Lion reflect the weak male role models in Dorothy's actual life, and as they accompany her on the yellow brick road through corn fields, apple orchards, wild forests and poppy fields, they enable Dorothy to learn life-altering lessons about her own resourcefulness, caring and nerve. But it's through the Wicked Witch that she finally confronts her own inner demons, as Melissa Whitworth explains.
"The Wicked Witch isn't just an outside obstacle, you know. The Wicked Witch is that voice in your head saying mean things to you and trying to hold you down and keep you back from believing in yourself and being true to your heart and using your brain and having courage."
The Wizard of Oz is on the main stage at Broadway Palm Dinner Theater now through August 13.
July 17, 2022.