James Putnam is lying Ted in Off Broadway Palm's 'Right Bed, Wrong Husband'

On stage in the Off Broadway Palm through July 29 is Neil and Caroline Shaffner's Right Bed, Wrong Husband. James Putnam stars as Ted, a y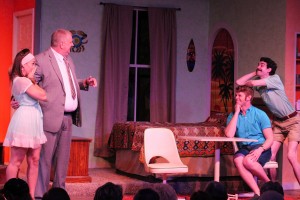 oung trust beneficiary who tells a "little white lie" in order to get more money from his tightfisted, skinflint uncle, who presides as trustee over Ted's money.
It's 1973 and Ted has a house on the beach, a penchant for entertaining house guests, a full-time maid and no other visible means of support. Uncle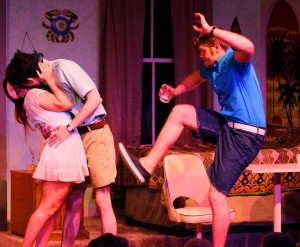 Martin has concluded that $100 per week ($567 in today's money) is enough for a single guy to live on. But to Ted's way of thinking, it's his money and he wants it now. His uncle's promised to re-evaluate the amount of Ted's weekly check if and when his marital status changes, and so that's what Ted tells his uncle.
It's not that big a lie. He is engaged to a beautiful young girl by the name of Ruth. They're planning to get married soon. There's
just the slight complication. Ruth won't exchange vows until she and Ted receive her daddy's blessing and he's in Europe on an extended business trip.
Then another complication arises when Ted gets a letter and then a telephone call advising him that Uncle Martin has a layover in Tampa en route to South America to buy a rubber plantation. He wants to swing by Ted's beach house to say hello and meet his new daughter-in-law. To complicate matters further (are you picking up on the pattern that's emerging here?), Ruth's away at a dental appointment and won't be there to play along.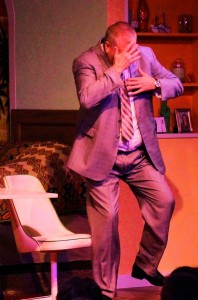 But his buddy's wife, Evelyn, is at the beach house and when Uncle Martin mistakes her for Ted's wife, she decides to play along and what started out as a little white lies quickly spirals into a whopper of Bernie Madoff proportions with hilarious consequences, especially when night falls and it's time for Ted and Evelyn to go to bed together.
James Putnam plays the role of Ted, an unambitious young lad who professes to be honest and upright, but who's willing to corrupt his maid, his friends, his fiancée and drunken neighbor in order to preserve his stipend. Putnam does a creditable job in a farcical, sitcom setting in illustrating Sir Walter Scott's 1808 adage, "Oh what a tangled web we weave when first we practice to deceive."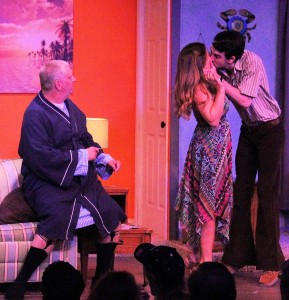 Putnam studied acting at Florida School of the Arts, where he attained Associates in science and the arts before going on to earn a Bachelors in Fine Arts at Marshall University in beautiful Huntington, West Virginia. James was just on the Off Broadway Palm stage, playing the part of Gabe Lawson in Things My Mother Taught Me. Other acting credits include Rick Steadman in The Nerd (Off Broadway Palm), Beast in Beauty and the Beast (Orlando Shakespeare), Prentiss in Peter and the Starcatcher (Orlando Shakespeare), Boatswain in The Tempest (Orlando Shakespeare),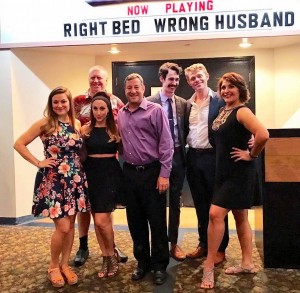 Scarecrow in The Wizard of Oz (Columbus Children's Theater), Young Scrooge in A Christmas Carol (Hippodrome State), Sipos in She Loves Me (Clinton Area Showboat), Cpt. Von Trapp in The Sound of Music (Clinton Area Showboat), and Zoltan Karpathy in My Fair Lady (Thin Air Theater).
June 23, 2017.
RELATED POSTS.