'Later Life' may be best of A.R. Gurney's 46 plays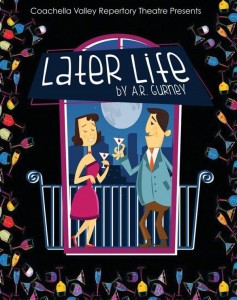 A.R. Gurney's Later Life opens April 6 at the Centers for the Arts Bonita Springs. Directed by Catalina Monterrosa, the play features local members of the CFABS Community Players.
The play follows Austin and Ruth, who meet at a cocktail party overlooking Boston Harbor thirty years after they were once an item. Austin has spent his entire life convinced that something terrible is bound to happen to him. Now a multiple divorcee, Ruth's personal life is in such turmoil that mutual friends look to Austin as Ruth's last shot at normalcy. At the same time, they hope the wildly unpredictable Ruth will help pry Austin from his predictable life of quiet depression. Comically, and sometimes painfully, these two people rediscover each other and themselves while a bevy of other free-spirited guests rally to remind them of the infinite possibilities that life holds – should one only choose to pursue them.
Gurney's plays often explore the theme of a declining upper-class white Anglo-Saxon Protestant life in contemporary America. The Wall Street Journal has called his works "penetratingly witty studies of the WASP ascendancy in retreat," and several of his works are loosely based on his patrician upbringing. While opinions vary, The New Yorker posits that Later Life may be the best of the 46 plays the Yale graduate has penned since the early '60s.
Later Life reminds us all that the choices we make can either lead to turmoil or open opportunities. The choice is ours. So are the consequences.
March 25, 2017.
RELATED POSTS.