Cultural Park play recreates classic holiday movie as 1940s radio broadcast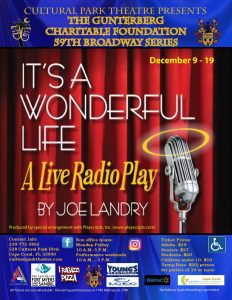 It's a Wonderful Life: A Live Radio Play comes to Cultural Park Theater December 9-19. The play recreates the classic holiday movie as a 1940s radio broadcast.
Starring James Stewart, Donna Reed and Lional Barrymore, It's a Wonderful Life is #20 on the American Film Institute's Top 100 Greatest American Films of All Times and #1 on 100 Years … 100 Cheers, with George Bailey listed as #9 on AFI's 100 Heroes list and James Stewart #3 on AFI's list of the greatest stars in cinematic history.
As you'll readily recall, George Bailey is a generous, well-meaning man who facing an existential crisis prompted by the impending failure of his Bedford Falls savings & loan association. Downcast, at his wit's end and convinced that he is indeed worth more dead than alive, he contemplates ending his life one fateful Christmas Eve. It will take help from a lovable angel named Clarence to show George all the lives he positively influenced in an effort to induce him to have a change of heart in the true spirit of the holidays.
But Cultural Park Theater's retelling of the classic tale comes with a clever twist. The story is staged as a live 1940s radio broadcast with actors playing numerous characters and sound effects provided by Foley artists.
Please go here for play dates, times and ticket information.
November 24, 2021.