'It's a Wonderful Life Live Radio Show' play dates, times and ticketing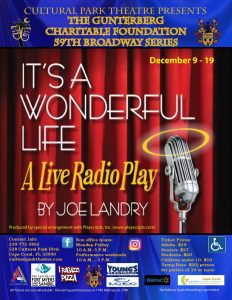 Play:  It's a Wonderful Life: A Live Radio Play
Playwright:  Joe Landry
Synopsis: It's a Wonderful Life is centered around George Bailey, a generous, well-meaning man who facing an existential crisis prompted by the impending failure of his Bedford Falls savings & loan association. Downcast, at his wit's end and convinced that he is indeed worth more dead than alive, he contemplates ending his life one fateful Christmas Eve. It will take help from a lovable angel to show George all the lives he positively influenced and induce him to have a change of heart and understand the true spirit of the holidays. But this recreation of the classic holiday movie comes with a clever twist:  the story is staged as a live 1940s radio broadcast. Actors portray numerous characters, and sound effects are done through Foley artists.
Director:  Joy Ursillo
Cast:
Dennis DeLuca – George Bailey
Ellen Gonzales – Mary Hatch
Robert Taylor- Clarence and others
Greg Wojiciechowski – Mr. Potter and others
John Alday- Harry Bailey and others
Marjorie Malca – Violet Bick and others
Christie Wengerter- Bank examiner, Ma Bailey, others
Teri Longstreet  – Matilda and others
Howard Nutt – Joseph and others
Louis Monaco – Uncle Billy and others.
Stephen Graham- Mr. Gower and others.
Play Dates and Times: December 9-19 (Thursdays at 7:00 p.m., Fridays at 8:00 p.m. and Saturdays and Sundays at 3:00 p.m.)
Tickets: $29 adults; $27 seniors; $20 students; and $10 children under 10.
Place:  Cultural Park Theater, 528 Cultural Park Blvd, Cape Coral, FL  33990.
More Information: Please telephone 239-772-5852 or visit culturalparktheater.com
November 27, 2021