'Play On!' play dates, times and ticket information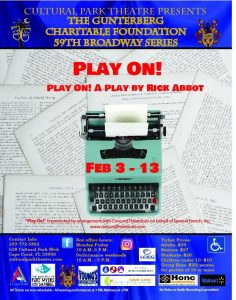 Play:  Play On!
Playwright:  Rick Abbot
Synopsis:  The comedy follows a game community theater group that is desperately trying to put on a murder-mystery titled "Murder Most Foul." Standing in their way is playwright Phyllis Montague, who keeps revising the script even though the opening is just four days away! Act I depicts a rehearsal of the dreadful show, during which the playwright repeatedly interrupts the actors with on-the-fly revisions. Act II portrays the near-disastrous dress rehearsal. And the uproariously funny final act showcases the actual performance in which anything that can go wrong does. When the author decides to give a speech on the state of the modern theater during the curtain calls, the audience is treated to a madcap climax and a thoroughly hilarious romp. Even the sound effects garner their share of laughter.
Director:  Michael Moran
Asst Director: Howard Nutt
Stage Manager: Robert Taylor
Stage Crew: Connor Christensen
Set Design:  Michael Moran
Costume Design:  Laurie Strum
Light/Sound Design: George O'Connor
Cast:
Dea Boozer plays Aggie Manvile
Diego Diecidue plays Billy Carewe
Ellen Gonzales plays Gerry Dunbar
David Vardanyan plays Henry Benish
Isabel Slattery plays Louise Peary
Robin Murray plays Phyllis Montague
Laura Leroy plays Polly Benish
John Alday plays Saul Watson
Jazmin Gonzalez plays Smitty Smith
Leah Kuchuk plays Violet Imbry
Play Dates and Times:  February 3-13, 2022; performances are Thursdays/Fridays at 7:00 p.m. and Saturdays/Sundays at 3:00 p.m.
Tickets:  $29 adults; $27 seniors; $20 students; and $10 children under 10. Please telephone the box office at 239-772-5862 between 10:00 a.m. and 5:00 p.m.
Location:  Cultural Park Theatre, 528 Cultural Park Boulevard, Cape Coral, FL 33990.
More Information: Please telephone 239-772-5852 or visit culturalparktheater.com
February 3, 2022.