'Putnam County Spelling Bee' a riotous musical comedy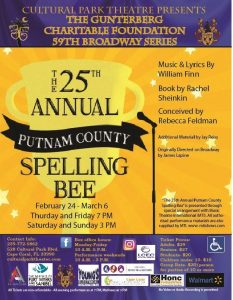 The 25th Annual Putnam County Spelling Bee is known for its edgy humor, effortless wit, originality, and heartfelt story. And it comes to Cultural Park Theater for eight shows beginning February 24.
The story revolves around a group of misfit sixth graders who are engaged in a winner-take-all competition.
Olive Ostrovsky: Sweet and shy, Olive brings her only friend (the dictionary) to the bee.
William Barfee (pronounced with an accent aigu): Bold and hyperallergic, the "insufferable genius" uses his "magic foot" to propel him to greatness.
Logainne Schwartz-and-Grubenierre: The youngest competitor in the spelling bee, the adorably precocious "Schwarzy" only wants to impress her gay parents.
Marcy Park: One of those annoying people who's good at everything, this overachiever derives no joy from her incessant success.
Leaf Coneybear: Like his family and friends, this kindhearted simpleton is convinced he doesn't deserve to be in the spelling bee at all.
Charlito Tolentino: The former champion, Chip, is distracted by his burgeoning puberty.
As they make their way through the competition, the spellers reveal their hopes, struggles and passions in a series of hilarious, touching, and catchy songs. With an engaging score by William Finn and a sweet, funny book by Rachel Sheinkin, The 25th Annual Putnam County Spelling Bee will cause you to fall in love with the show and its "perspicacious," "jocular," and "effervescent" spellers. Alas, there can only be one winner. But don't fret, the losers do get a juice box.
In addition to the competitors, the show features such memorable characters as successful real estate agent Rona Lisa Peretti, her hopeless (hapless) suitor Vice Principal Douglas Ranch and an ex-con by the name of Mitch Mahoney.
"This is one of the funniest and most inventive musicals to come along in decades," said one prominent artistic director when his company produced the show several years ago. "It is smart, irreverent, full of heart, and keeps you laughing. It is a really refreshing coming-of-age story that will take audiences back to tween years to relive the triumphs and defeats with a great score and clever characters. This will be the hottest ticket in town, so don't miss out."
So grab your dictionary! With only eight shows and limited seating, tickets to this multiple Tony-winning show won't last long.
February 18, 2022.