'Putnam County Spelling Bee' play dates, times and ticket information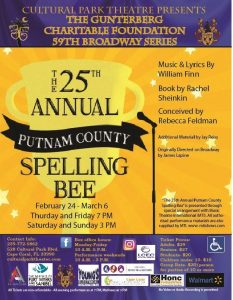 Play: The 25th Annual Putnam County Spelling Bee
Book: Rachel Sheinkin (Tony and Drama Desk awards for Best Book)
Score: William Finn (Tony nominated)
Synopsis: An eclectic group of six mid-pubescents vie for the spelling championship of a lifetime. While candidly disclosing hilarious and touching stories from their home lives, the tweens spell their way through a series of (potentially made-up) words, hoping never to hear the soul-crushing, pout-inducing, life-un-affirming "ding" of the bell that signals a spelling mistake. Six spellers enter; one speller leaves!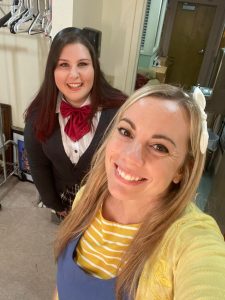 But at least the losers get a juice box
Director: Tyler Young
Assistant Director/Stage Manager:  Peyton McCarthy
Choreographer:  Annette Voris
Music Director:  Cassy Terwilliger
Costume Designer:  Chloe Cuyler
Cast: 
Rona Lisa Perretti:  Cassy Terwilliger
Chip Tolentino: TBD
Olive Ostrovski: Dana Alvarez
William Barfee: Margaret Bowman
Marcy Park: Samantha Pudlin
Leaf Coneybear: Cassie Sampson
Logainne Schwartzandgrubenierre: Aimee Naughton
Douglas Panch: Stephanie Sabelhaus
Mitch Mahoney: Tatiana Rodriguez
Jesus/Swing: Dea Boozer
Play dates and times:  February 24 – March 6
7:00 p.m. on Thursdays and Fridays;
3:00 p.m. on Saturdays and Sundays
Place:  Cultural Park Theater
Ticket Info:  $29 adults; $27 seniors; $20 students; and $10 children under 10. Please telephone the box office at 239-772-5862 between 10:00 a.m. and 5:00 p.m.
Location:  Cultural Park Theatre, 528 Cultural Park Boulevard, Cape Coral, FL 33990.
More Information: Please telephone 239-772-5852 or visit culturalparktheater.com.
February 18, 2022.