'Addams Family' play dates, times and other information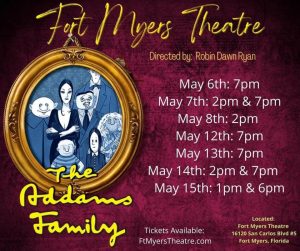 Play:  The Addams Family
Book:  Marshall Brickman and Rick Elice (Jersey Boys)
Music & Lyrics:  Andrew Lippa (The Wild Party)
Synopsis:  Wednesday Addams, the ultimate princess of darkness, has grown up and fallen in love with a sweet, smart young man from a respectable family– a man her parents have never met. And if that wasn't upsetting enough, Wednesday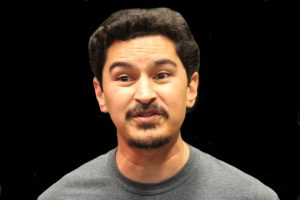 confides in her father that she's accepted his proposal of marriage, but begs him not to tell her mother. Now, Gomez Addams must do something he's never done before – keep a secret from his beloved wife, Morticia. Everything will change for the whole family on the fateful night they host a dinner for Wednesday's "normal" boyfriend and his parents.
Awards: The Addams Family won several awards during its Broadway run including the 2010 Drama League Award for Distinguished Achievement in Musical Theatre Award (presented to Nathan Lane) along with nominations for two Tony Awards, among other nominations.
Director:  Robin Dawn
Choreographer:  Robin Dawn
Cast:
Gomez Addams – Parrish Danesh (U/S Terr Lavy)
Morticia Addams – Paola Cifuentes (U/S Erin Coleman)
Wednesday Addams – Anna Lehman (U/S Joanne Marrone)
Pugsley Addams – Tyler Reis
Fester Addams – Terry Lavy (u/s Alex Brown)
Grandman – Bianca Veranich  (u/s Katie Beckman)
Lurch – Noah Lynch
Lucas Beineke – Andrew Darden
Mal Beineke – Alex Brown (u/s Ryan Veranich)
Alice Beineke – Lisa Clark (u/s Rachel Drake)
Ancestors – Nicole Anderson, Erin Coleman, Rachel Drake, Jessica Getlick, Michelle Kuntze, Terry Levy, Joanne Marrone and Ryan Veranich)
Play Dates and Times:
7:00 p.m. performances:  Friday, May 6, Saturday, May 7, Thursday, May 12, Friday, May 13 and Saturday, May 14
6:00 p.m. performance:  Sunday, May 15
2:00 p.m. matinees:  Saturday, May 7, Sunday, May 8, Saturday, May 14
1:00 p.m. performance:  Sunday, May 15
Tickets: $35
Location: Fort Myers Theatre, 16120 San Carlos Boulevard in Fort Myers.
April 23, 2022.
RELATED POSTS
The Addams Family on WGCU:  The Addams Family is visiting Fort Myers Theater starting May 6. It promises to be a scream.