Fort Myers Theatre's 'Steel Magnolias' make us laugh and cry as realities of their lives unfolds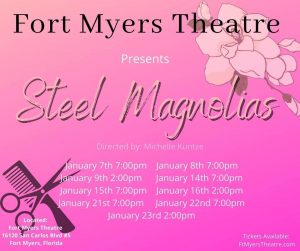 Steel Magnolias comes to Fort Myers Theatre January 7 through 23.  The action is set in Truvy's beauty salon in Chinquapin, Louisiana, where all the ladies who are "anybody" come to have their hair done. Helped by her eager new "glamor technician" assistant, Annelle (who is not sure whether or not she is still married), the outspoken, wise-cracking Truvy dispenses shampoos and free advice to patrons and a close-knit circle of friends whose lives come together there.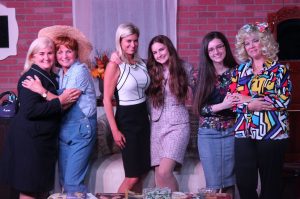 Included in the latter group are M'Lynn and her daughter Shelby, sour-tempered Ouiser Boudreaux and recently-widowed Clairee. Filled with humor and heartbreak, these "Steel Magnolias" make us laugh and cry as the realities of their lives in tiny Chiquapin Parish unfolds.
Go here for play dates, times and ticket information.
December 12, 2021.