'Steel Magnolias' play dates, times and ticket information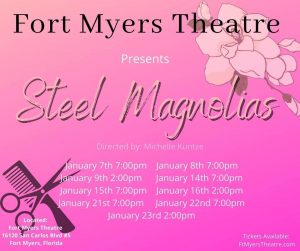 Play:  Steel Magnolias
Playwright: Robert Harling (The Evening Star, The First Wives Club)
Genre:  Dramedy
Synopsis:  Truvy Jones runs a successful beauty salon in Chinquapin, Louisiana, where all the ladies in the neighborhood have a standing Saturday appointment. Along with her anxious and eager assistant, Annelle, Truvy styles the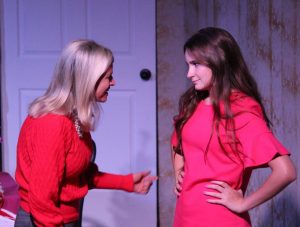 hair of many of the women about town:
wealthy widow and former first lady of Chinquapin, Clairee Belcher,
local curmudgeon Ouiser Boudreaux ("I'm not crazy, I've just been in a bad mood for forty years"),
intelligent and compassionate career woman M'Lynn, and
her daughter Shelby, the prettiest girl in town.
Shelby's engagement is the talk of the town, but the joy and excitement of her wedding quickly turn to concern as she faces a risky pregnancy and a myriad of health complications. Eventually, when Shelby dies from complications related to her diabetes, M'Lynn has to deal with the most difficult of life's challenges: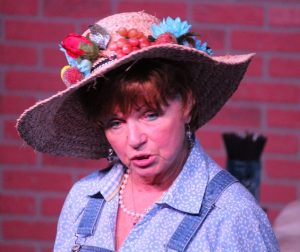 the loss of one's only child. As the women of Chinquapin make their way over life's many hurdles together, they find comfort (and a fair amount of verbal ribbing) in one another.
Director:  Michelle Kuntze
Cast: 
Annelle:  Peyton McCarthy
Shelby:  Anna Joy Lehman
Ouiser:  Sherry Ragone
M'Lynn:  Lisa Wynn Moss
Clairee:  Melissa Ferguson-Lehman/Allison Lund
Truvy:  Stephanie Evans/Lindsey Bamman
Play Dates and Times:
7:00 p.m. on January 7 & 8, 14 & 15, 21 & 22
2:00 p.m. on January 9, 16 and 23
Tickets:  Please call 239-323-6570 or visit https://www.ticketor.com/ctw/upcomingevents?PageId=138301
Location:  Fort Myers Theatre, 16120 San Carlos Blvd #5, Fort Myers, FL
COVID Mandate/Protocol:  Fort Myers Theatre does not require its cast and crew to be vaccinated, nor does it require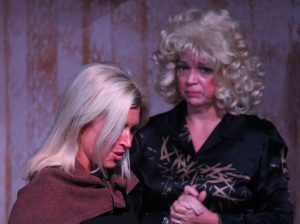 them to produce negative COVID tests prior to or during the course of a show's run. The audience is not required to wear masks during performances. Please call the theater for a full explanation of their COVID precautions and protocols before deciding to attend a performance.
December 12, 2021