Linda Hall's masks and puppets on display in Ghostbird's 'ORBS!'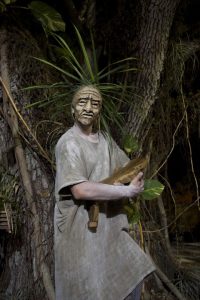 Last season, popular local artist Cesar Aguilera partnered with Ghostbird Theatre Company to create masks for its production of The Chicken Play, a site-specific tome that depicted members of a mythical community of clay women where the aged give birth, the unwise speak in unintelligible tongues and the wise counsel the community not to worry about traumas because, in the larger scheme of things, they are "nothing more than an inconvenience." Masks are once again important in Ghostbird's current production. And for ORBS!, it's Tampa multimedia artist Linda Hall who has employed her vast talents to cloak actors Kaleena Rivera, Dan Cancio, Kate Dirrigl, Linda Farmer and Taylor Landers with the puppets and headgear they wear to portray the animals and ethereal beings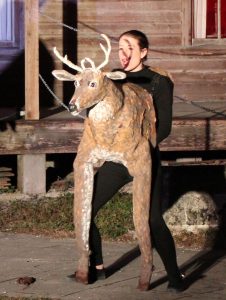 who populate playwright Barry Cavin's world out at the Koreshan Historic Site, where an epic battle wages between Koreshan founder Cyrus Reed Teed and the natural world.
Cavin and Ghostbird let their audiences know from the outset what's at stake. "Be aware that we are standing on land that the ancient Calusa also trod," admonishes Ghostbird in the show's playbill. "The Calusa believed that after death, one of our three souls crosses over and inhabits a lower-order animal, and upon that animal's death, would inhabit an even lower-order animal, and so on. Thus our oldest ancestors' souls are in the bodies and gnats and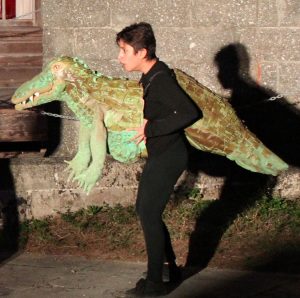 no-see-ums."
It's a message that actor Stella Ruiz as Mo'a reiterates before the audience departs Art Hall.
While Linda Hall may not share the Calusa's belief, she is nonetheless a logical choice to assist Cavin and Ghostbird in their worthwhile endeavor, namely explicating the connection between humans and the natural world. "With painting and sculpture," Hall says of her art, "I explore the delicate bond and the disconnect we have with the wilderness within ourselves and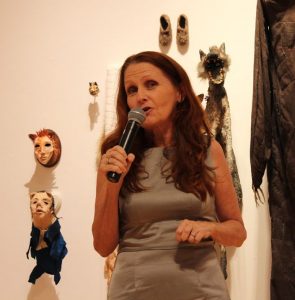 the earth."
Ghostbird's collaboration with Hall took shape following an exhibition earlier this season (October 12-November 16) at Florida Gulf Coast University titled Untethered, Stories Come Like Charms: Barbara Balzer and Linda Hall. Among the works she exhibited in that show were soft sculptures that function as containers for spirit. "Sometimes bare, sometimes adorned, they create a space to be filled with unfamiliar and elusive intensities: an animal energy that suffuses what is human, and a humanity that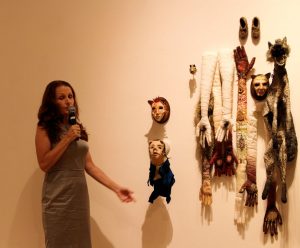 resides in objects and beasts," Hall stated in the catalogue which FGCU published in conjunction with the exhibition.
Untethered was a compilation of work that has occupied Hall for innumerable years. As far back as 2010, she was consumed with fabricating animal attire "left open for a human body to occupy, or animal forms endowed with human attributes."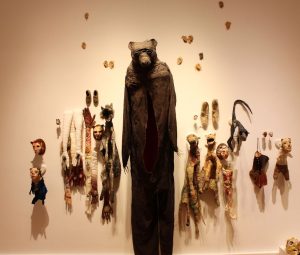 "We were struck by Linda's ability to cast the familiar and the uncanny, the animal and the human, the found and the fabricated, creating haunted, beautiful and magical creatures," Ghostbird shares in its post about why they approached Hall about doing the masks and puppets they needed for ORBS!. "Her vision deeply informs what playwright Barry Cavin imaged for the Calusa spirit animals that populate his play."
Like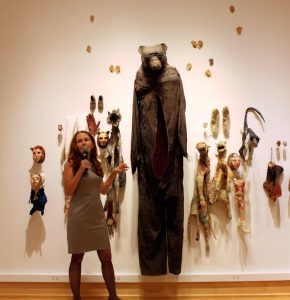 items from a sixteenth century cabinet of curiosities, Hall's objects aim to provide evidence of another reality. Her paintings and sculptures impress themselves on viewers in a way that competes with mundane experience, just as myths lend greater depth to the perceptions of our senses.
"I produce alter egos for both human and non-human animals that emphasize their interrelation of identity—an interrelation that also speaks to the deep interconnectedness of life in the age of catastrophe in the natural world by global warming and other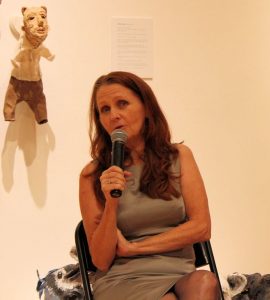 manifestations of the physical intrusion of humans in the natural world."
For "ORBS!" Ghostbird commissioned Linda to create human/animal puppets & masks of likely woodland animal spirits:  a deer, panther, bear, and the like.  Indeed, a theme in the play is about Cyrus Teed's own desire to conquer nature, and it is these animal spirits that haunt, tease, and torment the Teed of the play. But Hall's puppets and masks serve a deeper, allegorical purpose. They represent members of our local animal community who are, or have recently been threatened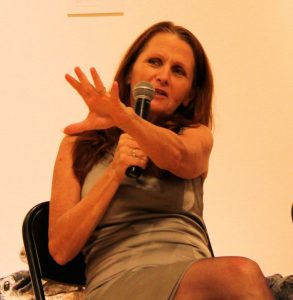 by humans (for whom Teed is a stand-in) in our ongoing effort to contain, curtail and often supplant our ecology and environment as we set about, almost single-mindedly, creating a "progressive" technology-based world.
At one time, the Florida Panther ranged as far west as Texas and Arkansas and as far north as Tennessee and South Carolina. With the loss of roughly 95% of their historic habitat and their current range squeezed into just a handful of protected areas in Southwest Florida such as Big Cypress National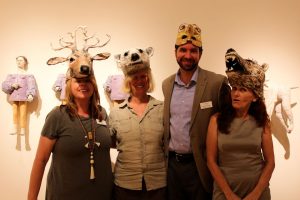 Preserve and the Florida Panther National Wildlife Refuge, the Florida Panther is today one of the most imperiled creatures on the planet with as few as 120 to 160 animals still remaining in the wild.
Both alligators and black bears were once hunted almost to the point of extinction. While both have been removed from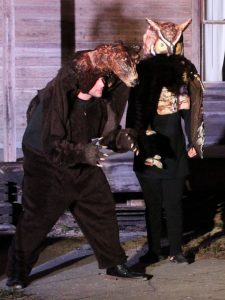 Florida's Endangered Species List, commercial and residential development continues to encroach on their normal habitats often with dire, sometimes tragic results. Owls have not been nearly as lucky. Many species, including Barn, Northern Spotted, Snowy and Burrowing Owls, are in danger of disappearing from nature. In fact, scientists have sounded the alarm that our planet is now in the midst of the worst rate of species die-offs since the loss of the dinosaurs 65 million years ago (with rates ranging between 1,000 and 10,000 species annually as opposed to the natural "background" rate of one to five species per year).
It is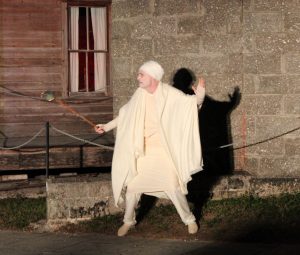 against this backdrop that Hall's masks and puppets provide context, reinforcing the view that ORBS! is at its heart a metaphor for mankind's extermination of the wild and unruly natural world in our post-industrial and possibly pre-dystopian, anteapocalyptic epoch.
Linda Hall is a multimedia artist inspired by the natural world and the human condition. She holds an MFA from the University of North Carolina at Chapel Hill.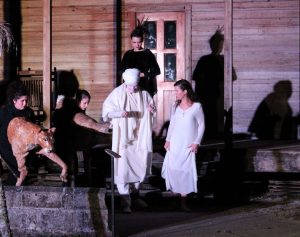 Her watercolors and three-dimensional soft sculptures have been exhibited in regional, national and international publications and venues. Her work has been featured on music CD covers, in New American Paintings, and in the online editions of Oxford American and Beautiful Decay.
N.B.: One of the founding tenets of Ghostbird Theatre Company is its support of interdisciplinary arts and artists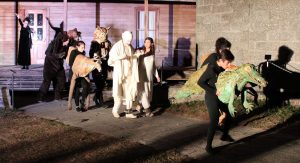 which is meant to go further than the typical collaboration that is a part of theatre-making. "We seek to nurture opportunities for visual artists, sculptors, soundscape artists, choreographers, and poets, creating the space for them to create original, stand alone pieces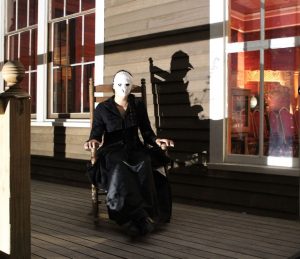 that we may be able to incorporate and build around as we mount a performance."
February 10, 2018.
RELATED POSTS.