FSW student John Strealy steals show as Malvolio in Lab Theater's 'Twelfth Night'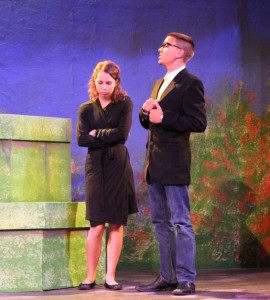 On stage now at Lab Theater is Shakespeare's Twelfth Night. The production features a young, energetic cast. Florida SouthWestern State College student John D. Strealy is a member of this talented group. He plays the role of Malvolio, who serves as house steward of the comely, rich heiress, Viola, who becomes the object of the affections of the Duke of Illyria, a man by the name of Orsino.
The Duke is not the only one who's head-over-heels for their heiress. Malvolio himself is in love with Olivia. And his yearnings for his employer lead to his rebuke,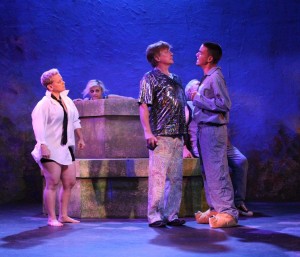 humiliation and even his incarceration in a madhouse near the end of the play.
Malvolio's problems begin when he interrupts the late night revelry of Olivia's uncle, Sir Toby Belch, his well-heeled friend, Sir Andrew Aguecheek, and Olivia's housemaid, Maria. To be sure, Malvolio is pompous, pedantic and overbearingly pretentious, but the bacchanalian trio is not about to let him or anyone else curtail their non-stop partying. So they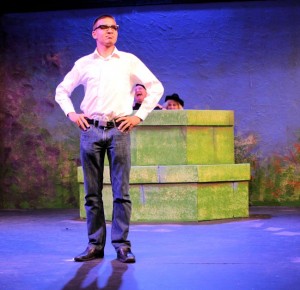 send Malvolio a text in which Olivia purportedly confesses her own desire for Malvolio and implores him to come to her in the courtyard wearing nothing but a pair of yellow pants, white cuffs and a black bow tie. This he does, and he is so insistence in his ardor that she thinks he's gone mad. As a result, he's placed in chains in a dark, dank chamber where he's tormented by Sir Toby, Sir Andrew, Maria and the jester Feste until Olivia discovers the ruse and orders his release. But humiliated and disgraced, Malvolio storms off a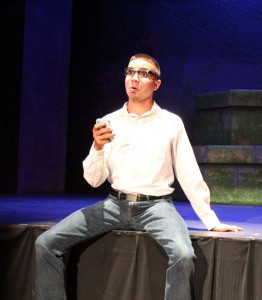 broken man, vowing one day to avenge his treatment at their collective hands.
"Malvolio is usually cast as a much older person," notes director Nykkie Rizley. "Casting him so young is not done very often. He's usually a middle aged man. It changes the story an incredible amount when you make him a younger character. It makes what Feste, Maria, Toby and Andrew do to him all the more real and all the more cruel. But people tend to forget about what we do to people through social media, where people can pretend to be someone else and go after someone as a cruel joke. Remember that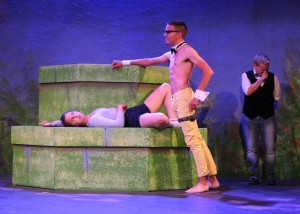 mother in Colorado? And if you're on the receiving end, it's so easy to be fooled by it, and so that aspect of the play was really important to me to both cast him young and bring that element into it. Because the trick destroyed him. It absolutely destroyed him. I don't think Malvolio will ever be okay again."
Shakespeare included the sub-plot involving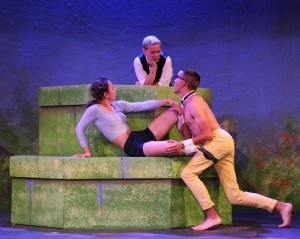 Malvolio as commentary on issues of his day, including the cruelty often associated with practical jokes. But as Rizley brings to life in Twelfth Night by casting John Strealy in the role of Malvolio and having Sir Toby, Sir Andrew, Maria and Feste perpetrate their cruel plot against the boy via a text message is that cyber-bullying is no joke, as underscored by the case of Kiana Arellano, who was a sophomore in high school when she got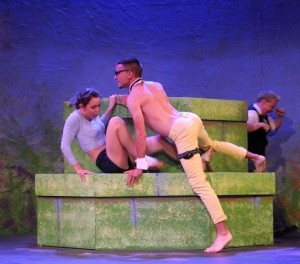 a hateful message on a social media site that told her "You're pathetic. No one likes you." At school, she was verbally attacked. Her tormenters suggested she kill herself. Eventually, she tried. That was back in 2013, and Arellano is in wheelchair today because of brain damage she suffered during her failed suicide attempt. Her mom, Kristy, speaks against cyberbullying and last year convinced the Colorado legislature to pass "Kiana's law," which increases the penalties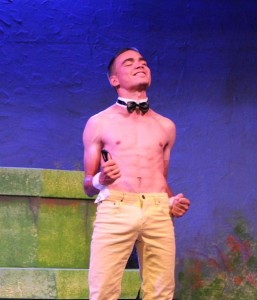 for cyberbullying.
Kiana's case, regrettably, is not unique. Ryan Halliggan thought that he had struck a friendship with a pretty, popular girl through AOL Instant Messenger (AIM). The girl and her friends thought it would be funny to make Ryan think she liked him in order to get him to share personally embarrassing material, which the girl copied and pasted into AIM exchanges with her friends. On October 7, 2003, Ryan hanged himself in the family bathroom.
Megan Meier thought she'd found online love with a 16-year-old boy named Josh.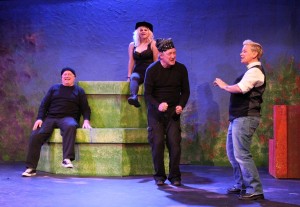 But he was a fiction created by the woman who lived next door, her teenaged daughter and an 18-year-old temporary employee to embarrass and torment the girl on MySpace. Like Ryan, the 13-year-old hanged herself – three weeks before her 14th birthday.
Weighty material such as this required not just a young actor, but one with a strong dramatic flair.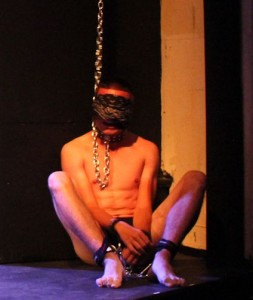 Through a combination of stylized preening, posturing and absurb facial expressions, Strealy induces the audience to dislike and disdain the priggish, preposterous character he plays. But in the end, Strealy makes us feel his pain, his humiliation and the indignity of being blindfolded, chained and tormented in a chamber from which there appears to be no promise of relief or escape.
Malvolio's story is clearly one of several subplots that Shakespeare weaves into the fabric of Twelfth Night, but by dint of the strength of his performance, Strealy steals the show during each scene in which he appears on stage.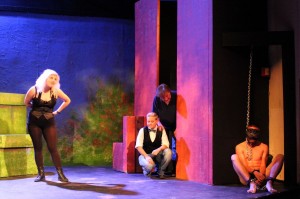 And that's no surprise to director Nykkie Rizley.
"He just showed up for the audition," says Rizley, who'd never worked with the actor before. "He doesn't have a lot of acting experience, but he is a raw talent. Very talented. I knew from the very first audition that he was going to be wonderful. He's worked hard, learned to trust his instincts, and I'm very grateful for him."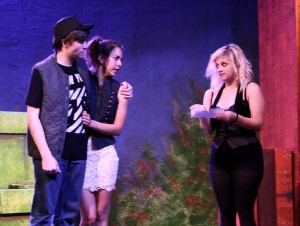 To date, John's acting credits only include a handful of productions at Ida Baker High and Dead Man's Cell Phone at FSW. But he plans to pursue his passion for theater in the future, and that bodes well for local theater fans and audiences. "He's a good looking, sharp, talented kid," adds Rizley. And you can see John on stage as Malvolio at Lab Theater through May 7.
Related Articles.