Spotlight on Kylee Stobb – Viola/Cesario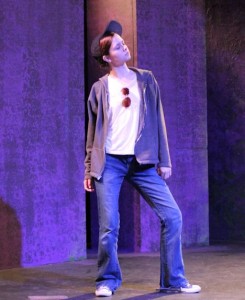 There are few plays in the Shakespearean canon as beloved as Twelfth Night. It's a comedy that uses mistaken identities, trickery, and a healthy dose of romance to captivate its audience.
Shakespeare set the play in the remote and exotic country of Illyria, which was known during his time as a dangerous den of piracy. Although there are subplots galore in the play, Twelfth Night's central plot concerns a pair of strangers in a strange land. Shipwrecked in Illyria by a storm, a young girl by the name of Viola thinks that her twin brother Sebastian has been killed; he presumes the same of her. Dressing herself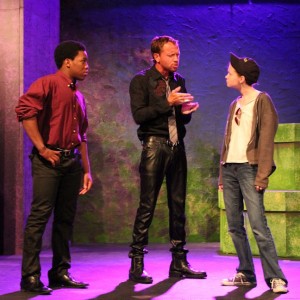 as a boy, she becomes the emissary of a duke by the name of Orsino, who desires the heart and hand of a rich noblewoman named Olivia, who is in mourning for her recently-departed father and brother. Orsino sends Viola to plead his case to the lady, but Olivia falls instead for the cross-dressed Viola. But Viola has already fallen hard for Orsino, creating quite the dilemma until Viola's twin, Sebastian, turns up, allowing for a satisfying resolution of the round-robin love triangle.
Kylee Stobb plays the part of the shipwrecked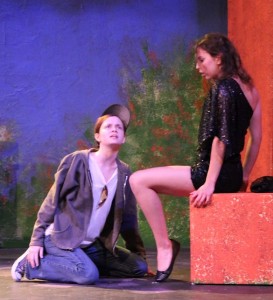 Viola, who goes by the pseudonym of Cesario when she assumes the persona of Orsino's boy. In many modern productions of Twelfth Night, Cesario made to appear androgynous, but the girl doesn't really possess any manly features. That's okay. The audience knows she's pretending to be a eunuch and it's fascinating to watch Stobb change the timber of her voice from male – when she's talking to Olivia, Orsino and Feste – to female – when she engages the audience through one of the many soliloquys she's given throughout the play.
Stobb has several scenes that challenge her theatrically.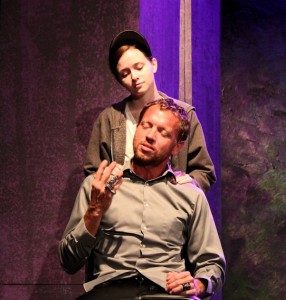 The first occurs when, as Orsino's squire, she helps him into his shirt and gives him a slow, leisurely shoulder rub. While the audience could justifiably wonder why any woman would be attracted to the self-absorbed, moody Duke, Stobb lets us know through a combination of enraptured looks and gentle touches that she, for one, finds his passionate, poetic inner nature totally captivating.
Her reaction is less well defined when, a few moments later, Olivia jumps her bones as she tries to deliver yet another love poem at her boss' behest.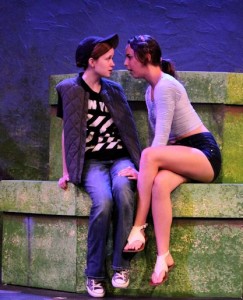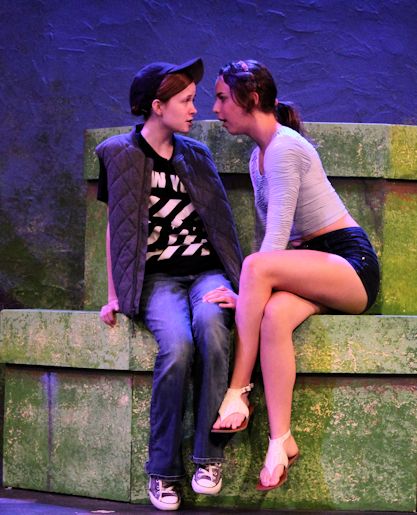 Given that she's in love with Orsino, gives every indication that she's heterosexual and is in clear and present danger of having Olivia discover that she has female body parts under her boyish garb, you'd expect her to more strongly resist being embraced, kissed and tackled to the ground by Olivia. But under Rizley's direction, Stobb's Cesario is curiously passive, even ambivalent. But then again, this is a production where gender and sexual orientation are universally blurred. Perhaps, she's kissed the girl and likes it. Perhaps it's more a function of being young, inexperienced and just not sure how to react to Olivia's unwanted and unwelcome
advances.
But there's no ambivalence on Viola's part during the denouement of this play. Stobb gives a touching portrayal of requited love when her twin shows up as Olivia's new husband and, without missing a beat, the Duke realizes –finally – that he's in love with her too.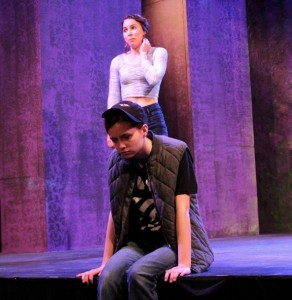 The interchangeable roles of Viola and Cesario are admittedly complex, which director Nykkie Rizley is quick to acknowledge, and Stobb acquits herself well. "It's a tricky little role to play," says Rizley.
Stobb first appeared at Lab Theater when she was eleven. "She was in a Tennessee Williams one-act play. She's done a ton of acting at her high school. She was Eva Jackson in Rimers of Eldritch. She's brilliant. She's just amazing."
For her part, Kylee hopes you love the show as much as Viola loves Orsino,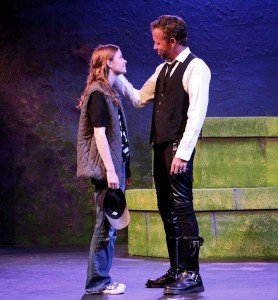 Orsino loves Olivia, Olivia loves Cesario and Malvolio loves himself.
Related Articles.