The Diary of Anne Frank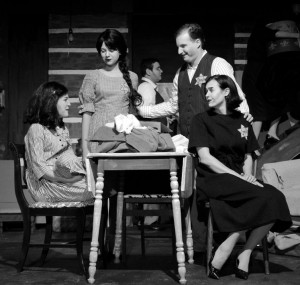 Twelve performances of The Diary of Anne Frank come to the Lab Theater on April 10, 11, 16, 17, 18, 23, 24, 25, 26 (which is a 2 p.m. matinee performance) and 30, and on May 1 and 2, 2015. Set in Nazi-occupied Amsterdam and depicting a family and acquaintances hidden in the sealed-off upper rooms of an office building, this is Anne Frank's story of captivity, fear, and the burgeoning of a hopeful and beautiful spirit. In the indomitable words of Anne Frank, "I still believe , in spite of everything, that people are truly good at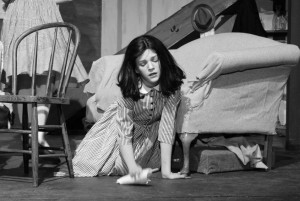 heart."  In this section, you will find articles about the play, playwright, director and upcoming production of the show at the Laboratory Theater of Florida (posted in date order from oldest to latest).
Tickets are  available from the theater's website,www.LaboratoryTheaterFlorida.com, or by calling 239.218.0481. There will also be an opening night reception, starting at 7:15 p.m. Tickets are $12 for students and $22 for adults at the door. The theater also offers Thursday night discounts to seniors and military, at $18.50 per ticket. Seating is limited.
* * * * * * * * * * * * * * * * * * * * * * * * * * * * * * * * * * * * * * * * *
Front of House Manager Mike Dinko plays role of Mr. Kraler in 'Diary of Anne Frank' (04-29-15)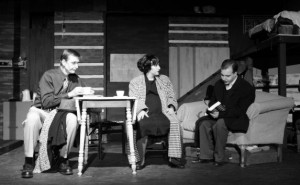 The Diary of Anne Frank enters its last weekend at the Laboratory Theater of Florida. Mike Dinko plays the role of Mr. Kraler in this groundbreaking play.
Lab Theater patrons know Dinko as the person who normally greets them at the ticket counter, but he is no stranger to the Lab Theater play. This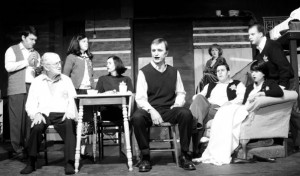 is Mike's seventh show at Lab Theater. He was last seen in last December's Scrooge TV. He has also had roles in the world premier of The Second Book of Ruth, playing three roles as Ruth's current or soon to be Jewish husbands. Other Lab appearances include Glengarry Glen Ross, The Rimers of Eldritch, On Golden Pond and Othello.
Please see above for remaining play dates, times and ticket information
____________________________________________________________
Up close and personal with Margot understudy Alyssa Mehrberg (04-27-15)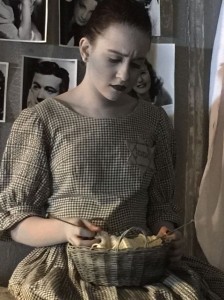 Alyssa Mehrberg is in her final year at Canterbury School. Although she is just 13 years old, she has already been in a number of musicals and comedies, including The Addams Family, Into the Woods and Thoroughly Modern Millie. While she relished the acting component of her dance and comedic roles, she'd never tackled a drama. So when one of her former directors urged her to try out for the part of Margot in Laboratory Theater of Florida's production of The Diary of Anne Frank, she decided to give it a go.
"He thought it would be a great opportunity for me to do a show with adults and just work on my acting skills," said Alyssa in a recent telephone interview. Alyssa got so much more than she ever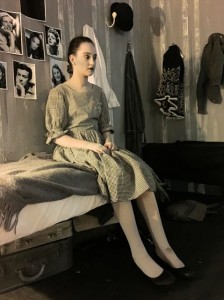 imagined when she auditioned for the part.
The skill set for a role like Margot Frank is fundamentally different than anything Alyssa has experienced before. "In musicals and comedies, you have to be as big as possible," Alyssa explains. , "You really have to project your voice and exaggerate your gestures so that you can be seen and heard from the back row. But for a part like this, the little things matter. It's subtleties of movement and expression that convey emotions like anxiety and sadness. Being over the top doesn't work with this type of role."
It also takes more thought and study to play a real person. In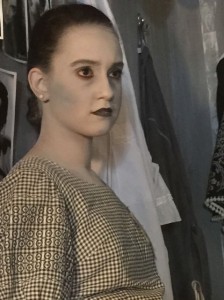 contrast to portraying a caricature or fictional character, playing a real person requires empathy – the ability to think and react as that person did. "I find myself trying to get into my character's head; to think, feel and react the way Margot would have," Alyssa expounds. "Margot is very quiet and reserved, and even though she's rarely the center of attention, I still have to be in my own zone. It definitely takes more concentration."
Alyssa was originally assigned the job of being the understudy to Rowan Stafford. Some actors find it disappointing to be asked to commit the time and energy required by a role like that of Margot Frank without any expectation of seeing the stage or hearing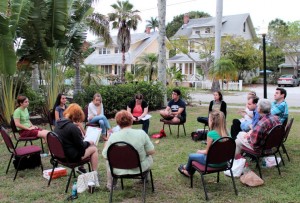 applause for a job well done. But Alyssa threw herself into the part, doing her best to master the skills needed to portray Anne Frank's dutiful sister and helping Stafford and her other cast mates actualize their full potential. Director Annette Trossbach recognized Alyssa's innate talent and rewarded her effort by having her go on stage for four performances.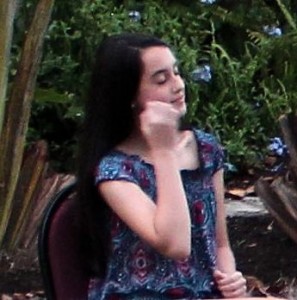 "In musicals and comedies, there's usually immediate applause, but here, the audience was so moved by what we had done, they seemed hesitant to even clap," Alyssa recounts of her on-stage experience the first night she played Margot for a live audience.
The Diary of Anne Frank is that kind of play.
It is easy to see why Alyssa won stage time in this production. She evinces an understanding of her character and insight into what makes her tick far beyond her years.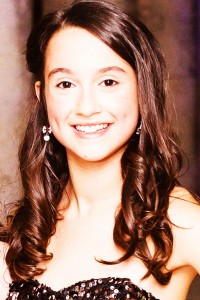 "Margot is the good sister," Alyssa says fondly of her character. She is also the good and dutiful daughter.  "She tries her best to do what her parents tell her without arguing with them the way Anne does. She helps her mother with the cooking and cleaning because that's what's expected."
Not only by them, but by Margot herself.
Margot does not just recognize the roles and boundaries that pertain to her. She embraces them, and only crosses them with the greatest discomfort and unease. For example, there is a scene where Anne awakes screaming because of a nightmare, but when her mother tries to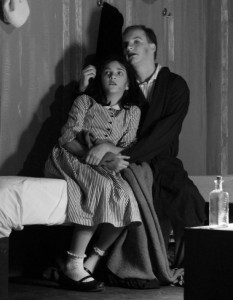 comfort her, Anne pushes her away, seeking comfort instead in her father's arms. Edith bursts into tears on the couch in the other room. "Margot hesitantly goes up to her mother to comfort her, but that creates a problem for Margot because giving comfort is what a mother is supposed to do for her daughter, not the other way around. So she never really talks to her mother or comforts her because that's the mother's role, not hers."
From Alyssa' perspective, being jealous of Anne's budding relationship with Peter was also out of bounds for Margot. "She knows that Peter is Anne's and she is totally okay with that. But what she is jealous about is that Anne has a reason to get up each
morning. She has something to look forward to and Margot doesn't really have that or anyone to talk to like Anne does."
Even more perceptive is Alyssa's analysis of why Margot begins to show signs of an impending breakdown and symptoms of obsessive-compulsive disorder toward the end of their time in the annex. It is Margot's lack of a well-defined role to play inside the annex and her inability to know what is expected of her or what's going to happen next to all of them that contributes to her unraveling. "Toward the end, she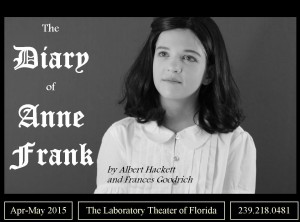 gets more and more frustrated with the situation because she never knows what's going to happen next or what is expected of her or anyone else," Alyssa observes. This manifests itself in a particularly poignant scene in which Margot alternates between knitting and cleaning in a valiant but vain effort to tamp down her growing anxiety and sense of apprehension.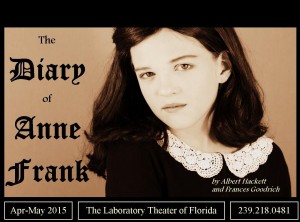 "She knits to stay calm, but when she gets nervous, she has to clean to make everything perfect," Alyssa psychoanalyzes. "She uses cleaning and organizing as an outlet for her anxiety, as a way of letting her anxiety out." She is, in essence, trying to organize a world that has no order, whether for her or anyone else.
While Alyssa certainly has a bright future as an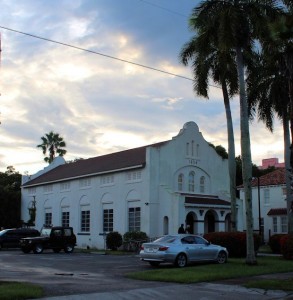 actress, whether in a comedic or dramatic role, she can always go into psychology if acting doesn't pan out. But her path seems clear-cut for the moment. When The Diary of Anne Frank closes May 2, Alyssa will throw herself head-long into her next role. She plays the part of Gingy in Shrek, Jr., a gingerbread man initially kidnapped by Lord Farquaad whose wit and resolution help him both avoid trouble and inspire the rest of the fairytale creatures. Shrek, Jr. at Florida Repertory Theater at 7:00 p.m. on May 29 and 2:00 and 7:00 p.m. on May 30.
Only three more performances of The Diary of Anne Frank remain. Please see above for play dates, times and ticket information.
____________________________________________________________________
Cypress Lakes High's Faith Deterding plays hero of 'Anne Frank' Miep Gies (04-25-15)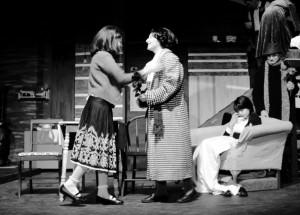 The Diary of Anne Frank continues at Lab Theater. And one of the heroes of the backstory is Miep Gies, who hid the Frands, van Daans and Dr. Dussel for nearly two years in an attic above her Amsterdam factory.
Miep is played by Faith Deterding, who is a recent transplant from Minnesota. Her credits include The King and I, I Was a Teenage Zucchini But I Didn't Get Squashed, Hello for Mongo, The Comic Book Artist, Annie, Razzle Dazzle Review 207-2014, The Jungle Book, Jr., and A Murder Mystery at the Murder Mystery. Faith attends Cypress Lakes High and has been in Beans and Scenes Holiday Java and Rosencrantz and Guildenstern Are Dead.
See above for remaining play dates, times and ticket information.
__________________________________________________________________
Dave Yudowitz plays curmudgeonly Dr. Dussel in 'Diary of Anne Frank' (04-24-15)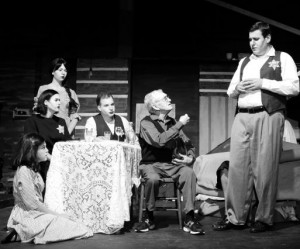 The Diary of Anne Frank continues tonight at Lab Theater in the River District. Dave Yudowitz plays Dr. Dussel, the elderly dentist who comes to live with the Franks and van Daans in their secret hiding place in an annex in Amsterdam.
Dussel is typically characterized as a grumpy old man, but Yudowitz plays him as more lonely and more awkward than crotchety. Dussel is a pseudonym for Fritz Pfeffer, who was the van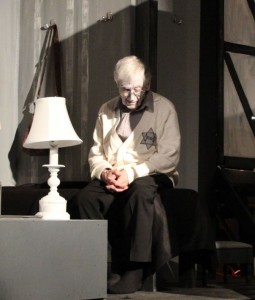 Daans' (which was a pseudonym for the van Pels) and Miep Gies family dentist, and in actuality, he was just 53 years old when he came to live in the annex, which raises all kinds of questions about why Otto Frank would have him share a room with his 13-year-old daughter instead of 16-year-old Peter. As the play amply illustrates, Dussel was the outspoken voice of reason whose biting criticism of both Otto Frank and Hans van Daan (Hermann van Pels) often angered young Peter. No way these two could have shared a room together in the already-cramped quarters of the annex.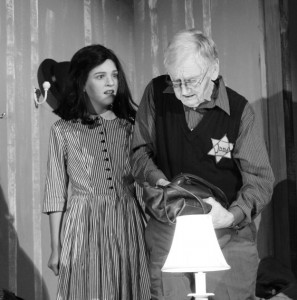 Yudowitz is perfect for the part of a Dussel. When Peter trips and falls heavily on floor tipping off their existence to a thief who is ransacking the offices one story below them, it is Dussel who bluntly points out that their safety has been compromised. If the thief is caught with stolen merchandise, whether Miep's of anyone else's, Dussel points out, he will use their whereabouts as a bargaining chip in order to cut a deal with the police. And Dussel is the one who objects when Petronella van Daan always cuts a larger share of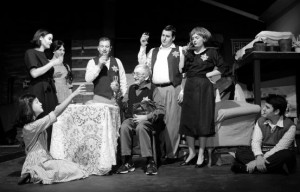 their meager meals for her husband. But Dussel  is able to give voice to his complaints and observations without becoming confrontational because he is portrayed as a curmudgeon. One wonders how this would have played out had the character of Dussel been cast as someone in his early to mid-50s.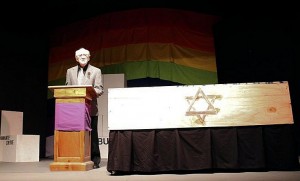 Lab Theater patrons will remember Dave Yudowitz from last summer's hit, Standing on Ceremony: The Gay Marriage Plays, in which he rendered a riveting and touching eulogy for his recently-deceased gay partner of many years in a vignette titled London Mosquitoes by Moises Kaufman. Other Lab Theater performances include The Interview, One Flew Over the Cuckoo's Nest, The Last Days of Judas Iscariot, Picasso at the Lapine Agile, The Plague and both Mueller and Marley in Laura Lorusso's  Scrooge TV.
Only six more performances of The Diary of Anne Frank remain. Please see above for play dates, times and ticket information.
_________________________________________________________________________
Trial of 'Accountant of Auschwitz' brings 'Diary of Anne Frank' into 21st century (04-23-15)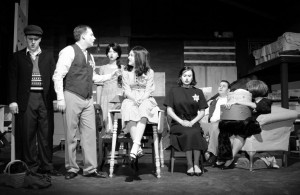 On stage now through May at Laboratory Theater is The Diary of Anne Frank. The play is based on a journal maintained by a teenage girl who went into hiding from the Nazis in July of 1942 with her mom, dad and sister, another family and an elderly dentist. They were discovered and arrested on August 4, 1944 and deported from Holland on the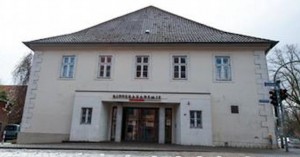 last train to Auschwitz-Birkenau. Everyone perished in the death camps except Anne's father, Otto Frank, who was one of just 7,650 people to survive Auschwitz. That was 70 years ago, but Auschwitz is suddenly in the news again.
On April 21, the "Accountant of Auschwitz" went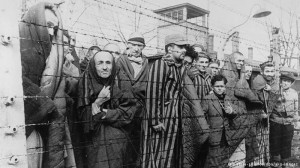 on trial in a regional court in Luneburg, Germany (second picture, above). Oskar Groning is charged with 300,000 counts of accessory to murder. Those 300,000 souls were lost during something called the "Hungarian Operation," which took place between May 16 and July 11, 1944. During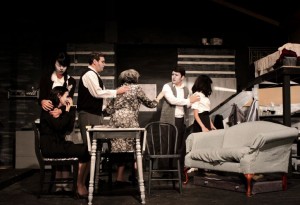 that two-month period, the SS deported some 425,000 Hungarian Jews to Auschwitz. They arrived on 137 transports transports at specially-built platforms where they were divided into two groups – one who were "fit for work" and the other deemed "useless." Of the 425,000 Hungarian Jews brought to Auschwitz, 300,000 were placed in the latter group and immediately led off to the gas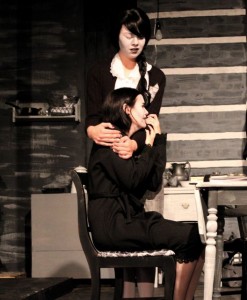 chamber and murdered.
By then, Oskar Groning had been at Auschwitz for some 20 months, having arrived in September of 1942. "One night in January 1943, I saw, for the first time, the Jews being gassed. I heard the panicked screams of human beings as the doors were closed." This is how Groning described his alleged first exposure to the Nazi death machine. [N.B.: During the autumn of 1942, the corpses of more than 100,000 Jews who'd been dumped into deep pits behind the gas chamber had been dug up, placed on pyres of petrol-drenched wood and burned. Thus, for Groning's statement to be true, he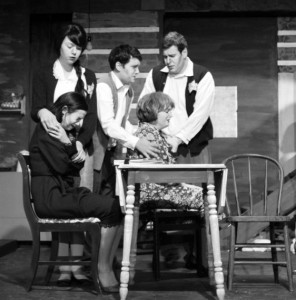 would have had to have no sense of smell and oblivious to the weeks of raging fires.]
But even if he knew what was taking place at Auschwitz-Birkenau from the outset, Groning nonetheless contends that he killed no one. "I was just a small cog in the killing machine," he demurs. "I was not a perpetrator." What he did was collect the baggage left behind on the platforms by those deemed "useless" and count the money he found, sort it and deliver it to Berlin.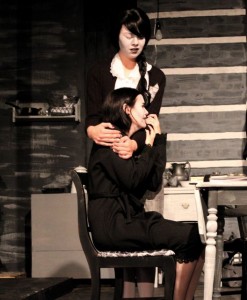 The Nazis had a protocol in place at Auschwitz-Birkenau and the other extermination camps they operated. It was set in place on September 26, 1942 by a senior SS officer, Lieutenant-General August Frank. "Foreign currency, jewelry, precious stones, and pearls were to go the SS for 'immediate delivery' to the German Reichsbank," writes Holocaust historian Martin Gilbert. "Watches, clocks, alarm clocks, fountain pens, electric and hand razors, pocketknives, scissors, flashlights, wallets and purses were to be cleaned, 'evaluated,' and 'delivered quickly' to front line troops."
The front line troops weren't permitted to divide this booty as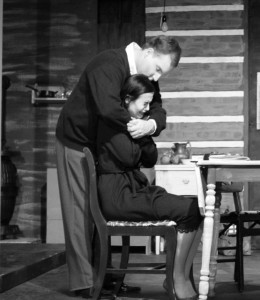 spoils of war. Rather, they were invited to buy what they wanted for nominal sums, with the proceeds going to the Reich. Of course, gold watches, gold frames and "valuable furs" all went to the SS, as did the gold fillings that prisoners pried from the mouths of the Jews who had been gassed.
"From the first days of the war, the destruction of Jewish life in German-occupied Europe had been paralleled by the acquisition of Jewish property," Gilbert concludes. "Killing and looting had gone hand in hand. Nor was this the spontaneous looting of armies and soldiers, but the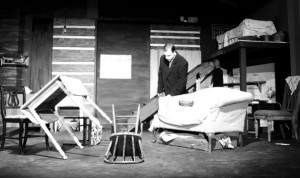 deliberate and systematic search for every type of wealth that could be seized or sequestered. Shops, businesses and factories had been taken first, transferred without recompense to local Ethnic Germans or to the German war machine. At the end of the path of this deliberate impoverishment of a whole people came the looting of their last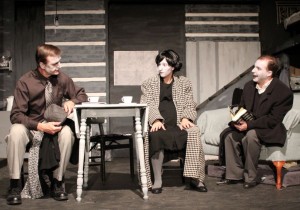 meager possessions, their bundles, the clothes they were wearing, even their hair, at the edge of the death pit or on the final approach to the gas chamber."
And that's where the Accountant of Auschwitz operated. On the train platform where desperate new arrivals deemed "useless" to the Third Reich were stripped of their few remaining possessions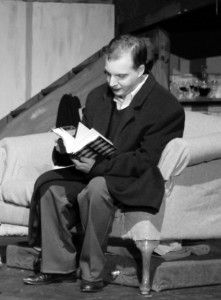 before being led to the gas chambers.
"The thought that the accused went through the suitcase that my mother had tearfully packed, and that he had my sister Gilike's dress in his hands on the same day that she was murdered sends a chill down my spine, Auschwitz survivor Eva Pusztai told the German daily Die Welt. "I want to stand in a German court of law, and for once, tell what I saw."
It's entirely possible that Groning was on duty the day the train arrived from Holland carrying the Franks, van Daans and Dr. Dussel and 1,011 other Dutch Jews. None of them were among the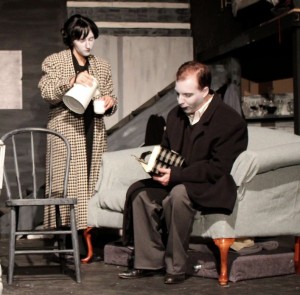 549 men, women and children who were classified as "useless," so Groning would have not been called upon to handle their personal effects.  But more than 60 survivors and other plaintiffs will testify against Groning, travelling from as far away as the United States, Hungary, Canada and Israel for that express purpose. The Luneburg court has slated 27 days for trial and is expected to hand down its verdict at the end of July. But even if he is found guilty and sentenced to spend the rest of his life in prison, many think that justice will have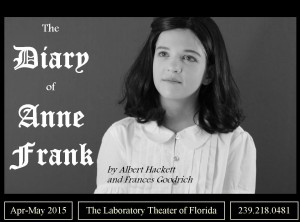 come too late. Whereas the lives of hundreds of thousands of Jews were cut brutally short at Auschwitz-Birkenau, the Accountant of Auschwitz, Oskar Groning, has lived the last seven decades as a free man.
The Diary of Anne Frank resume tonight at Lab Theater. See above for remaining play dates, times and ticket information
____________________________________________________________
Spotlight on squabbling van Daans, Aricka Shuck and Jack Weld (04-22-15)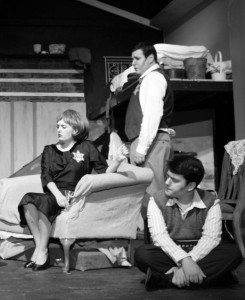 Playing now through May 2 at the Laboratory Theater of Florida is The Diary of Anne Frank. Two of the characters in this somber production are Mr. and Mrs. Van Daan, a couple who go into hiding in an Amsterdam annex with Otto and Edith Frank and their daughters, Anne and Margot.
Mr. van Daan is played by Jack Weld, who recently appeared as one of the Kit Kat Klub boys in Lab Theater's first musical, Cabaret. Lab Theater patrons will also remember him in Glengarry Glen Ross, In the Next Room, The Laramie Project and Romeo and Juliet. He has also appeared on stage at the Naples Players in Les Miserables, The Producers and many other shows.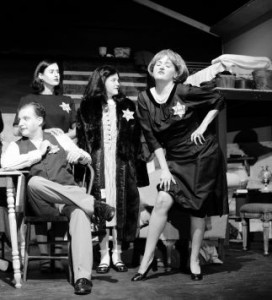 Petronella van Daan is portrayed by Aricka Shuck. Aricka was actress Kim Basinger's photo double/stand in for the movie 8 Mile. A veteran of the stage, her favorite roles include Kay in Father of the Bride, Maggie in The Man Who Came to Dinner, the good witch Glinda in The Wizard of Oz, Maddy in Tony and Tina's Wedding, Madge in Picnic, Kate in She Stoops to Conquer, Hermione in Winter's Table, Libby in Blue Window and Helen in Cripple of Inishmaan. At the Naples Players, she played Dr. Zavalla, ADD waitress and Carolyn in Distracted and Electra in Gypsy. She majored in theater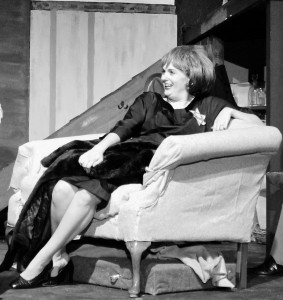 performance in college, studied improv at The Second City conservatory and was nominated for the Irene Ryan award.
As seen through the eyes of diary-writer Anne Frank, the van Daans squabble and bicker throughout much of the play, with the hulking, sulking mister even becoming physically abusive as the story unfolds. For her part, Petronella is pictured as a coquettish, vain flirt consumed with the loss of her former opulent life. But in spite of the couple's seemingly loveless marriage, Petronella solicitously makes sure that her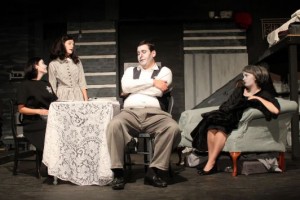 husband gets consistently bigger portions of the meager rations that Miep Gies provides to the Franks, van Daans and Dr. Dussel. She even leaps to her husband's defense when Edith Frank catches Mr. van Daan stealing food from the rest of them during the middle of the night.
As a 13-year-old, it is likely that Anne Frank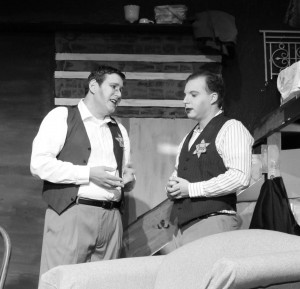 merely saw the van Daans as unwanted guests who impinged on the family's privacy and ability to function as a family unit (even though she was grateful they had a son who was three years her senior). Heck, kids even grow tired of having grandma and grandpa stay over for an extended visit because of the disruption to they cause to the inner workings of their normal family life. The presence of first the van Daans and then Dr. Dussel would have been even worse. But within the context of the play, the van Daans serve as stand-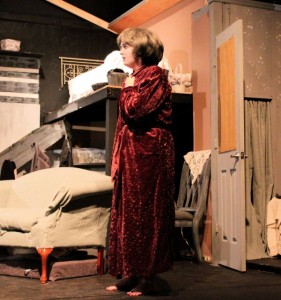 ins for the entire Jewish population who chose to remain in Europe in the months and years following Hitler's ascendancy to power.
Europe's Jews were stunned by what transpired in the aftermath of Hitler's appointment as Chancellor in 1933. German Jews like Dussel, the Franks and van Daans had, after all, been among Europe's most assimilated, most cultured, most active contributors to the national life of Germany. Hundreds of thousands of them had become an integral part of German society, making significant contributions to German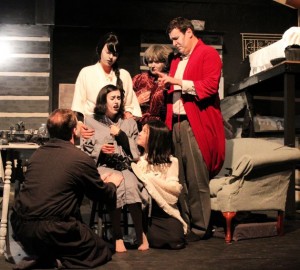 science, medicine, industry, music and the visual arts. But Hitler dismissed all of their contributions out of hand.  "The greatest achievements in intellectual life can never be produced by those of an alien race, but only by those who are inspired by the Aryan and German spirit," he told a conference in 1933. And so, Albert Einstein was forced into exile as was Sigmund Freud (although his sisters Marie (82) and Pauline (80) perished in Treblinka, Rosa (84) in Auschwitz and Adolfine (81) at Theresienstadt).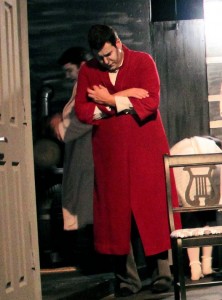 As pogroms, anti-Semitic vitriol and laws depriving Jews of the ability to work or participate in society (the so-called Nuremberg laws)  increased, wealthy European Jews like the Franks, van Daans and Dr. Dussel were faced with a bitter choice. They could leave their possessions, friends and lifetime links and associations behind and move to some strange land where they had no job, no home, and no waiting family and friends. Or they could remain and hope that anti-Jewish feeling would ultimately subside. Sure, there might be restrictions and limitations on their freedom and ability to earn a livelihood, but Jews had weathered such storms before. And by the time those who opted to stay realized that this time was
different, they could no longer emigrate and had no choice but to go into hiding.
Being confined to a cramped upper-story attic with a frenetic 13-year-old girl, an awkward old man who groused and complained ad nauseum and the pouty Edith Frank with little food and nothing to do eats away at the hulking Mr. van Daan. Jack Weld does an admirable job in the few lines and scenes he is given to convey his character's increasingly surly and callous demeanor to both his wife and the other occupants of the annex. But it is not until he loses his temper that we find out just what  really lies at the root of his discontent. "If you'd listened to me we'd be safe in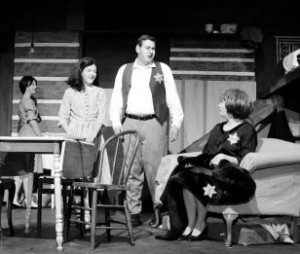 America or Switzerland," he rails at Petronella, "but no, you couldn't part with your furniture and nice things."
And so, van Daan gruffly takes his wife's beautiful fur coat and gives it to Miep and Mr. Kraler to sell for whatever it will fetch on the black market "for cash and as many cigarettes you can get." And Petronella is distraught, but not just because the coat was given to her by her father. Rather it is her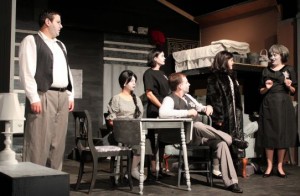 last link to the life and lifestyle she had to leave behind when they went into hiding. To this point, Aricka Shuck has been constrained to play Petronella van Daan as a shallow, two-dimensional caricature, but in this scene is finally freed to give voice to her character's loss not just of possessions and lifestyle, but to her loss of her identity, heritage and the dignity she once enjoyed.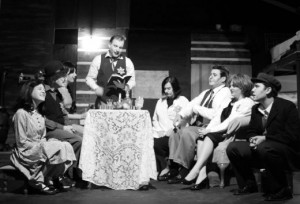 And this is the genius of The Diary of Anne Frank. It can so easily be viewed as little more than a young girl's perceptions of the trials and tribulations that she and seven others enduring over the course of the more than two years they remained in hiding, or it can be seen on a more expansive, metaphorical basis as playwrights Frances Goodrich and Albert Hackett unquestionably intended.
The Diary of Anne Frank is on stage at Lab Theater through May 2. Please see above for play dates, times and ticket information.
_____________________________________________________________________
Marcos Martins plays Peter van Daan in Lab Theater's 'Diary of Anne Frank' (04-21-15)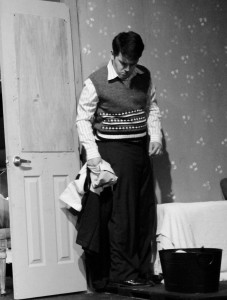 On stage now through May 2 at the Laboratory Theater of Florida is The Diary of Anne Frank. Marcos Martins plays the role of Peter van Daan. Peter is the 16-year-old son of the couple that Otto Frank invites to go into hiding with them in the annex attic of Miep Gies. He also becomes the love interest of 13-year-old Anne Frank during the course of the two years they hide out from the Nazis.
Martins is excited about being part of the production. High-school aged in real life, Marcos performs mostly at Cypress Lake High School where he has been seen as Tim Allgood in Noises Off and Harry the Horse in Guys and Dolls, as well as a number of other roles. Marcos will be attending Florida Southern College in the fall.
Please see above for play dates, times and ticket information.
________________________________________________________________
Ellice McCoy dredges up host of black memories and emotion to reprise role of sad and depressed Edith Frank (04-20-15)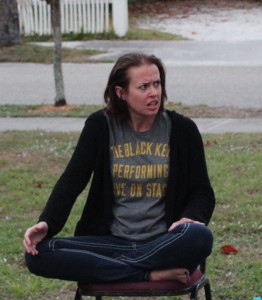 Ellice McCoy is in a dark place. She sits cross-legged backstage at the Laboratory Theater of Florida. As her costars chat like magpies as they go through make-up and don their period costumes, McCoy quietly dredges up memories and emotions as black as the frock she'll wear on stage. "Are you alright?" asks a concerned Kaycie Lee, taking note of the haunted look in the actress' suddenly lifeless eyes. "Honey, I'm fine," Ellice lies automatically. But she's definitely not alright. Ellice McCoy is beginning her pre-performance transformation into the character of Edith Frank.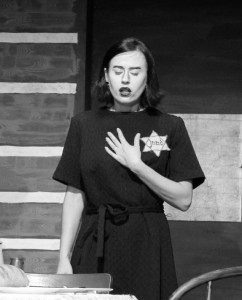 "Edith Frank is a very sad person," Ellice acknowledges somberly. "Of the eight people who went into hiding in that annex, Edith was the one most unable to cope with the situation in which they found themselves. She had no idea how to prepare for their new life together. She was so depressed, all she could do was sit there and try to take it all in."
But there was more than confinement in cramped quarters at the root of Edith Frank's depression. "She was very much in love with Otto, but he wasn't that much in love with her," Ellice goes on. "So there's that too, because there she is, desperately in love with this man, and doing everything she can to hold on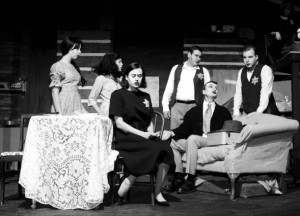 and convince herself there is still love there, but he doesn't reciprocate. And then she has these two daughters that mean everything to her, but one daughter is constantly battling her and loves her father so much more than she loves her mother." And on top of everything else, Otto insists on bringing in total strangers to live with them in the annex rather than the family that Edith preferred.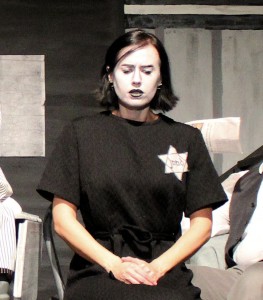 "Playing Edith is hard," Ellice confesses, placing heavy, heavy emphasis on the word hard. "To become Edith, I have to bring up a lot of dark feelings, a lot of depressing feelings of my own. I have to consider how I would react if it were me in that situation rather than her. Just the thought of being trapped in that annex and having no hope …. " Her voice quivers ever so slightly, before trailing off. There's no need to complete the sentence. Who wouldn't feel sad and depressed facing a dire, suffocating prospect like that.
Ellice so embodies the role of Edith that even when the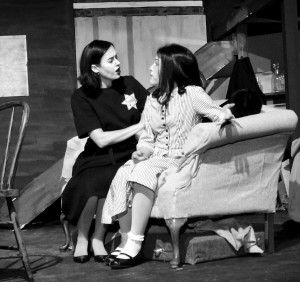 action is away from her, she maintains a sad and painful expression on her face and hollow and vacant stare in her soulful, sunken eyes. Her commitment to the part is so encompassing and total that she finds herself emotionally spent by the end of each rehearsal and performance. And that makes for a somewhat dicey drive home to South Naples each night.
The normally upbeat and life-affirming actress relishes those rare moments in Diary when her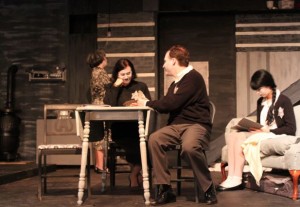 character is able to experience a fleeting moment of joy and affection. One of those occurs during a scene in which she and Otto play cards while Anne and Peter discuss love, life and first kisses in Peter's room. "In that moment, I had an opportunity to show just how much I do love Ott0," smiles Ellice. "They didn't have much time alone in the annex and that was probably as much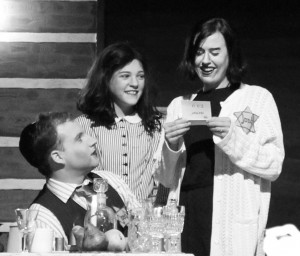 of a chance as they had to be intimate with one another. It was one small comfort."
So not surprisingly, Ellice's favorite scenes also depict joyful moments in the group's woeful existence, such as their Chanukah celebration and when she goes into Anne's room to talk to her daughter as she gets ready to go to Peter's room to talk to him. "That's the most lighthearted and happiest moment in the play. It's nice to think that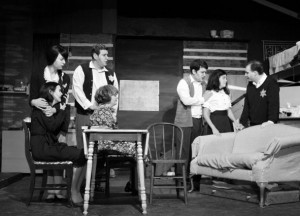 she did find a little happiness during those two years and could hold on to those little moments."
But this is The Diary of Anne Frank, and in spite of the Allies landing in Normandy in June of 1944, in spite of their onslaught through France and into Belgium and Holland, in spite of all their hopes for the war's end and their salvation, the SS found and arrested the Franks, the van Daans and Dr. Dussel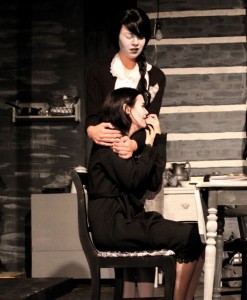 before help could arrive.
And their discovery and arrest proves Edith Frank's undoing.
"Initially, I run directly to Margot as she comes out of Anne's room," recounts Ellice. "That's the first thing that I do. I hug and embrace her. But then when we hear them breaking in, I lose all hope and just break down. I get inside myself and can't do anything but sit at the table and shake and cry. Margot stays near me and then Otto comes to me and directs her to go get her stuff, but at that moment, I'm paralyzed with fear," she explains, no longer bothering to differentiate herself, as an actor, from her character Edith.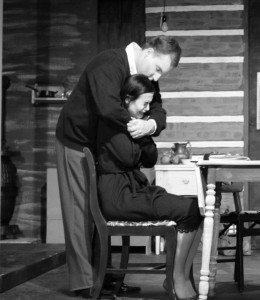 "But when Otto comes over to comfort me, my eyes are on Anne. She's all I can see. I feel so utterly lost and helpless. Everything we have tried to prevent is happening. It was terrifying knowing that they are coming and there's absolutely nothing we can do but sit there and wait."
The scene plays out exactly as Annette Trossbach directed it, but it's also undoubtedly the way Edith and Petronella van Daan would have reacted. They would have been besides themselves, and the children would have acted very bravely.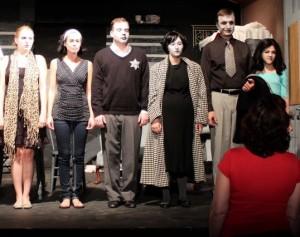 "That's very powerful," Ellice sums up. "Anne really was such a brave soul and even up to the end [as she lay dying from typhus in Belsen-Bergen] she was brave, thinking that she was the only one left. I think if she'd known her father was still alive, that he'd survive, she would have survived too, but she didn't and so, like Edith, she just gave up."
Perhaps, but there's no quit in Ellice McCoy. "It's so different when you're portraying a real person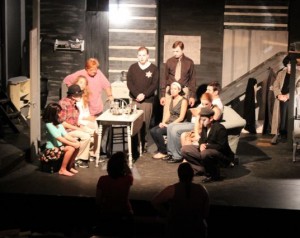 because you want to put as much truth into the portrayal as possible. Hence the copious amount of research she put into the role, the emotional investment she makes each rehearsal and performance and the breadth of her identification with the character she plays. McCoy is a true professional, and her authentic reprisal of the role of Edith Frank is an unqualified and unmitigated success.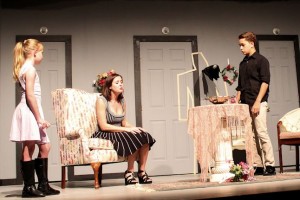 Ellice McCoy has performed before at the Laboratory Theater of Florida. She starred in Char Loomis' one-act play, During the Wedding, which won the Critic's Choice Award during Lab Theater's 24-Hour Playwriting Challenge. She was also a member of the cast of Taylor Nave's One of Us in the 2013 24-Hour Playwriting Challenge. Ellice has also performed with the Naples Players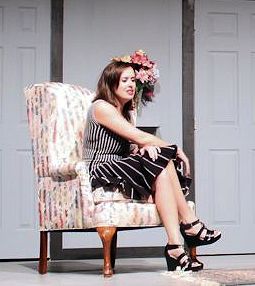 as Mandy in Time Stands Still, Mama in Distracted, and Meg in Leading Ladies. She graduated from Bowling Green State University with a degree in Theater and also studied at The American Academy of Dramatic Arts in California.
The Diary of Anne Frank is on stage at Lab Theater through May 2. Please see above for play dates, times and ticket information.
_______________________________________________________________
'Anne Frank' actress likes being compared to hummingbird on speed (04-18-15)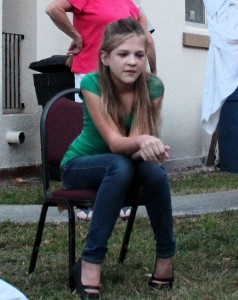 In a recent story about The Diary of Anne Frank, 13-year-old star Kaycie Lee was described as flitting "frenetically around the small warren of on-stage rooms like a hummingbird on speed." Kaycie loves the simile. "I've had a page from Anne's diary earmarked for months," writes Kaycie in a comment she posted to the story. "Friday, 29 October 1943. Outside you don't hear a single bird, and a deathly, oppressive silence hangs over the house and clings to me as if it were going to drag me into the deepest regions of the underworld… I wander from room to room, climb up and down the stairs and feel like a songbird whose wings have been ripped off and who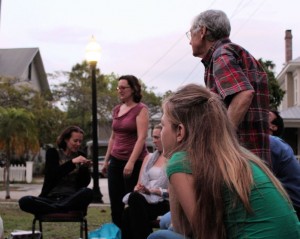 keeps hurling itself against the bars of its dark cage. 'Let me out, where there's fresh air and laughter!' a voice within me cries."
Since winning the role of Anne Frank a year ago, Kaycie has lived with the diary. In fact, she has studied all three versions of Anne Frank's journal. The effort translates into an on-stage passion and verve the audience cannot help appreciate and admire, and one of the factors that makes her performance is so darn compelling.
See above for play dates, times and ticket information.
_________________________________________________________
Q & A with 'Diary of Anne Frank' actor Matthew DeNoncour (04-17-15)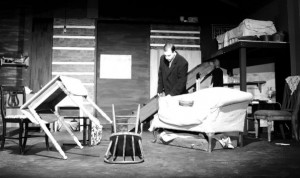 Playing now through May 2 at Lab Theater is The Diary of Anne Frank. The role of Otto Frank is played by Matthew DeNoncour. I recently caught up with Matthew by telephone after rehearsal Wednesday night for a Q&A.
TH:  What is it like playing Otto Frank?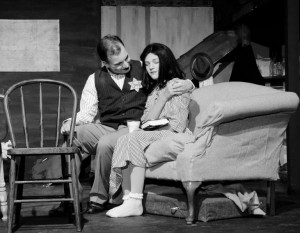 MDN: I love everything about the character and the story, but what I appreciate most is the opportunity to work with such a talented cast and crew. And [director] Annette Trossbach has been tremendous.
TH:  What's the biggest challenge in playing a character like Otto Frank?
MDN: Although I started acting while I was in high
school, this is the first time I have ever played a real person. There is video of Otto Frank which shows his mannerisms, how he walked and the sound of his voice. I've been tempted to study the footage, but Annette's vision of this play is to remain true to the script. So I have read the diary, but I didn't go any further than that in bringing Otto Frank to life.
TH: In some instances, there could be a wide discrepancy between the way Otto Frank really was and the way his daughter saw him.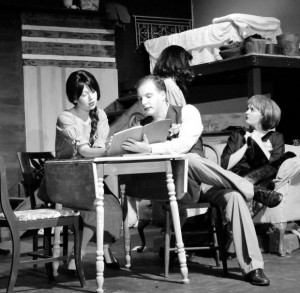 MDN: That's true. Anne always views her father in a very warm light, but the character of Otto Frank is also a creation of the playwrights. Otto chose the publisher and the playwrights, and he even edited the script.
TH: In fact, Otto Frank brought in Frances Goodrich and Albert Hackett for the specific purpose of giving his daughter's diary a sunnier, feel-good spin after he fired the original playwright, Meyer Levin, for producing a reputedly dark and less sanitized drama that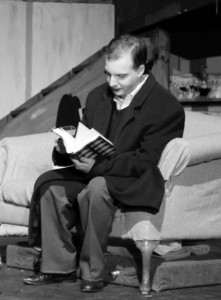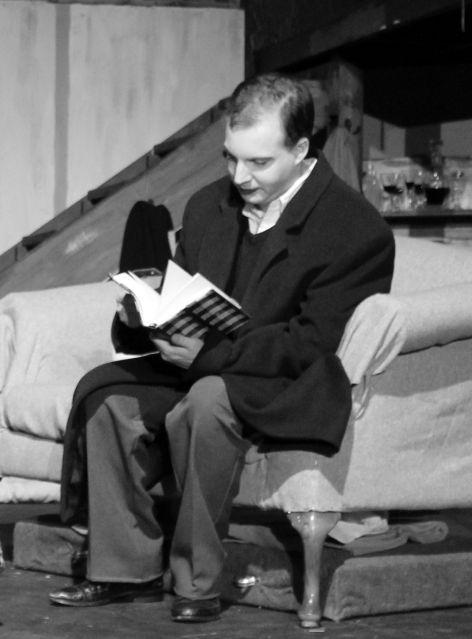 Frank went to court to ban from production.
MDN:  The real Otto Frank was strict and severe. Goodrich and Hackett portrayed him in a much better light. But the arc of this character does break at the end. It just took a lot for him to finally give in to the stress.
TH: So the Otto Frank the audience sees on stage is true to the diary and Goodrich/Hackett script?
MND:  Yes. In fact, the props, set and lighting design all follow the stage directions [which Goodrich and Hackett provide in the script] very closely. It's been a unique experience to work with a director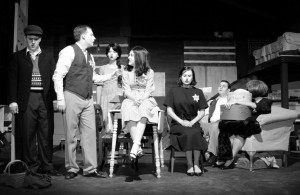 who follows stage directions to a tee, and it has worked out incredibly well with so many people on stage at the same time, moving about a very crowded set.
TH: Does the script give the director and actors any latitude for using their own vision or creativity in interpreting the script?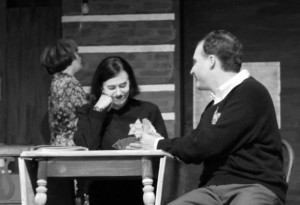 MDN:  There's a place in Scene 2 where I put away the ledgers I'm looking over and play cards with Edith. The stage directions just say "Otto and Edith play cards," but Annette had us smile at each other in a way that shows more of the relationship the couple shared.
TH:  Which was?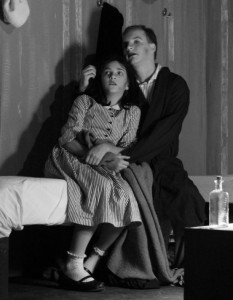 MDN:  I don't think they were in love with each other anymore [in the way two people share passion when they first fall for each other]. But she is dear to him, and he's the loving patriarch to her and Anne and Margot. I think Edith loved him more than he did her.
TH:  Do you have a favorite scene?
MDN: I really enjoy the scene where Anne wakes up screaming from a nightmare and I'm tasked with comforting her. She's talking about herself and how she wants to be a nice person and as a father, I'm thinking, "Here's my daughter having so many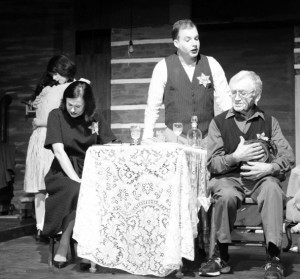 emotions she can't control." And there's a line where I tell her that there's only so much a parent can do and then you have to do the rest to form your own personality. That really resonates with me.
TH:  And with any parent sitting in the audience.
MDN:  There's a lot in this play for the audience to take away with them. If they are looking for a history lesson, they'll find a World War II story. But it's really a story about how eight people got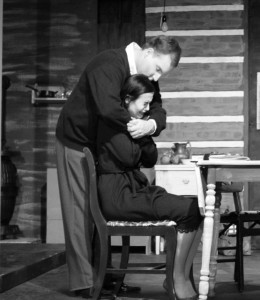 along in a cramped space as told by a 13-year-old girl, and it's my hope that the people who see the play leave inspired to do some digging and self-education to learn a little more. That's what I've done. It's a moving story.
TH:  What's next?
MDN:  [Laughing.] I haven't thought past the next rehearsal, the next performance. I'm new to Southwest Florida. I only moved here three months ago and joined the cast only eight weeks before the opening as a replacement for the original Otto [who took a job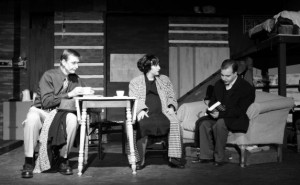 somewhere else and had to move away]. But it's so nice to work with people who get along and respect each other, I hope to stay involved with Lab Theater.
Prior to moving to Florida and debuting at Lab Theater, Matthew DeNoncour's onstage credits included the roles of Archie Kramer in Summer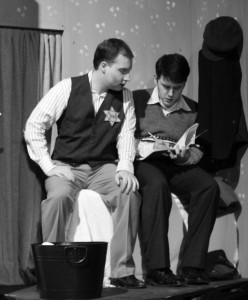 and Smoke, Dr. Woody Zellner in The Distinguished Physician's Society, Etienne in A Flea in Her Ear, Eddie Ryan in Do Black Patent Leather Shoes Really Reflect Up?, Daddy in The American Dream, Professor Williard in Our Town, Dumain in Love's Labours Lost, Artie Shaugnessy in The House of Blue Leaves, and Doc Caius in Merry Wives of Windsor. His off-stage credits include Lighting Designer in Angels in America Part I, for which he received a TAG Award nomination, director in Side by Side by Sondheim, and Lighting Director in Floyd Collins: The Musical, for which he also received  TAG Award and OEA Award nominations.
See above for lay dates, times and ticket information.
________________________________________________
Spotlight on 'Anne Frank' actress Rowan Stafford (04-15-15)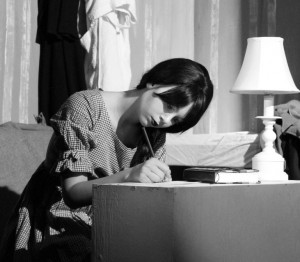 On stage now through May 2 at Lab Theater in the River District is The Diary of Anne Frank. In it, Rowan Stafford plays the role of Anne Frank's older sister, Margot.
It's hard to steal scenes when you play the role of a quiet, self-effacing sidekick, but Stafford plays Margot with such elegant distinction that it is easy to find yourself watching her to the exclusion of the other actors schlepping about the set. She is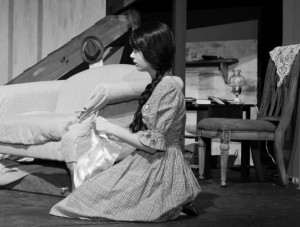 like that dancer in the background or the chorus line whose movement, extension and bearing draws the eye away from the lead dancer or prima ballerina.
As this is a play based on Anne's diary and Anne is, therefore, the center of attention in all but a handful of scenes, Margot is relegated for the most part to helping her mother prepare and clean up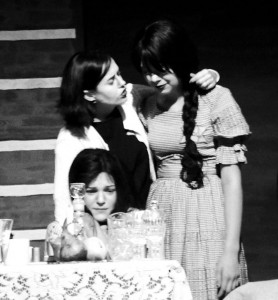 after meals and soothe Edith Frank's justifiably hurt feelings each time Anne pushes her aggrieved mother away or verbally slaps her down. Oh, there's the tender scene where Margot solicitously squires Anne as she dresses for a "date" with Peter van Daan, the only boy around. But except for one astonishing away-from-the-action moment, Margot is like a pilot fish, efficiently attending to her sister, her mother and the other occupants of the cramped attic loft of benefactor Miep Gies. In that stage-left moment, though, Stafford treats us to a look that reveals the panicky teen beneath the steady sidekick mask that she shows to the outside world.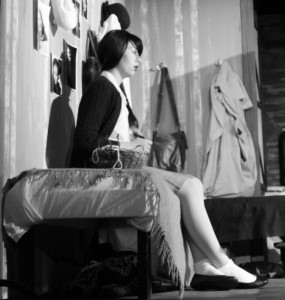 As Anne and Peter chat stage right about life, love and first kisses, Margot enjoys a rare moment alone in her sister's vacated room. There, she moves about compulsively before sitting on the bed, back ramrod straight against the wall helping Margot to tamp down her rising anxiety as betrayed by her trembling legs. The whole low-light scene is over in a mere matter of seconds, and Stafford does not utter a syllable. But this understated actress says as much with a few movements about the pressures of living in close quarters under the constant threat of aerial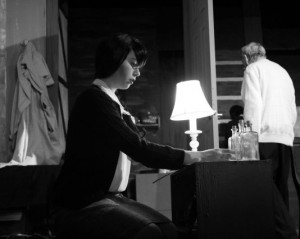 bombings and discovery than her sister's entire diary or the 2½ play that is based upon the journal. Now that's powerful.
Rowan Stafford became involved in theater at the age of seven, participating in local children's classes, summer camps and signing lessons. She has competed in Jr. Thespians. Her acting credits include the roles of Wendy in Peter Pan and Hermia in A Midsummer Night's Dream, as well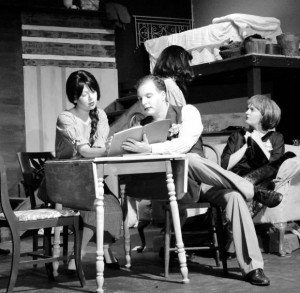 as ensemble performances in Thoroughly Modern Mille, The Addams Family and 13: The Musical. Her next role will be in Shreck, Jr. at Florida Rep. Her favorite activity is reading and the gregarious, out-going teen loves to meet new people and try new tasks.
Lab Theater is located at 1634 Woodford Avenue in downtown Fort Myers. See above for play dates, times and ticket information.
_____________________________________________________________
13-year-old 'Anne Frank' actress Kaycie Lee very much in demand (04-14-15)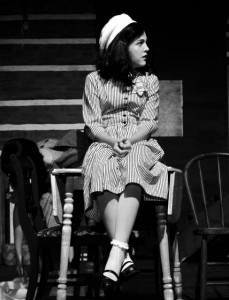 On stage now through May 2 at Lab Theater is The Diary of Anne Frank. The lead in this show is played by 13-year-0ld Cape Coral student Kaycie Lee.
"She is a very strong actor who is going places," director Annette Trossbach told Florida Weekly theater critic Nancy Stetson last week. It's true. Kaycie is very much in demand right now. In the days leading up to Anne Frank's April 10 opening, she and her mom had to make an impromptu junket to Miami for auditions for roles on a Nickelodian series and CBS pilot. "She has a casting director in Miami who really likes her," explains Kaycie's mom, Karen Maynard. "We asked him not to call this month because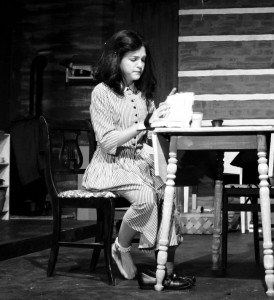 Anne Frank is Kaycie's priority right now, but he felt the opportunities were too good to pass up."
While Kaycie is a gifted stage actor, she really wants to be in film. Appearances on Nickelodian and CBS would certainly serve as important stepping stone along that gilded pathway.
"Kaycie actually earned a part on a new HBO series called Valor," Maynard discloses. "She beat out a large group of actresses to win the role, but then the show was cancelled at the last minute." But Kaycie's resume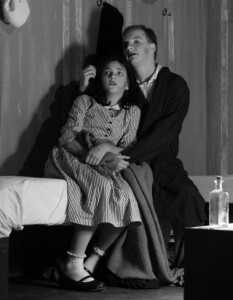 contains several other enticing credits. She won at Stars of Tomorrow in the dramatic category, performed at the Command Performance in 2014 and received a Platinum Award in the national Turn-It-Around Tour for her performance in Joan of Arc. And an indie film in which she appeared won an award at a recent film festival.
Lab Theater audiences are quickly discovering why Kaycie is attracting so much buzz. Kaycie does not just play the part of Anne Frank, she is Anne Frank. She is tireless, bouncing off walls and running around the crowded living quarters in which she and her family are forced to hide out, much to the adults'
vexation. She wraps her doting dad around one finger while ignoring her disciplinarian mother, just like any teenage girl might do – then or now, there or here. And she flirts awkwardly with the boy next door (or, in this case, on the other side of the loft), just like any inexperienced, boy-crazy young girl might do.
But it is in the larger moments when her talent bubbles to the surface. When the air raid sirens wail. When the night terrors come. When she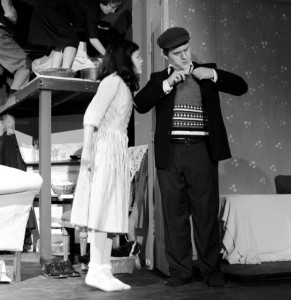 stands up to the adults in the room or surprises them with thoughtful gifts during their Chanukah celebration. It is during these scenes that she reaches into the depths of her own psyche and taps into something intuitive to give a nuanced performance that is as timely as it is timeless.
The depth and range of emotion that Kaycie brings to the part is no happy accident. Since being cast in the lead a year ago, Kaycie has immersed herself in the story, Anne's diary and the period during which she wrote it. Not only has she devoured all three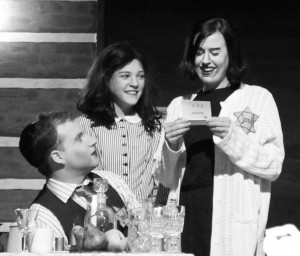 versions of the diary, she has studied documentaries on the Holocaust, dragged her mother to the Holocaust Museum in Naples and attended a talk at a university that was given by Shoah survivors. She even tried to obtain a video of the 1997 Broadway play starring Natalie Portman, but couldn't obtain a copy from the National Archive.
While she admits to being horrified by what she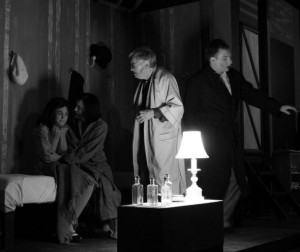 read, heard and saw ("humanity's destructive urge … to rage, murder and kill" to quote Anne Frank herself), these experiences enabled the 13-year-old to better appreciate Anne Frank's unshakable belief that in spite of it all "people are truly good at heart."
Of course, Kaycie Lee believes in the goodness of the human spirit just as fervently as Anne Frank did. Her conviction is grounded in her own Faith.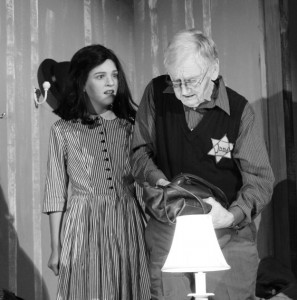 She is not Jewish, but she is nonetheless sensitized to life issues by her family's medical missionary work among people less privileged. Coming from this vantage, Kaycie says, "What really struck me about Anne Frank was her optimism, positive attitude and hope for a better future."
"But because her own future was so uncertain, she was forced to live in the moment and appreciate what little she had," Kaycie sagely adds. "I think everyone could benefit from doing that more."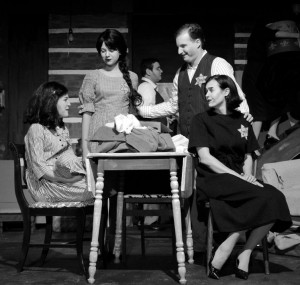 It is to share messages like these that Kaycie yearns to do serious roles in film, television and on stage. "I don't just want to entertain people. I want to improve people's lives and the communities in which they live."
To give Kaycie the latitude to attend auditions, rehearsals and performances like Anne Frank, her mom home schools her. But in addition to the classwork that Maynard assigns, Kaycie also has three acting coaches who keep her busy learning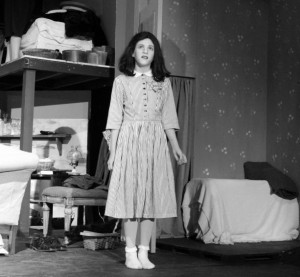 her craft. And when she is not studying her lessons, memorizing lines or in rehearsal, Kaycie reads scripts for fun, breaking them down and envisioning how she would stage the play and how the actors would interact with each other on stage. It is not something her mother encourages. In fact, Maynard would rather her daughter do the things that other kids her age do.
"It's a different kind of world," muses Maynard, who cops to a good deal of ambivalence when it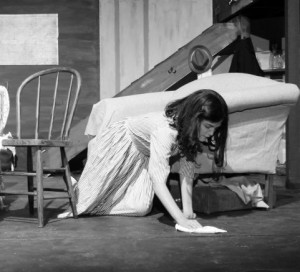 comes to Kaycie's choice of acting as a career. "I'm not sure I want that for her, but she's so passionate [about acting] that she just drags me along with her."
Kaycie does that with audiences too.
You can see what the buzz is all about for yourself at Laboratory Theater of Florida where, through May 2, Kaycie Lee is Anne Frank.
See above for play dates, times and ticket information.
_______________________________________________________________________________________
Lab Theater's 'Diary of Anne Frank' so much more than just story set in Nazi-occupied Amsterdam (04-10-15)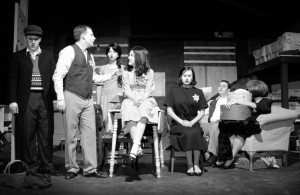 On stage now through May 2 at the Laboratory Theater of Florida is The Diary of Anne Frank. While set in 1942-44 German-occupied Amsterdam, this play is less about the Nazi-era or the Holocaust than it is about the group dynamic that evolves among eight people who are forced to live together in a cramped and claustrophobic loft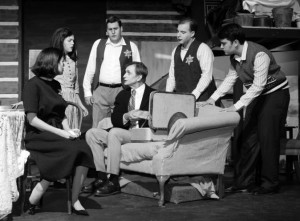 they could not leave for a period of time they could not control or even know. The story is all the more compelling because it is told by a sometimes precocious, often incredibly insightful teenager who morphs right before the audience's astonished eyes from petulant child into budding woman trying to come to terms with her emerging sexuality.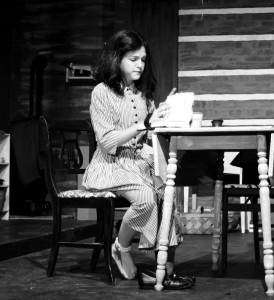 Most plays (and books) are recounted in the third person objective point of view which challenges the playwright (or author) to provide an accurate, unbiased depiction of each character's personality, traits and motivations. But as is true of any memoir, Anne Frank's diary entries are written in the first person subjective. As a result, the Otto, Edith and Margot Frank, the van Dussens and Dr. Dussel who appear on stage are caricatures of Anne's making, and we experience them through the filter of Anne's eyes and emotions. Because she idolizes her father, Otto is portrayed by Matthew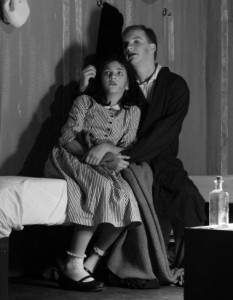 DeNoncour as a loving, even doting dad who functions within the larger group as evenhanded guide and peacekeeper. By contrast, Ellice McCoy's Edith Frank comes across as cold, distant and selfishly preoccupied with her discomfort and fears for her own personal safety.
Credit 13-year-old Kaycie Lee with remaining true to her character throughout the demanding two and one-half hour performance in which she shoulders the burden of delivering the majority of lines and emotional gravitas. Not once does she betray even the slightest doubt in her father's leadership even after the curmudgeonly Dr. Dussel questions Frank's passive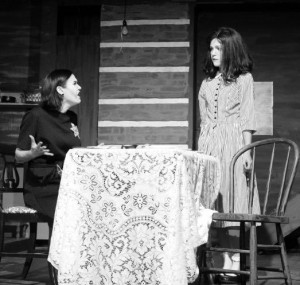 acceptance of the danger in which the group finds itself when their presence is discovered by a thief who is ransacking the offices one floor below their hiding place. Not once does she show even the slightest affection or warmth for her mother, even after her dad and sister admonish her for cruelly shutting her mother out of her life.
But the audience cannot help but wonder why Otto Frank doesn't even ask the group's protectors (Miep and Mr. Kraler) if they can find the group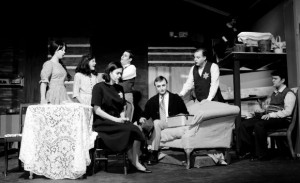 another hiding place or provide a plan of escape, or feel Edith Frank's pain and exasperation over her daughter's callous indifference and outright antagonism. Rather than deny this reality, director Annette Trossbach encourages the audience to explore the dichotomy between the ways in which Anne portrays her parents, sister, the van Daans
and Dr. Dussel and the people they actually are. She accomplishes this in a very clever way.
Rather than black out the rest of the set when Anne interacts stage right with ersatz boyfriend Peter van Daan (played by Marcos Martins) or stage left with Margot (played by Rowan Stafford) or Dr. Dussel (played by Dave Yudowitz), Trossbach has Light and Sound Tech Rosie DeLeon keep a soft light on the other actors. And so we the chance to glimpse a warm, smiling Edith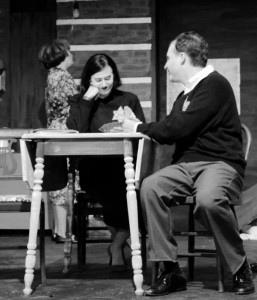 animatedly contemplate her next discard during a game of Gin Runny with her husband and the seemingly nonplussed Margot Frank's calm and collected façade give way to a frenzied bout of OCD which the trembling teen vainly employs in order to tamp down her own spiraling anxiety and sense of suffocation.
Trossbach and Set Designer Ken Bryant also do an excellent job drawing the nexus between the group's deteriorating mental state and the cramped quarters in which they are forced to take refuge. Anyone who has ever spent a week in a stuffy motel room with their family during a rainy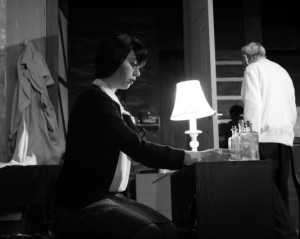 vacation or been snowed in for a long weekend knows how easy, even inevitably nerves fray, tempers flare and trivial slights and transgressions are blown all out of proportion. It requires no footnote, aside or other explanation how and why Kaycie Lee's Anne Frank irriates the adults and sets the audience on edge as she flits frenetically around the small warren of on-stage rooms like a hummingbird on speed. But Trossbach does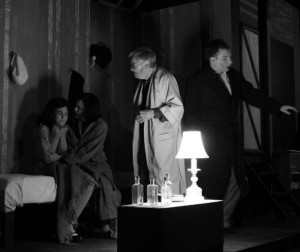 something else to accentuate the impact that these tight confines have the group's psyche and temperament. She has the cast scurry about in low light between scenes, moving set pieces, placing props and finding their places while a voiceover of Kaycie Lee reading excerpts from Anne's diary plays in the darkness, subtly but effectively drawing the audience out of their seats and into the middle of the elevator-car-sized attic that serves as the group's entire universe.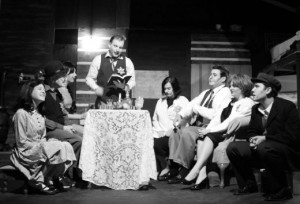 And to signify that the group's universe is drab, drear and colorless, Trossbach, Bryant and company have banished all color from both cast and set. While the content and theme of this play may contain fifty shades of gray, the set, props and even the actors' hair color is cast almost exclusively in black and white (which is why the accompanying photographs have been produced in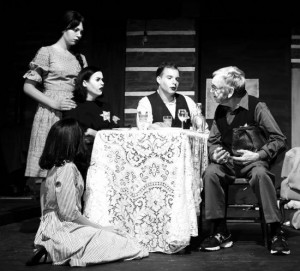 grayscale rather than color). The effect is as powerful as a summer thunderstorm, as chilling as a moonless winter night.
Lab Theater and this cast of actors entertain on myriad levels. Together, they provide the audience an epic amount to see, hear and ponder as the performance winds inexorably to its bitter, heart-rending denouement. Even here, Trossbach eschews the easy out. Rather than marching high-stepping swastika-adorned Gestapo on stage to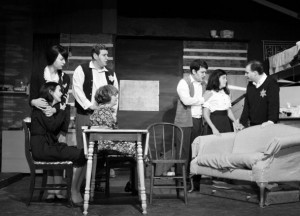 take the occupants into custody, Trossbach metaphorically expresses the impending destruction of the group's world and very lives through the theatrical device of off-stage sounds of gruff-voiced SS breaking down doors, overturning furniture and smashing glassware as the frightened family and friends ready themselves to say goodbye to the loft, their world and each other.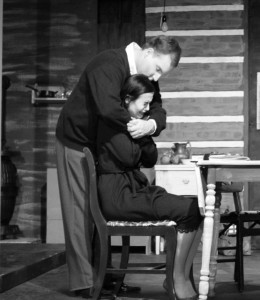 Whether you merely need a reminder of the need to live more in the moment and not to take life for granted, are intrigued by the Big Brother aspects of the story, or you just want to experience exceptionally well-crafted theater in a cozy, quaint setting that coincides companionably with the set created on stage, go see The Diary of Anne Frank. The production won't disappoint – even though we all know in advance how the story ends. For while Anne Frank did not survive the Nazi death machine, her words and spirit undeniably have. And it is her words and the eternal message of hope she imparts that come across with every line of dialogue, every studied facial expression and every scripted movement of this able and dedicated cast of actors.
See above for remaining play dates, times and ticket information.
_____________________________________________________________________________
'Diary of Anne Frank' sponsors seek to encourage tolerance and social understanding (03-20-15)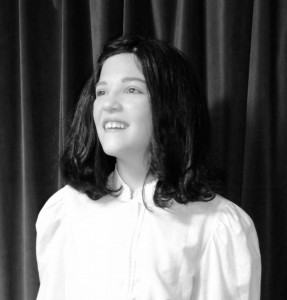 In April, Lab Theater will be producing The Diary of Anne Frank. The award-winning theater would not be able to produce this play without the generous support of the greater Fort Myers community.
Lee County students are studying The Diary of Anne Frank in their schools. Holocaust-explicit History/Social Studies and English/Language Arts are state content standards. Encouraging young people to experience a live theatrical production of this play not only enriches their understanding of the Holocaust but also exposes those young people to the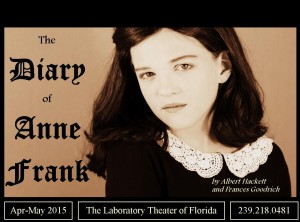 theater, a place where we all seek reflections of ourselves on the stage which help us to take stock of our own lives. For all of these reasons, the Meisenberg Family is sponsoring students' attendance at the play.
Further sponsorship of this production comes from Fort Myers couple Ella Nayor and Jeff Cull. Nayor's support of Holocaust- and tolerance-based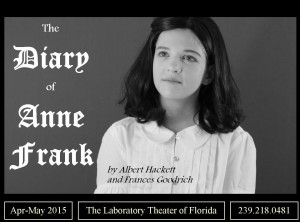 education is well-known in Southwest Florida. She regularly speaks and engages audiences – especially those of school and college age – to consider bias and intolerance and its effects in our lives. Nayor's book Faces of Tolerance: Everyone Counts is being used locally and nationally as a resource in tolerance education. Her book details the lives of some Holocaust survivors living in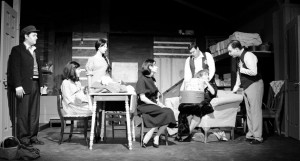 Florida. The book also features interviews with people who have been marginalized or faced intolerance and prejudice. Included are the homeless and disabled, and victims of homophobia and racism.
"It is my dream that through this work, we will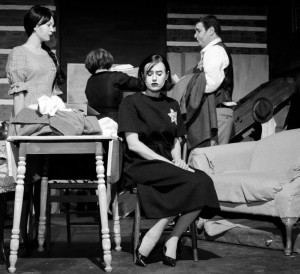 spark thought and enlightenment about intolerance and hatred," Nayor says. "If we start taking the time to see each other as people all belonging to one human family, we can begin to live more peacefully as a planet."
Written by Frances Goodrich and Albert Hackett, the stage adaptation of the book won both a Tony Award and Pulitzer Prize for Drama. The playwrights are also known for screenplays that include It's a Beautiful Life, Father of the Bride,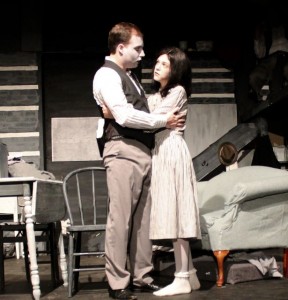 The Thin Man, and Easter Parade.  Of The Diary of Anne Frank, The New York Daily News says, "there is so much beauty, warm humor, gentle pity…this is a fine drama."
The Laboratory Theater chose to present this play in April 2015 to help remember the 70th anniversary of the liberation of the Auschwitz-Birkenau concentration and death camp. The theater will welcome community members to join the cast in "talk-back sessions" after select performances. Here, Nayor and Holocaust survivors and a WWII liberator will speak about their work and experiences in facing intolerance and bigotry. There will be opportunity for patrons to share and discuss their thoughts and ideas about creating a more accepting and loving world for all.
____________________________________________________________________
'Diary of Anne Frank' is riveting story of human frailty and courage, captivity and fear, and eternal hope (03-17-15)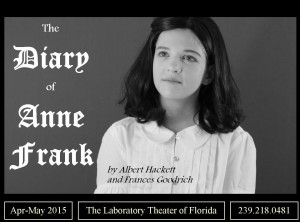 Anne Frank began a diary when she turned 13, just days before she and her family went into hiding in Nazi-occupied Amsterdam. Frances Goodrich and Albert Hackett transformed her story into a stage play that won both a Tony Award and Pulitzer Prize for Drama. The play opens at Laboratory Theater of Florida on April 10. The Diary of Anne Frank will do more than merely remind you of the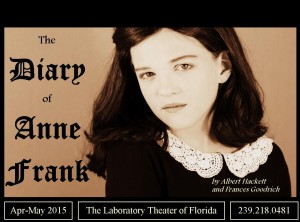 horrors of war. A riveting commentary on human frailty and courage, captivity and fear, the play is a tribute to hope and one little girl's grace during the most desperate of times which she encapsulated in this immortal entry in her journal: "I still believe, in spite of everything, that people are truly good at heart…"
"I have not gotten through a rehearsal yet without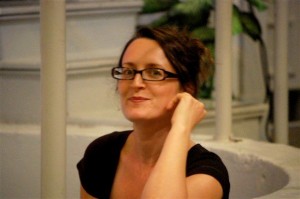 giant belly laughs or crying," says Lab Theater Artistic Director, who directs the production. "It is a constantly-shifting story, so beautifully written, and providing truthful glimpses into the lives of eight people in hiding and their two Dutch helpers, all seen through the eyes of an exceptional child."
Those eight people included Anne's family and two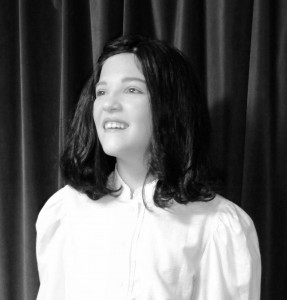 acquaintances, who hide from the Gestapo in the sealed-off upper rooms of an office building. With very little contact with the outside world, they learn to live together in tight quarters. They laugh, they pray, they study algebra and do crossword puzzles. And they indulge hope that the war is coming to an end and they will once again feel the sunshine on their faces.
Otto Frank was the leader of the group, and he will be played by Matthew DeNoncour, who recently moved to Fort Myers from New York City. "I am honored to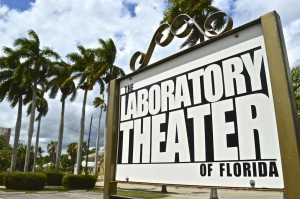 be working with an extremely talented cast and crew on this production of The Diary of Anne Frank," DeNoncour states. "The script is so beautifully written. What makes this already-emotional story even more compelling is that it is based on true experiences of real people struggling to survive the human atrocities during World War II. I cannot wait to share that story and experience with the Fort Myers community."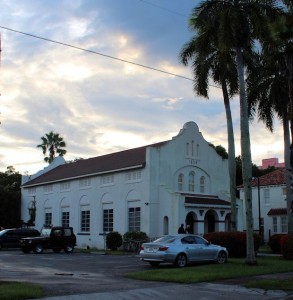 Anne Frank will be played by actor Kaycie Lee, who is just 13 years old. "Every character in the play is a different side of yourself in these circumstances," Kaycie shares. "It is so beautiful; it has changed my view on life."
Further cast members are Ellice McCoy, Rowan Stafford, Alyssa Mehrberg, Faith Deterding, Jack Weld, Aricka Shuck, Marcos Martins, Dave Yudowitz, and Mike Dinko.
Actor and director Ken Bryant has designed an intricate set for the production that dramatically portrays the cramped attic rooms that were occupied by the Franks and their compatriots. (Bryant's previous set designs for the theater have included Amadeus, Five Kinds of Silence, and Cat on a Hot Tin Roof.) Other production team members include Connie Keller, Deborah Kik, Sandra Kaseta, Patti Chamness, Mike Dinko, Erik Stafford, Dianela Gil, and Lauren Redeker.
________________________________________________________________
Lab Theater issues call for furniture, community support in recreating the hideaway of Anne Frank and her family (02-03-15)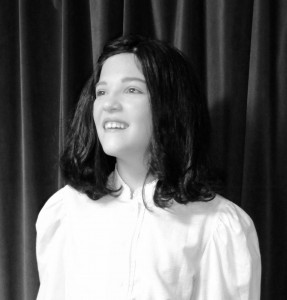 The Laboratory Theater will be presenting The Diary of Anne Frank in April through May of this spring. The 1958 play won the Pulitzer Prize, the Tony Award, The Critic's Circle Award and virtually every other coveted prize of theater. Its presentation is timed to coincide with the 60th anniversary of the end of World War II and Days of Remembrance ceremonies in Washington, D.C. and across the nation.
The Laboratory Theater plans a unique production and needs community support in order to realize its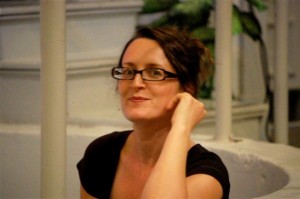 goal of recreating the living areas of the actual annex in Amsterdam onstage for the show. The living areas include the dining room, partial kitchen, and small living space which also doubled as the sleeping area for Mr. and Mrs. Van Pels, who shared the annex with the Frank family from 1942 until their arrest in 1944. Cabinetry, appliances, linens, mismatched 1930s furniture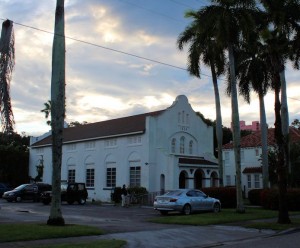 and decor all make up the plan for this production.
Artistic Director Annette Trossbach will direct the moving drama, which will star 12-year old Kaycie Lee as Anne, Ryan Murray as Mr. Frank, Lisa Kuchinski as Mrs. Frank, and a host of other talented, local actors. Theater-goers will remember shows previously directed by Ms. Trossbach's such as Agnes of God, Glengarry Glen Ross, Hamlet, and Much Ado About Nothing.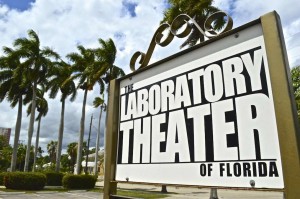 Help building the intricate set, help collecting furniture, donations of money will all be gratefully accepted by the theater. Please contact the director at director@laboratorytheaterflorida.com to get involved in this special project, or call 239.218.0481.
_____________________________________________________________________
Lab Theater founder and artistic director Annette Trossbach to direct 'The Spirit of Anne Frank' (11-17-14)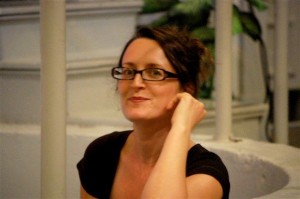 Coming to the Lab Theater in April is Frances Goodrich and Albert Hackett's The Spirit of Anne Frank, and the production will be directed by Annette Trossbach, founder and artistic director of the Laboratory Theater of Florida and the Gulf Coast Shakespeare Festival. Classically trained at the innovative East 15 Drama School in London, U.K., Annette has worked with Margaret Walker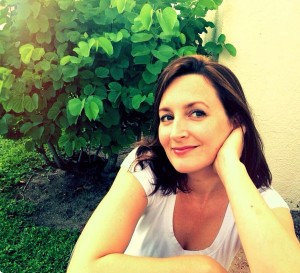 (Oh What a Lovely War), international combat choreographer Mike Loades, director Terry Johnson, Alasdair Ramsey and actor Tony Scannell. She directed in England and Germany before moving to the United States. She is a 2010 recipient of the Gulfshore Business 40 Under 40 Award and a two-time Zelda Fichandler Award nominee. Last season she directed Miss Witherspoon and Glengarry Glen Ross.
She is starring this season in My Brilliant Divorce,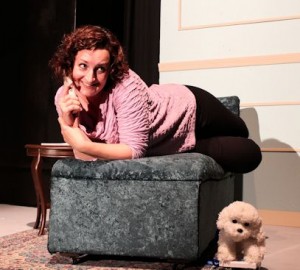 a one-woman show in which she plays 20 separate characters. Among some of the other favorite roles she has played are Sylvie in Intimate Exchanges, Yelena in The Wood Demon, and Netta in Cavalcade. Annette has been teaching theater and acting skills for more than 20 years and is teaching a class in physical character creation for the theater this season. At Laboratory Theater of Florida, she and her company continue the East 15 focus of teaching core theatrical skills such as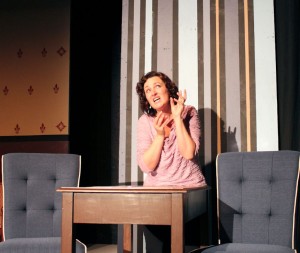 character development, stagecraft, combat, textual analysis, voice and physicality to new actors of all ages.
She thanks Lab Theater members, the City of Fort Myers, her family and her amazing Board of Directors for their continued support of the theater's mission to both educate and entertain.