Staged Readings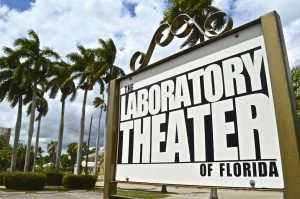 In addition to all the plays, performances and 24-hour playwriting project it produces each season, Laboratory Theater periodically hosts staged readings of new plays. Staged readings provide playwrights the chance to work in an ensemble setting with directors and hear their words spoken on stage by actors. They present the local theater-going community with a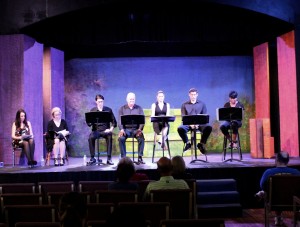 unique opportunity to encourage new work, give valuable feedback and connect with emerging talents.
Lab Theater has announced that it will conduct staged readings on November 21, 2016 and on January 16 and February 20, 2017. Titles TBA.
All staged readings take place in the theater and start promptly at 7:00 p.m.
Below you will find information and articles about readings that Lab Theater has staged in the past.
* * * * * * * * * * * * * * * * * * * * * * * * * * * * * * * * * * *
Lab to give staged reading to Robert Hilliard's 'The Politician' (02-12-19)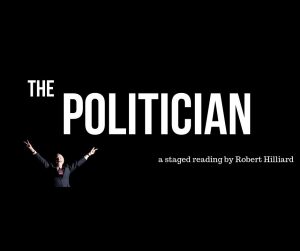 On February 25, the Laboratory Theater of Florida will hold a staged reading of The Politician, a new work from Robert Hilliard.
In this one-act satirical fantasy an egotistical, abrasive American entrepreneur makes a deal with officials of a foreign power to which he owes billions of dollars. The foreign officials propose cancellation of the debt if he runs for and becomes President, expecting that his dictatorial personality and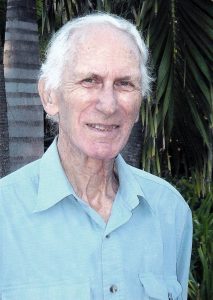 behavior will alienate America's allies and destroy America's standing and credibility in the world. What happens when the theater troupe putting on the play finds it increasingly unbelievable?
A Purple Heart World War II veteran, Robert Hilliard has been a member of Actors Equity Association, a theater director, scene designer, and New York drama critic. He is the author of over 35 books and 20 plays. Some of his plays have been seen at Southwest Florida theaters, including Laboratory Theater.
The Politician is presented as a one night staged reading at 7:00 p.m. on February 25. Doors open at 6:30 p.m.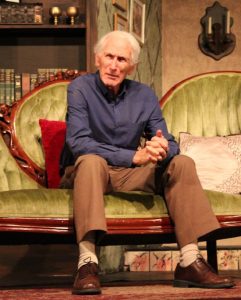 General admission tickets are available for advance purchase but seating is on a first come/first served basis. Tickets are available to purchase on Brownpapertickets.com or by calling the box office at 239-218-0481. For additional savings, guests may purchase a 2018-2019 Season Pass.
ED. NOTE: Robert Hilliard has graced the Lab boards on numerous occasions in conjunction with Holocaust Remembrance Month. For more on his participation in these events, please read:
_____________________________________________________________
Fay Ellen Graetz seeking 'Affirmation' with April 16 staged reading (04-09-18)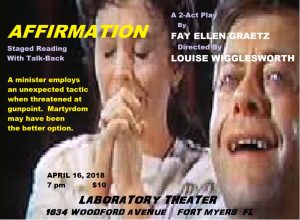 The Laboratory Theater of Florida is holding a staged reading on April 16 of Fay Ellen Graetz's new play, Affirmation.
Graetz has always appreciated a good story and began writing them in letters to family and friends while living abroad. She found she has a knack and preference for dialogue, which led her to playwriting. Her "lofty goal" is to write drama that combines entertainment with intellectual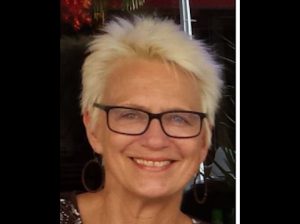 challenge.
Affirmation revolves around a pastor who put to the test when he survives a shooting rampage in his church office. Was he wrong to use reason as a survival tactic? Should he have relied on God to choose his fate? With Reverend Simmons' faith and logic now being scrutinized by the church and the media, martyrdom may have been the better option.
Graetz says that her plays are not meant to settle questions, but to fuel debate. Affirmation is designed to do just that.
Staged readings represent a wonderful opportunity for audiences to see a play that is in development and to participate in the process by providing feedback to the playwright. They are also help playwrights gauge the response they get from a live audience.
Doors open at 6:30p.m., with the reading beginning promptly at 7:00 p.m. Tickets are $10 at the door (or part of your season pass) and are available on a first-come, first-served basis.
Staged readings in the 2017-2018 season are generously sponsored by Gail Rothenberg and John Levy.
__________________________________________________________
Robert Hilliard's 'Julia' to receive staged reading February 12 (02-01-18)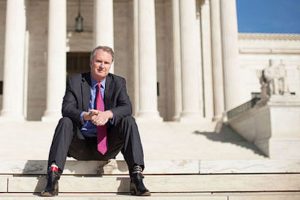 Lab Theater is holding a staged reading of Julia, a play about a disgruntled wife who finds herself at an emotional crossroads. She hates her insurance exec husband, Walter, and their shallow country-club life, but appreciates its economic security. At a party with former college friends, she falls in love with and begins a fulfilling sexual relationship with a struggling writer by named Joe, who is incapable of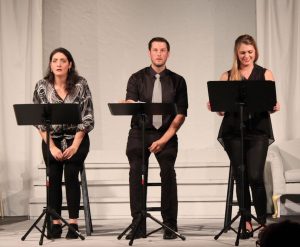 commitment or sincere caring. Bill is her best friend and confidante, but even though he gives her unconditional warmth and understanding, she just is not physically attracted to him. Will Julia go back to Walter, stay with Joe, or choose the emotional security of Bill?
Robert Hilliard is the author of more than 20 plays and author or co-author of over 35 books. His professional theater background includes Actor's Equity membership,
directing, and scene design. He has a PhD and has taught theater and drama at the collegiate level. Some of his plays have been seen locally at the Lab Theater, Theatre Conspiracy, and the Naples Players.
Tickets are $10 at the door, or entry is included in your Season Pass. Staged readings in the 2017-2018 season are sponsored by Gail Rothenberg and John Levy.
_________________________________________________________________
Lab Theater to give playwright Melanie Payne 'Routine' staged reading (01-03-18)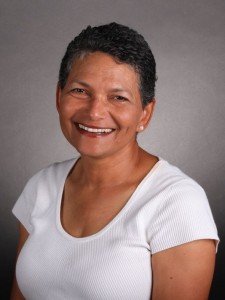 The Lab will conduct a staged reading of a new work by Melanie Payne on Monday, January 15. It is centered around Dan Brown, a man who finds himself in a rut.
Late middle age is not turning out as Dan had planned. A few years earlier, he lost his wife of 20 years and the job he had for more than 30. Instead of coasting into retirement, he's scrambling to find work and trying to keep it together with a new wife almost half his age, a new baby and a teenage daughter from his first marriage. Just as he has come to master the humdrum routine of his new life, tragedy strikes – and nothing will ever be the same. Clearly, Routine is anything but.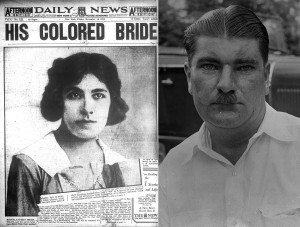 Stephen Hooper will be reading the role of Dan Brown.
This is not Melanie's first appearance on the Lab Theater staged reading circuit. In November of 2016, Lab held a staged reading of her play True Colors, a play that explored the complexities of racial identity in the context of the long-forgotten true story of Leonard Kip Rhinelander and Alice Jones.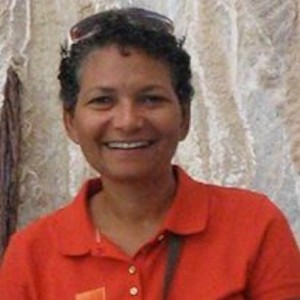 Rhinelander was one of New York's wealthiest and most eligible bachelors; Jones was a domestic worker. But the scandal really ramped up after the public learned that Jones' dad was black and Rhinelander sued for an annulment claiming that he'd unwitting married a woman of color.
Melanie Payne is an investigative reporter with The News-Press/USA Today Network. In that capacity, she has exposed scams, corruption and bad deals. For more than a decade, she wrote the consumer column, Tell Mel. She has published two nonfiction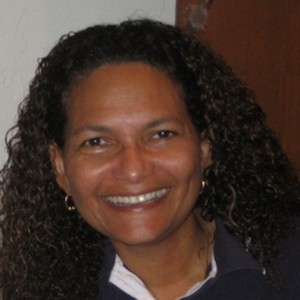 books and is a nationally-ranked Scrabble player. A native of Cleveland, Ohio, Melanie is a graduate of Wellesley College and has lived in Fort Myers since 2004.
The staged reading takes place at 7:00 p.m. at the theater, which is located at 1634 Woodford Avenue, Fort Myers, Florida 33901.
For more information, please visit http://laboratorytheaterflorida.com or telephone 239-218-0481.
_______________________________________________________________________
Imagine Will and Grace in a zombie apocalypse in November 20 staged reading (11-09-17)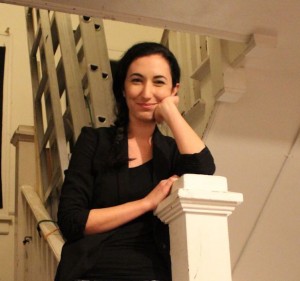 June and Jason are in the midst of a divorce, but will the threat of a zombie apocalypse and the influence of their zany friends and neighbors bring them back together? The answer can be found in a staged reading of Divorce, Neighbors, Zombies, a fast-paced, quick-witted situational comedy in the tradition of Will and Grace meets The Walking Dead.
It all takes place at the Laboratory Theater of Florida on November 20.
Including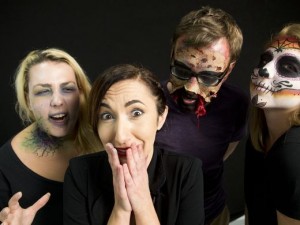 zombies in a plotline is no stretch for Lorusso. Last Halloween, she gave a tutorial on how DIY party-goers could do themselves up as zombies and deceased zombie bite victims for the Naples Daily News. As The Naples Players' special effects makeup artist, Laura's the one who brings to life the macabre in shows like last year's production of The Rocky Horror Show. She has also competed on Global Beauty Master, a national styling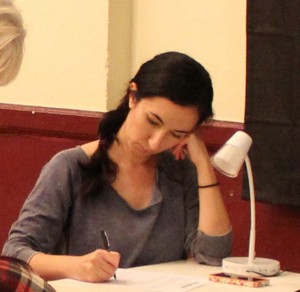 competition and television reality show.
Lorusso has been an active in the local theater community for the past fourteen years. She has starred with the Naples Players in several shows and toured with a local comedy show, Joey and Maria's Comedy Italian Wedding.
More and more, Lorusso aspires to be a well-received playwright. Lab Theater audiences will recall Scrooge TV: A Modern Christmas Carol, a spoof of the Charles Dickens classic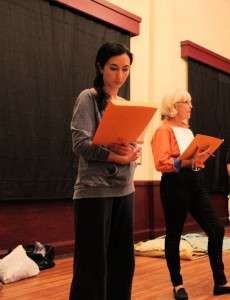 starring Kendra Price and Dave Yudowitz (who is presently appearing in An Act of God) that The Lab produced in 2014. The year before, Lorusso also won Lab's 24-Hour Playwriting Challenge with a one-act, 12-minute vignette titled "The Hall: Last Sunday" that sparkled with snappy dialogue, rib-splitting one-liners and a little song-and-dance number that brought down the house.
Lorusso also wrote Afterlife of the Rich and Famous, a dark comedy that was produced Let's Put on a Show at Golden Gate Community Center three seasons ago.
There will be a talkback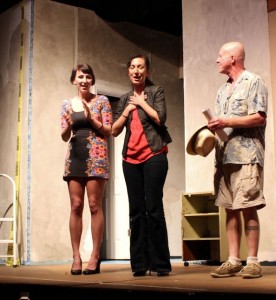 following the reading during which the audience will be invited to share its thoughts on the play and, thus, be part of the play's development. Staged readings provide playwrights the chance to work in an ensemble setting with directors and hear their words spoken on stage by actors. They present the local theater-going community with a unique opportunity to encourage new work, give valuable feedback and connect with emerging talents.
This staged reading is presented by the Lab in tandem with The Naples Players' ETC program as part of a 2017-18 season partnership for the sharing and development of new works.
Staged readings begin at 7:00 pm and are just $10 (or free with a season pass).
________________________________________________________________
Lab Theater giving staged reading to 'Shadow of Queens' on January 16 (01-11-17)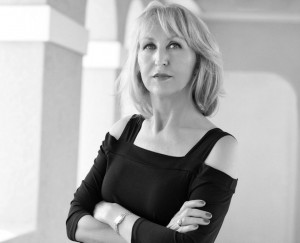 The Laboratory Theater of Florida will be hosting a staged reading of In the Shadow of Queens by Linda Saether at 7:00 p.m. on Monday, January 16.
The play gives voice for the very first time to two of the British Monarchy's most interesting mothers, Lady Elizabeth Boleyn and Lady Margery Seymour. Through In the Shadow of Queens, their heart-wrenching stories reaches through the centuries to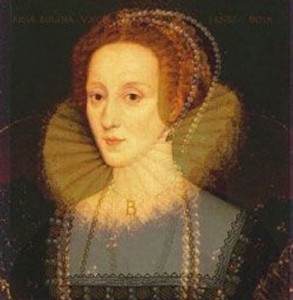 modern-day theater-goers who are unfamiliar with their triumphs and travails.
The Countess of Wiltshire and Ormond, Lady Elizabeth Boleyn (2nd photo) was the mother of Queen Anne Boleyn (3rd photo), King Henry VIII's beguiling second wife. Although she was a member of one of England's most prestigious families, nothing prepared Elizabeth for the world-changing events that would lift her family to staggering heights before the dark days of May 1536 brought it all to a sudden end and cast them into an abyss from which they never fully re-emerged.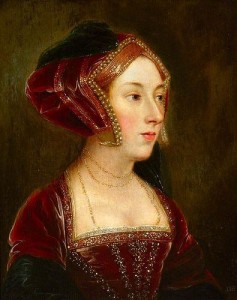 Lady Margery Seymour (4th photo) was Queen Jane Seymour's mother. As Elizabeth's daughter prepared for her execution, Margery's daughter awaited her betrothal to the widowed King, which was to take place the day after Anne's unprecedented execution by a French swordsman, who was summoned even before her trial.
Originally from Norway, Linda Saether is a medical doctor, former business owner, and writer who possesses screenplay, radio and playwriting credits. She has researched Tudor history extensively. In fact, it was during a stay at Hever Castle with a coterie of historians, authors and other Tudor experts who were engaged in long discussions about Anne Boleyn that Elizabeth's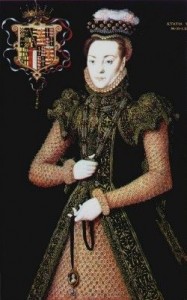 plight spoke to her and inspired this play. In the course of her investigations, she was fortunate to gain access to the Pope's reading room. The first individual ever to have Henry VIII's love letters to Anne Boleyn letters retrieved from the Vatican archives, she enjoys the distinction of actually holding them in her own hands.
Staged readings at Lab Theater are an opportunity for playwrights to hear their words spoken by actors on a stage, which can aid them in rewriting, honing and tweaking their work. They are also opportunities for a community of theater-goers and arts advocates to encourage new work, give valuable feedback and to connect with emerging talent.
Staged readings are $10 at the door or free to Season Ticket holders. Improv tickets are available at http://www.brownpapertickets.com/event/2792931?date=1648371. For more information, please call the theater at (239)218-0481.
____________________________________________________
The Lab's November 21 staged reading involves racial identity and interracial love (11-06-16)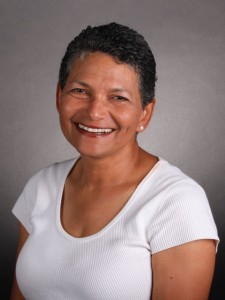 Lab Theater hosts its first staged reading of the 2016-2017 season on Monday, November 21 when it presents playwright Melanie Payne's True Colors. The play is set in the roaring '20s. One of the New York's wealthiest and most eligible bachelors has married a domestic worker and tongues are wagging. But even more shocking to New York society is the fact that Alice Jones is not just a former maid, her father is black. What followed from that public revelation was a trial that dominated national news as Leonard Kip Rhinelander pleaded for an annulment, claiming he had unwittingly married a woman of color. True Colors tells the story of the trial and, in flashback scenes, the courtship and marriage of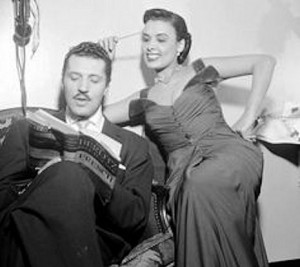 Alice and "Kip." The play explores the complexities of racial identity – while documenting a long-forgotten true story of interracial love.
True Colors is based on a true story. Payne read about the scandal and was instantly intrigued. A Fort Myers News-Press columnist who writes the paper's "Tell Mel" column, Payne immediately recognized that the story would convert well to the stage. "I thought the story would make a good play or book," she told fellow News-Press journalist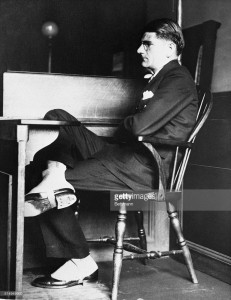 Charles Runnells in February. "There have been some great courtroom plays, such as Inherit the Wind and Twelve Angry Men (which played earlier this year at the Florida Rep). They are timeless. So I figured that even if it took me 10 years to finish, it wouldn't go out of style."
Payne and a friend researched the case by accessing hundreds of pages of old documents, newspaper and magazine articles, and even the transcript of the trial. The story was front-page news all over the country, and the New York City Bar Association Library and the New York Public Library yielded a trove of rich and accurate historical detail.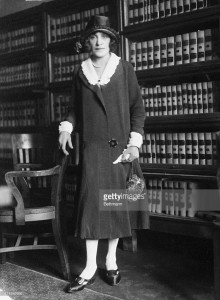 This is Payne's first play. "Even though it's still a long way from a production, I never thought I'd get this far," she says.
As a columnist, Payne investigates scams, corruption and bad deals, doling out advice and opinions on consumer issues every Sunday, Wednesday and Friday in The News-Press and at news-press.com/tellmel. Melanie is active in the community, volunteering for various community groups and tutoring at-risk youth and young adults. She is the Alumnae Admission Representative for Wellesley College. In her spare time Melanie likes to read and play golf. She is a member of Investigative Reporters and Editors and the North American Scrabble Players Association.
The staged reading takes place at 7:00 p.m. at the theater, which is located at 1634 Woodford Avenue, Fort Myers, Florida 33901. For more information, please visit http://laboratorytheaterflorida.com or telephone 239-218-0481.
______________________________________________________________
In Season 7 (October 2015 – April 2016), Lab Theater conducted the following four staged readings:
January 18, 2016: Debris by Peter Swet is a love story that just skirts absurdism. The play features two Polish immigrants who have fallen on hard times and now live in a dump in a home made of scrap metal, tenting and discarded objects. They're mostly happy and certainly in love, but they miss their daughter and cling to letters that she sends. When a social worker shows up one day, Papa and the audience will start to question what is reality and what is illusion. Peter Swet is a published author who presented The Interview three seasons ago at Lab Theater.
February 22, 2016: True Colors by Melanie Payne explores the complexities of racial identity while documenting a long-forgotten true-life story of inter-racial love. It took place during the Roaring 20s when one of New York's wealthiest and most eligible bachelors married a domestic worker. That fact alone would have been sufficient to keep tongues wagging for years, but what New York society found even more shocking at the time was that Alice Jones wasn't just a former maid. She was a former maid whose father was a black man.What followed from that public revelation was a trial that dominated national news as Leonard Kip Rhinelander pleaded for an annulment, claiming he had unwittingly married a woman of color. True Colors tells the story of the trial and, in a flashback, the courtship and marriage of Alice and "Kip."
March 21, 2016: Reasons for Grandparents by Patty Duncan addresses the rights, or lack thereof, that grandparents have to see and interact with their grandchildren. It all starts when Ruth's daughters begin to harbor a secret, especially about the oldest child's new behavior, after mom takes on a second job. The grandparents intervene only to be prohibited from seeing their granddaughters again. Duncan was one of the participants in this past December's 24-Hour Playwriting Project, a challenge in which she had just 24 hours in which to write, edit, and stage a 15-25 minute one-act play.
April 25, 2016: The Open Hand by Robert Caisley is a CBT commissioned satire that ventures into the territory of giving and receiving with wit and bite, observing the contemporary anxieties between those with means and those with hopes, dreams and disappointment. "Suppose someone is overly generous to you … offering something you couldn't possibly repay," Caisley teases. "Do you reject their generosity and risk offending them? Or do you accept the gift and then stew over what might be demanded in return? We've all heard the phrase, 'It's better to give than to receive.' But what dark secrets may be camouflaged by our human need to share with others?" Robert Caisley is an Associate Professor of Theatre & Film and Head of the Dramatic Writing Program at the University of Idaho. If the name sounds familiar, you're right. Caisley wrote the past summer's blockbuster dark comedy, Happy, starring Stella Ruiz, Todd Fleck, Patrick Day and Tera Nicole Miller.
Playwright asks for feedback following staged reading of 'The Open Hand' (04-29-16)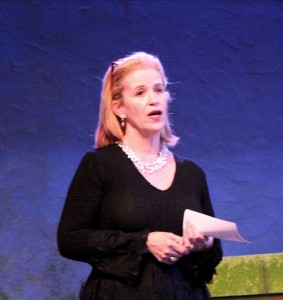 On Monday, Lab Theater conducted a staged reading of a play by Robert Caisley that is still under development. Its working title is The Open Hand. It was commissioned in 2014 by the Clarence Brown Theatre at the University of Tennessee specifically for students enrolled in its MFA in Acting program, but as Lab Theater Artistic Director Annette Trossbach and Open Hand director Anne Dodd told those who attended Monday night's staged reading, "Rob Caisley is still working on the play and would be grateful for your feedback."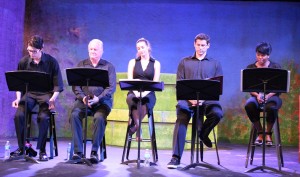 The play opens with two friends chatting over lunch at an expensive Asian restaurant. When Freya hurries off for an important job interview, Allison discovers to her horror that she's forgotten her purse and has no way to pay their tab. A gallant stranger at an adjoining table notices Allison's dilemma and gives her the money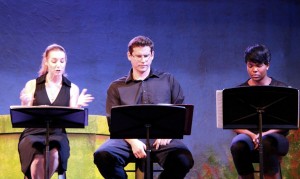 for the check – along with an umbrella for her walk home in the pouring rain. But what David Nathan Bright does not know, cannot know, is that Allison does not accept gifts. Not even on her birthday. Not even from her fiancé. And while she reluctantly accepts his generosity, Allison is more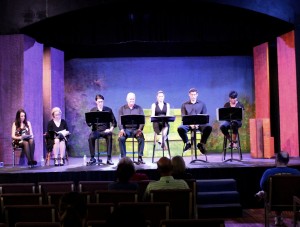 embarrassed and chagrined than grateful for his benevolence.
As Arts Knoxville theater critic Alan Sherrod notes in an April 7 review, the plot currently suffers from some "uncomfortable contrivances." It might have been more in keeping with Allison's character had she gotten Bright's name from her server and tracked him down to repay the "loan," but in the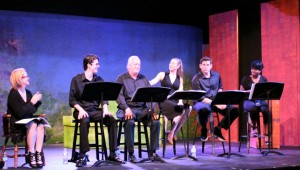 play's current iteration, Allison happens upon Bright reading a newspaper in the park the next morning as she is enjoying her morning jog. Because she has no cash on her (again), she invites him to a party that her fiance', Jack, is throwing for her birthday in a few days.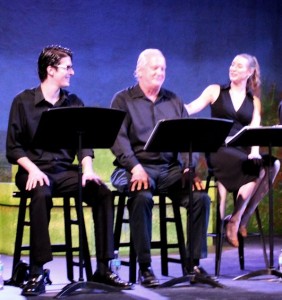 Although he claims to have other plans, Bright does come to the party. And as many of us might do when invited to someone's home for a dinner party, he brings along a bottle of wine. But this particular bottle of wine costs $6,000, prompting both Freya (a wine consultant) and Jack to question the man's true motives. I mean, really, who would bring a $60 bottle of wine to a party being thrown for a someone you've only met briefly on two serendipitous occasions – never mind a $6,000 bottle of vino?
The plot become even more incredulous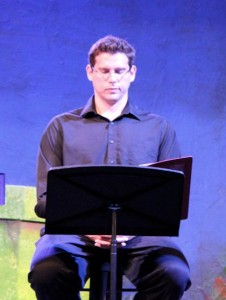 when Bright and Freya discover that the latter has interviewed for a position with the woman Bright is meeting after he leaves the dinner party. Even though Freya has treated him with distain, distrust and utter contempt, Bright arranges for his date to come to the Jack and Allison's apartment in order to help Freya land the job. But before she can arrive, the evening takes a predictably violent turn when Bright then tries to give Jack a large check after Allison's fiance' receives a call from an investor group with news that they've decided not to back the restaurant Jack wants to open.
As Arts Knoxville's Alan Sherrod points out, "Caisley excels at placing evocatively-drawn characters in situations that bristle
with social and personal conflict, all the while mixing comedy with angst, then mining the dramatic results." Indeed, Allison, Jack, Freya and Freya's luxury-car-salesman husband, Todd, all struggle with their ability or inability to give or accept love and generosity. The Open Hand is described as observing "the anxieties that occur between people with means and others with 'hopes, dreams and disappointment.'" But Bright's actions are so far out of the bounds of acceptable social norms and custom, who wouldn't question what the man expected in return?
Without giving away the play's ending (although could certainly change during the revision process), suffice it to say that Allison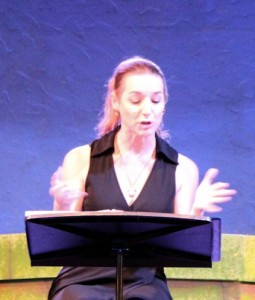 has good reason for her inability to accept gifts or celebrate her birthday in any meaningful way, shape or form. But as the Q&A following the reading underscored, the ending seemed manufactured, although that defect could be tempered if not completely ameliorated with a bit of good, old-fashioned foreshadowing earlier in the play. More problematic, perhaps, is that the character of David Nathan Bright remains as enigmatic. While the audience learns that he lost his wife and has no one to shower with his bountiful love, affection and largesse, Caisley provides no explanation of any kind as why a man who sits on the boards of museums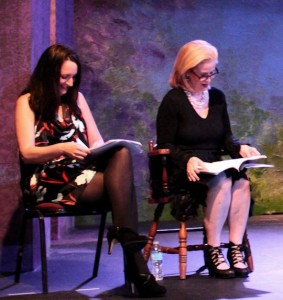 and other charitable organizations would be so insensitive to the reaction people would have to gifts as egregious as a $6,000 bottle of wine or the six-figure stipend that would be necessary to open a five-star eaterie in an urban setting like the Loop in Chicago or Chelsea or even the old Bowery on Manhattan's lower East Side.
All staged readings offer participants the rare opportunity to provide a playwright with input during a play's construction and development. Rare is the chance to provide input to a playwright as successful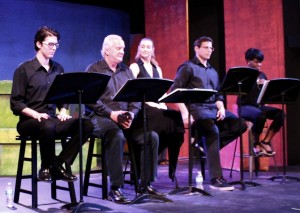 and well-known as Robert Caisley. Who can say if Caisley will consider or act on any of the commentary that Annette Trossbach and Anne Dodd gathered last Monday night. (Caisley had intended to attend the reading but was precluded from coming by other obligations at the last minute.) But whether he does or doesn't, it's fun and an honor to be involved in such a project in a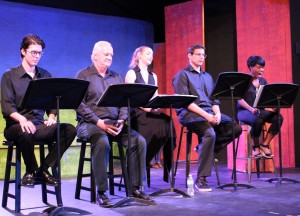 focus group type capacity.
Anne Dodd and her cast are to be complimented. Although the actors are confined to barstools throughout the reading, each is intimately familiar with their parts and the dialogue they are given to read. Tera Nicole Miller was animated as the highly neurotic Allison. Angela D. Pierre was convincing as the resentful, distrustful Freya. Juan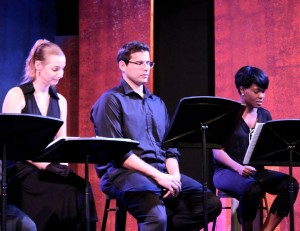 Alejandro did a great job as Freya's unhappy but good-hearted husband. FGCU theater student Daniel Cancio continues to impress. But it was Patrick Day who clearly took his character to heart. It would be easy to see him as a kindly eccentric benefactor of the arts who takes an unexpected interest in a girl who finds herself in a tough spot.
Interestingly, Miller and Day are Robert Caisley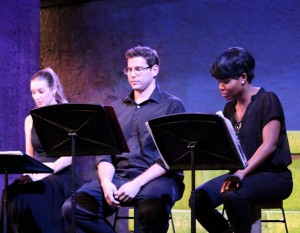 alumni. Miller played Melinda and Day was Eduardo in last summer's production of Happy, a psychodramedy that starred Stella Ruiz as Eva and Todd Fleck as her unwitting victim, Alfred.
This writer cannot end without taking the opportunity to offer a variation on Caisley's theme. I wonder how the storyline might evolve if instead of Allison finding at the play's outset that she did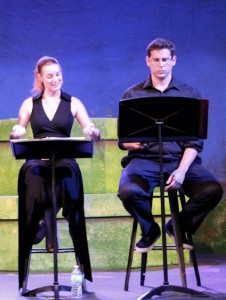 not have her wallet, if her dilemma was that she'd inadvertently ordered a $6,000 bottle of wine? There are cases where that's actually happened. A diner at a Chicago steakhouse did just that one night, as did a patron of a New York restaurant who mistakenly ordered a $2,000 bottle of Screaming Eagle. Had David Nathan Bright bailed Allison out of that kind of jam, he might actually appear as a chivalrous Good Samaritan rather than a rich but clumsy social clod. But alas! What does he bring to the party that can top a $6,000 bottle of wine?
* * * * * * * * * * * * * * * * * * * * * * * * * * * * * * * * * * * * * * * * * * * * * * *
In Season 6 (October 2014 through April 2015) Lab Theater conducted three staged readings: Real Art by Louise Wigglesworth, Jolly Black Widow by Marsha Sheiness and Zalman Velvel's Huddlehouse Secrets. 
March 23 staged reading cancelled and replaced by 'Real Art' on April 13 (03-21-15)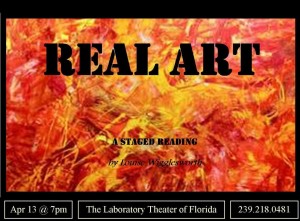 Lab Theater has announced cancellation of the staged reading it had scheduled for March 23. As a substitute, it is offering a new one-act play titled Real Art in which award-winning local playwright Louise Wigglesworth delightfully questions the nature of art. "Join us at 7 p.m. on April 13 for a staged reading of this comedy, directed by Kathleen Moye." No reservations are required for staged readings, and tickets are just $5 at the door.
_____________________________________________________________________
'Jolly Black Widow' is Lab Theater's next staged reading (02-02-15)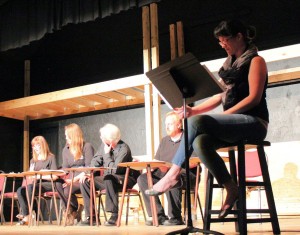 The Jolly Black Widow will be Lab Theater's next staged reading. Written by Marsha Sheiness, it is based on the true story of Nannie Doss, daughter, wife, mother, grandmother and the most naïve serial killer you'll ever meet. Ever searching for the perfect, romantic mate, Nannie disposed of four husbands because they weren't. Give you any ideas?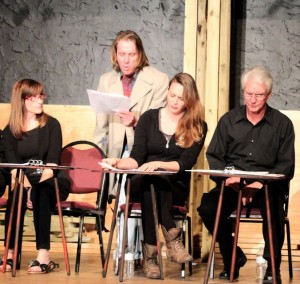 Bonnie Grossman stars, and Anne Dodd directs.
Staged Readings are a wonderful opportunity for playwrights to hear their words spoken by actors on stage. They are also opportunities for a community of theater-goers and arts advocates to encourage new work, give valuable feedback and to connect with emerging talent.
The reading takes place at 7 p.m. on Monday, February 23. Admission is just $5 and seating is general admission only.
_________________________________________________________
'Huddle House Secrets' involves audience in conception and execution of play (01-29-15)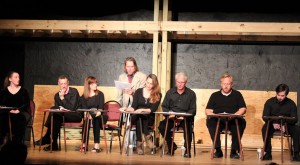 Last Monday evening, eight actors under the direction of Kathleen Moye huddled inside Lab Theater to give a staged reading of playwright Zalman Velvel's Huddle House Secrets to a group of some three dozen audience members who braved blustery gales to attend the play's debut.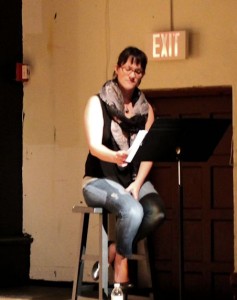 "This is not a staged production, but people sitting on a stage and reading lines," cautioned Moye from her perch atop a dark green wood stool set on the edge of the stage floor near the first row of house seats. "There will be some motion, but not much, so you must use your imagination."
That part wasn't terribly difficult. Most people have frequented at one time or another those small, 24-hour restaurants "where you can get breakfast at any hour of the day or a simple grilled or fried meal for lunch or dinner," prompted Moye, setting the scene. Huddle House Secrets is a dark comedy in which a random group of people are held hostage by a deeply troubled
husband who has arrived at the restaurant armed with a sawed-off shotgun intent on stopping his abused wife from leaving him. As he struggles to decide whether to kill his wife, kill himself, or kill them all, he forces each hostage to confess the sins of their own checkered past proving, in the process, that none of them are all that much different than him.
"In our conversations, talking about the characters and creating three-dimensional beings from the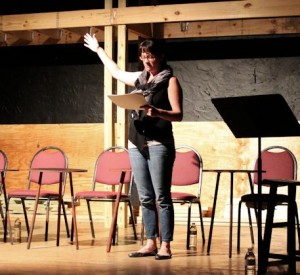 script, there was a recognition that people are complicated," Moye acknowledged. "We often make stereotypical assumptions and then somebody does something completely different than we expect."
True enough, Huddle House Secrets is packed with delightful plot twists, such as a righteous Baptist minister returning home to his wife from his standing Sunday night tryst with one of his parishioners and a stalker-turned-hero who decks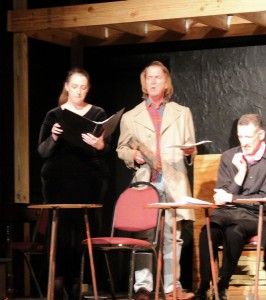 Pete when he tries to muscle Connie out of the restaurant and back to his house of pain. But Velvel's characterization proved nettlesome for the female actors and audience members in a number of respects.
For example, in trying to convince Connie to give him another chance, Pete tells her that he loves her, although he admits "I might screw up, I might screw up again." That stretched suspense of disbelief a little too far for several female audience members. "I've worked with abused women," one volunteered during the discussion following the reading, "and their abuser would never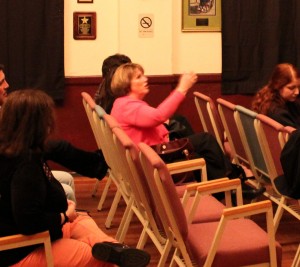 admit that he might abuse her again. An abusive husband or boyfriend would say over and over again that they'll never do it again – or blame the woman for provoking them."
Cast member Amy Tardiff agreed. Her character, Nadine, is a waitress who endured 25 years of marriage to an abusive spouse who finally died of natural causes. "In the end, she must encourage Connie to go home with Pete. I had a really hard time telling an abused wife to go home with her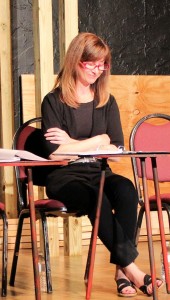 abusive husband. I had to twist it so that I made her go back solely so that we could survive, and even then, it was just for that one night."
When Connie first enters the restaurant, she tells Nadine that her kids are sleeping in the car, yet throughout the ensuing hour during which Pete holds all of them hostage, threatens to shoot Connie and unloads two double-barreled blasts into the Huddle House ceiling to make it clear that he is willing to kill anyone who tries to escape or stop him, neither Connie, Nadine nor Pete give a second thought to whether those kids are still fast asleep in the back seat of Connie's car – as another member of the audience was quick to point out.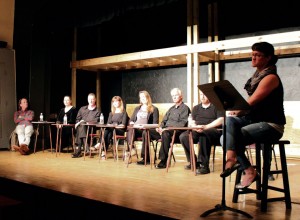 While each of these flaws in Velvel's otherwise strong and clever script might be amenable to a fairly quick and easy fix, more problematic was the playwright's decision to provide a neat, non-violent ending for Huddle House Secrets. As currently conceived, the hostages are rescued in the eleventh hour when a police officer stops at the restaurant for a cup of coffee. After swearing the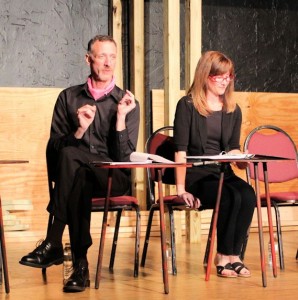 patrons to secrecy, Pete conceals his weapon inside his long coat, only to carelessly drop it on the floor as he and Connie go to leave. Without even a scuffle, the cop cuffs Pete, bringing the play to a swift conclusion.
Besides being terribly contrived, the ending lets yet another man guilty of domestic violence off the hook. Had Velvel wanted to make a statement about redemption or even Stockholm Syndrome, he could have had the police storm the Huddle House intent on taking Pete out only to have the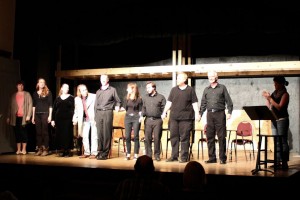 hostages intercede on Pete's behalf and plead for them to spare his life. Or a sniper could have taken Pete out with a single shot through the plate glass window, leaving the hostages and audience to grapple with his sudden death and their inevitable PTSD. But in its current iteration, the denouement is as unsatisfying as the resolution of the latest episode of domestic violence in the National Football League.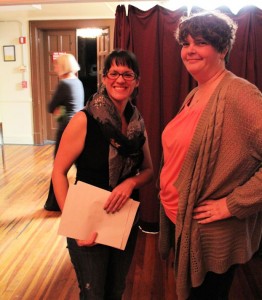 But that's not really the point of a staged reading. As the post-reading discussion of these and other aspects of the plot, characters and dialogue abundantly underscore, staged readings don't just benefit the playwright, actors and theater companies who host them in the ways already mentioned. They give the audience members the unparalleled opportunity to have a voice and play a role in the play's conception and execution. And that's priceless.
Laboratory Theater's next staged reading takes place on February 24, 2015 with The Jolly Black Widow by Marsha Sheiness. Based on a true story, The Jolly Black Widow focuses on Nannie Doss, daughter, wife, mother, grandmother and the most naïve serial killer you'll ever meet. Ever searching for the perfect romantic mate, Nannie disposes of four husbands because they weren't