Leoma Lovegrove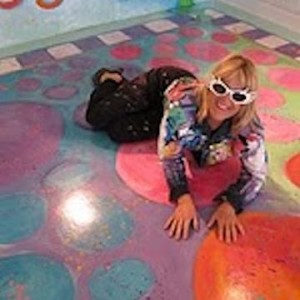 Name:  Leoma Lovegrove
Genre:  Impressionism
Media:  Oil on Canvas
Gallery:  Lovegrove Gallery & Gardens, Matlacha Island, Florida
Website:  http://www.leomalovegrove.com/
Facebook:  https://www.facebook.com/LeomaLovegrove
Her Art: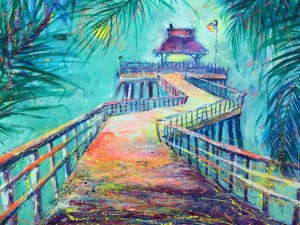 Leoma Lovegrove is known for impressionist works characterized by exuberant strokes (applied to canvas not only via brushes of all sizes and shapes, but with her fingers and hands as well) and a palette bursting with vivid tropical color. While she is popularly associated with Florida motifs that include birds, fish, palms, coconuts, and local landscapes, Lovegrove easily adapts her quasi-expressionist style to both portraiture and entertainment art.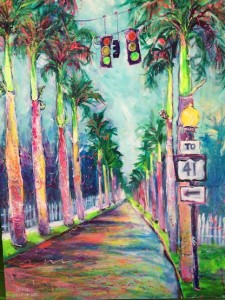 Her subjects have included former President Jimmy Carter (who hung his portrait in his presidential library in Atlanta) and Sir Richard Branson (whose portrait was commissioned for Virgin Airlines' headquarters in London). The presidential library of George W. Bush also includes Lovegrove's work, as do the private collections of actress Sharon Stone and actor Jesse Metcalf. To commemorate the unification of East and West Germany, Lovegrove's work Focused was presented to the Consul General of the Federal Republic of Germany, Eva Alexandra, Countess Kenderffy.
Lovegrove has garnered reviews in numerous magazines and art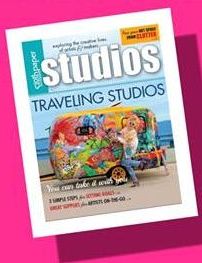 publications, and she was featured in February of 2012 in Galileo, a German television show that is viewed by more than 2.5 million people in five countries. Lovegrove maintains her gallery, studios and botanical gardens in picturesque Matlacha, a popular tourist destination for visitors to southwest Florida. However, many art enthusiasts and collectors have become familiar with her work through her Painting Out Loud performances, during which Lovegrove completes an entire composition in a matter of minutes before a live audience to the accompaniment of inspirational music and a multi-colored light show. Her painting, Freedom, was created during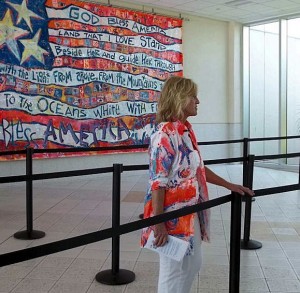 such an event. Lovegrove made the 10 x 18 foot painting of the American flag in 2010 before more than 200 guests who had gathered locally to commemorate the anniversary of the attacks on the World Trade Center and the Pentagon. Following that performance, the painting was displayed for more than a year at the Southwest Florida International Airport as part of its Art in Flight program, where it reminded air travelers of the reason for the enhanced security measures now in effect at all U.S. airports.
French Connection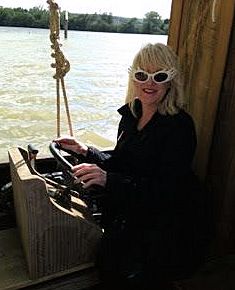 Lovegrove visits France annually to recharge her artistic batteries and re-energize her joie de vivre by painting and teaching in Monet's famous garden in Giverny. In May of 2014, she enjoyed the distinction of being the first American to paint on board Le Bateau-Atelier, which is an exact replica of the floating studio that Monet rigged in 1874 so that he could paint en plein air along the Seine River. The boat is docked near Monet's gardens, at the former home of famous French painter Pierre Bonnard (1867-1947). The owner of the home, Captain Bertrand de Vautibault, had the boat built to allow painters to sail on the Seine in search of the best scenery just as Monet did more than 140 years ago.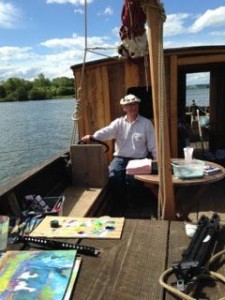 At the invitation of Captain Bertrand de Vautibault, the 20 works Lovegrove created during her time aboard the vessel were exhibited at Bonnard's home, Maison du Peintre Pierre Bonnard. The May 4-12, 2014 exhibition of An American in Giverny also marks the first time an American has displayed work at the home of the famous French painter. "I have always been inspired by Pierre Bonnard and am very grateful to Captain Bertrand de Vautibault and his wife for inviting me to share my art at their historic home," said Lovegrove. "I have been painting and teaching in Giverny for more than 10 years and continue to find inspiration from my trips to France."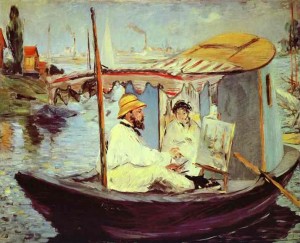 [In 1874, Claude Monet decided to abandon his studio and never again paint a single stroke except in front of the motif. So he got a little boat, fitted it with an umbrella and easel, and set out along the Seine to explore the moods and the effects of light on the river scenery. If you have ever wondered what it would have been like to watch The Father of Impressionism paint in his gardens at Giverny, enjoy this brief (2:26 minute)  YouTube footage of Monet painting en plein air at Giverny.]
Liverpool Connection
While Johnny Depp and Steven Tyler remain collector favorites, her Beatles Series was so well-received that it drew the attention of the City of Liverpool.
Founding Females Portrait Exhibition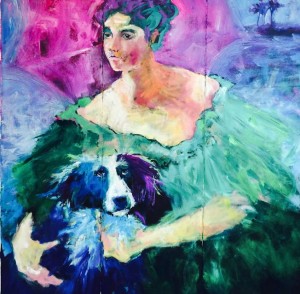 Lovegrove rendered a 6 x 6′ triptych of Mina Edison to serve as the centerpiece of the Fort Myers Founding Females portrait show, an exhibition designed to introduce to Southwest Florida residents and visitors the names, faces and stories of some of Fort Myers' most prominent female leaders, civic activists, philanthropists and entrepreneurs. To learn more about Lovegrove's contribution to this groundbreaking show, please click here.
Public Artworks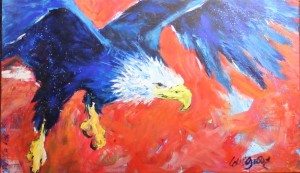 Among the collections which hold Lovegrove's work are the City of Fort Myers and Florida Gulf Coast University. Fort Myers added Lovegrove's 3 x 5′ painting Freedom to its prestigious public art collection on November 15, 2010. Included in the City's portable works collection, the painting has been on display ever since in City Council Chambers at city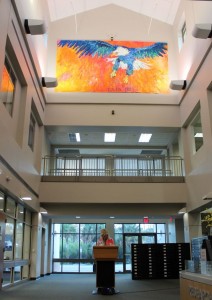 hall in downtown Fort Myers and is included in cultureNOW's Museum Without Walls compendium, an online public art registry that encompasses more than 11,000 sites and 21,000 images of public artworks from across the country.
On February 19, Florida Gulf Coast University added Lovegrove's Remember 9-11 Tenth Year to its permanent public art collection, where it joins such notable monumental sculptures as Albert Paley's Cross Currents, Robert Roesch's Transition 2012, Brower Hatcher's Archway, Mark Fuller's Depend du Soleil and Whatever You Say Dear, Clayton Swartz's Skyward, Verve by fused glass artist Michele Gutlove and 2-dimensional works by Clyde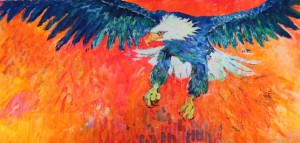 Butcher and Karen Glaser. Remember 9-11 Tenth Year is a 10-by-18-foot acrylic painting depicting a bald eagle in flight against a field of lemon yellow, bright orange and red. Beneath the eagle's talons are lists containing the names of the more than 3,000 victims who lost their lives on September 11,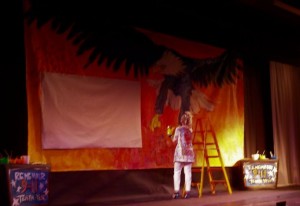 2001 in the World Trade Center's twin towers in New York City, at the Pentagon in Washington D.C., and in a barren field in Stonycreek Township, Pennsylvania where United Airlines Flight 93 crashed following an attempt by passengers to regain control of the plane from four hijackers. Lovegrove created the work on September 11, 2011 in front of a live audience at an emotional event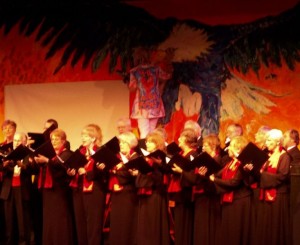 held at the packed Broadway Palm Dinner Theatre to commemorate the tenth anniversary of the September 11 terrorist attacks. "It was a time to honor the heroes," Lovegrove explained at the February 19, 2014 dedication in Library West, where the painting is on permanent display. "The eagle represents the power of America and that freedom will prevail."
In 2013, Lovegrove also rendered a largescale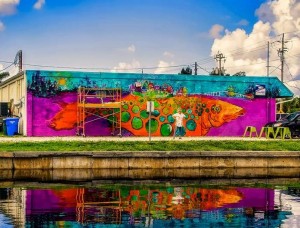 mural on the east wall of the Matlacha Post Office that welcomes visitors to the island. Titled The Catch of Matlacha Island, the mural pictorially tells how an enclave of painters, sculptors, musicians and novelists built an arts community known by many as The New Key West from the ashes of the fishing community, which burned their boats when the a ban referendum went into effect in 1992 effectively ending their ability to harvest mullet from local waters.
Bealls Connection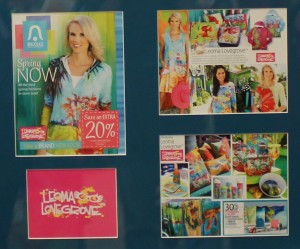 On February 19, 2012, Bradenton-based Bealls Department Store introduced a line of ladies and children's apparel that features Lovegrove's casual, colorful Florida motifs. They were such a hit with the store's customers that Bealls decided in 2014 to expand their line of Lovegrove products to include handbags, totes, luggage, beach towels, Tervis drinkware and more. The expanded product line is available in each of Bealls' 74 department stores in the State of Florida, as well as online at: http://www.beallsflorida.com/online/leoma-lovegrove.
Education
Lovegrove has a degree in illustration from the Ringling School of Art & Design in Sarasota, and has studied at ArtStudy Florida and the Guild de Beaux Arts and ArtStudy Giverny in France.