Soccer, serendipity and Lab Theater's production of 'The Wolves'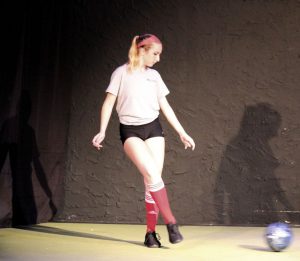 In Lab Theater's summer intensive camp production of Sarah DeLappe's The Wolves, we listen in on nine teenage girls as they stretch, bend and talk about all sorts of topics from the Khmer Rouge and genocide to Mexican children living in cages while they prepare to take the field for matches taking place in their suburban indoor soccer league. In addition to all the banter, there's passing, dribbling and juggling – skills that normal theater people don't normally bring to a production. And only
two of Director Maddy Hayes' campers had previous soccer experience. So it was no small feat for Hayes to teach girls who have never even kicked a soccer ball before to look as if they have been playing the sport for several years.
"#46 [Aaliyah Jackson, the girl in yellow] has been on a soccer team for a long time," says Maddy with a smile. "#25 [Emmie Spiller, the girl in purple] played soccer but dropped it to pursue theater. No one else [ever played on a team]."
But fortunately,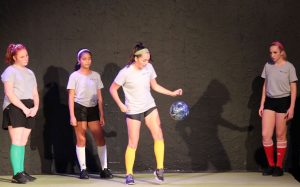 Maddy was aided in her effort to convert acting and soccer neophytes into gamers who, when we first meet them, are the scourge of their soccer league. During the run up to the show, the FIFA Women's World Cup Soccer Championship was taking place in France, and it just so happened that the U.S. team was making another run at the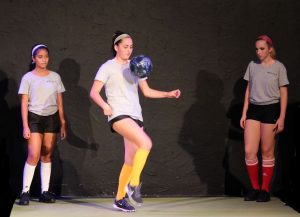 cup.
"[The girls] started to follow the World Cup, and at one point we took a break to watch one of the games," Maddy continues. "So there were these nine girls huddled around an iPad, and when the U.S. Women would score a goal, they'd all start cheering and jumping up and down. [Watching the U.S. Women's team] helped them understand some of the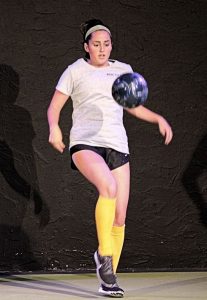 aspects of the game."
Besides soccer skills, the girls had to learn basic soccer terminology, not to mention the fine points of pre-wrap headbands.
"When I first came in and said you're all getting pre-wrap, I got 9 blank stares," Maddy laughs. "But when they watched the game, they were able to see all the women on the soccer teams wearing it."
To choose which actor would wear which color pre-wrap and matching knee socks, Maddy scheduled a color day.
"We did color theory," Maddy relates. "Red is angry. Purple is royalty. And we went on down the list with the characters. #7 [Tatum Bates] should be red because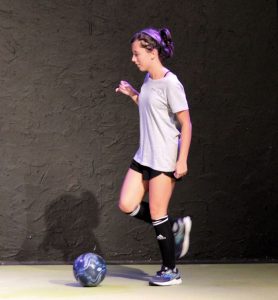 she gets mad. #25 [Emmie Spiller] should be purple because she's team captain and purple is closest to royalty."
The script calls for Spiller's character, #25, to shave her hair, but Spiller is doing another show after The Wolves closes for which she needs a full head of hair.
"So she died it purple instead. And then next thing you know, Megan Rapinoe appears in her glorious short purple hair. It was accidental but serendipitous," Maddy sagely adds.
And the coincidences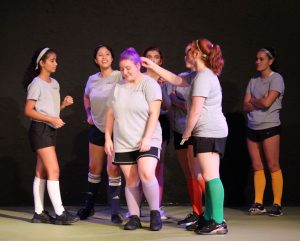 didn't end there. Just as the show opened, Fair Play Indoor Soccer opened in Cape Coral (at 79 Mid Cape Terrace). The indoor facility is the first and only indoor facility in the area. It offers pick-up game nights, where you can meet other local soccer players, and kids ages 4-17 can join the FPIS Soccer Academy.
Don't be surprised if one or more of the cast decides to hold a reunion at Fair Play some night.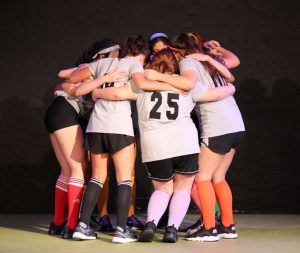 Stranger things have happened.
The final performance of The Wolves is 2:00 p.m. today.
July 14, 2019.
RELATED POSTS.