'Five Times in One Night' play dates, times and ticketing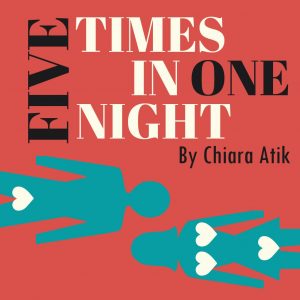 Play:  Five Times in One Night
Playwright: Chiara Atik
Synopsis:  Five self-contained shorts explore the thrills and disappointments of sex through the ages, from the first (yes, Adam and Eve) to the very last couple on Earth (Mel and Djuna in 2119). Five Times in One Night affords is a surprising, heartfelt, and delightfully playful look at personal connection, relationships, and the different meanings and uncomfortable truths associated with sex (and the occasional lack thereof).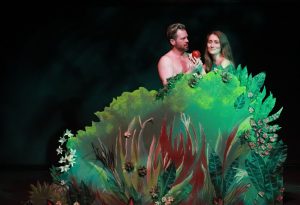 Director:  Madelaine Weymouth
Cast:  Chris Heartwell and Tamicka Armstrong
What the Critics Say:
"[Five Times In One Night] is one of the most highbrow sex comedies I've seen. It's smartly and tightly written…While Five Times In One Night covers a broad swath of history, it's a strikingly contemporary play." —CurtainUp.com.
"…a lewd title and a tender heart…specific and universal, mirthful, and agonizing." —NY Times.
"…a heartfelt, whimsical look at the reasons we pursue sex and the means we employ in order to have it…this delightful night of one-acts explores the motives and consequences behind the world's simultaneously most revered and most stigmatized pastime." —TheaterScene.net.
Play Dates and Times:
January 28, 29, and 30 at 8:oo p.m.
January 31 at 2:00 p.m.
February 4, 5 and 6 at 8:00 p.m.
February 6 and 7 at 2:00 p.m.
Tickets:  Tickets are $28 each or $10 for students with valid student ID.  Seating is limited and sold by section for safety. For tickets, please call the box office at 239.218.0481 or visit www.laboratorytheaterflorida.com.
Restrictions:
Due to mature themes, sexual situations, and partial nudity, this audience is limited to patrons 16+.
Masks are required on all patrons in the lobby and during the entire performance. For the protection of our cast, who will not be masked during the performance, we require that all patrons wear their masks over their noses and mouths during their entire stay at the theater.
Location: Lab Theater is located at 1634 Woodford Ave, Fort Myers, FL 33901.
Info:  For more information, please telephone 239-218-0481.
January 15, 2021.