Suggestive title aside, 'Five Times in One Night' more about emotion, vulnerability and communication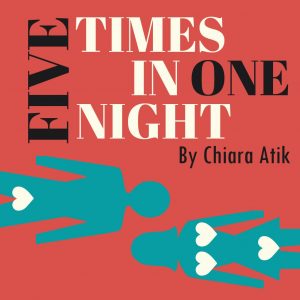 The Laboratory Theater of Florida will bring live theater back to its stage with Five Times in One Night by Chiara Atik. Due to COVID protocols, seating is extremely limited. In addition, only patrons 16 and over may attend this production due to partial nudity and mature themes.
The suggestive title actually refers to the play's structure. Atik provides five self-contained shorts that explore the thrills and disappointments of sex through the ages, from the first (yes, Adam and Eve) to the very last couple on Earth (Mel and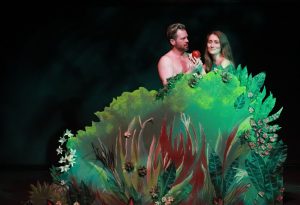 Djuna in 2119). But prurient appeal aside, Five Times in One Night affords is a surprising, heartfelt, and delightfully playful look at personal connection, relationships, and the different meanings and uncomfortable truths associated with sex (and, er, the occasional lack thereof).
"There's something for everyone to connect with and laugh along to in this laugh-packed sex comedy, whether your relationship status is best described as 'best we can do during the end of the world,' 'pining through messages while avoiding a plague,' or 'brainstorming ways to make an old relationship feel fresh,'" says Director Madeleine Weymouth, who Lab audiences fondly remember as diabolically naïve Robyn in Sex Tips for Straight Women from a Gay Man.
She's blessed with a script that's frank, funny and oft-times fierce.
"Five Times In One Night is a suggestive title that makes the show seem all about sex," Weymouth continues. "And it is about sex. But [it's] not just about sex. It's about emotion, vulnerability, communication, and negotiation. The show mirrors the act itself by being nuanced without being vulgar."
Given the sensitive subject matter, Weymouth needed two actors capable of committing to the Atik's script, awkward moments and all, and she struck gold with Tamicka Armstrong (How to Transcend a Happy Marriage, The Crucible, Chicago) and Chris Heartwell (Vampire Lesbians of Sodom, Richard O'Brien's Rocky Horror Show).
"Tamicka Armstrong and Chris Heartwell are two profoundly intuitive actors who give the show palpable energy that is both heartfelt and hilarious."
Because of the themes, scenes and nudity involved in the play, Weymouth also found herself assuming the role of intimacy coordinator. In addition to choreographing the intimate scenes that take place between Heartwell and Armstrong, Maddy initiated discussions designed to make the duo comfortable and give them the confidence to tackle the material honestly and as envisioned by the playwright.
"Lab Theater's intimacy contract was useful in making clear each person's expectations and how to stay safe, which has given us smooth and productive rehearsals, and the theater's pandemic contract has been a blessing in giving peace of mind. Since we all know for sure that everyone's doing their best to stay safe, we can spend more time getting down to details that make the show so great."
The show opens January 28 (with a half-price preview on January 27 for actors and family) and runs through February 7.
January 15, 2021.