'Tempest' play dates, times and ticket info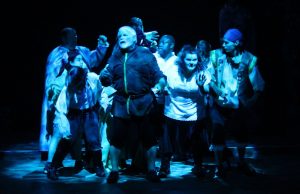 Play:  The Tempest
Playwright: William Shakespeare; adapted and abridged by Annette Trossbach
Genre:  Comedy
Synopsis: Trapped on an island by a jealous sibling, and aided by a variety of spirits, Prospero plans to avenge his banishment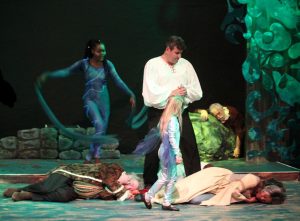 and provide for his daughter, Miranda.
Director: Annette Trossbach, who also adapted and abridged the play for Lab Theater
Cast:
Prospero:  John McKerrow
Miranda:  Isabel Isenhower
Ariel:  Esther Obain
Caliban:  Justin Larsche
Antonio:  Todd Lyman
Alonso:  Art Keen
Sebastian:  Jack Weld
Ferdinand:  Kagan Vann
Gonzala:  Renee Freeman
Adrian/Boatswain:  Robert Barner
Francisco/Master:  Ken Bryant
Trinculo:  Daniel Sabiston
Stephanie/Juno:  Amanda Collins
Ceres/Mariner:  Beth Garner
Iris/Fairy:  Samadhi Salazer
Fairy:  Jayden Davis
Sprite:  Zach Hendra
Fairy:  Lorelei Davis
Play Dates and Times:
Nov. 3 & 4: half-priced previews.
Nov. 5, 6, 11, 12, 13, 18, 19, & 20 at 8:00 p.m.
Nov. 7 & 14 at 2:00 p.m.
Nov. 7: A community talk-back after the matinee performance.
Nov. 11 & 18: Thrifty Thursday discounted pricing.
Tickets: Tickets are $30 each or $10 for students with valid student ID.  There is a half-priced preview on November 3rd and 4th, and a Thrifty Thursday special ticket price of $25 each for adults. Seating is limited for safety. For tickets, please call the box office at 239.218.0481 or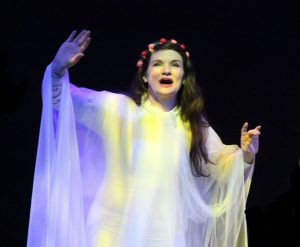 online at www.laboratorytheaterflorida.com.
COVID Caveat:  Starting November 1st, a negative PCR test will be required. Patrons may, if they choose, present their vaccination cards in lieu of test results. For the protection of the cast, which will not be masked during the performance, Lab also requires that all patrons wear their masks over their noses and mouths during their entire stay at the theater. There will be no refunds for patrons asked to leave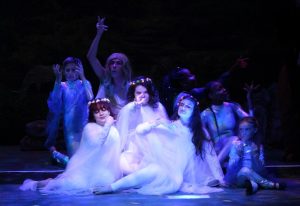 for refusing to honor our mask requirement. For the full policy, please see Lab's website.
Place:  Laboratory Theater of Florida, 1634 Woodford Ave, Fort Myers, FL 33901
More info:  For more information, please call 239-218-0481
October 18, 2021.