A shout out to 'The Best Man' supporting cast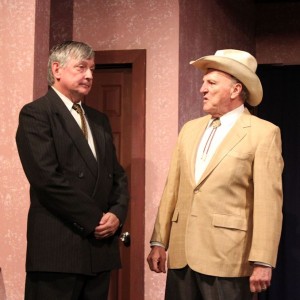 On view through October 29 at The Lab is Gore Vidal's The Best Man. Included in this cohesive 13-member cast are a handful of supporting and bit actors worthy of mention.
Bill Allenfort plays Senator Carlin. Allenfort appeared in suburban Chicago area theaters during the '60s and '70s in a wide variety of roles, from children's theater to Hendry in The Lion in Winter. Now a Florida resident, Bill has been performing in Cape Coral's Cultural Park Theater for the past several seasons.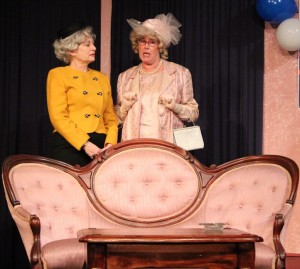 Nancy Antonio is Mrs. Gamadge. She's enjoyed performing on area stages for more than 35 years. Favorite local performance include Calendar Girls and Cat on a Hot Tin Roof at The Lab, Over the Tavern and The Fourth Wall at the Herb Strauss Theatre on Sanibel, Better Latte, Flamingo Court, and Bill W. and Dr. Bob at the Broadway Palm Dinner Theater, and Lips Together, Teeth Apart for Theatre Conspiracy.
Lexie Cole is Russell-smitten Catherine, which is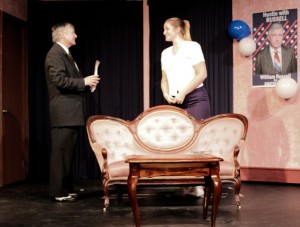 her first role for The Lab. Lexie is currently a junior theatre major at Cypress Lake High School. Next months, she will be an ancestor in The Addams Family, her high school's musical, and in April she returns to Lab Theater as Lala Freitag in The Last Night of Ballyhoo.
John Coriell is William Russell's embattled physician, Dr. Artinian. This is John's first full
show at Lab Theater following a single performance in Rumors. John most recently performed in Wake Me at Midnight at Cultural Park Theater. Prior to moving to the Sunshine State, John lived in Chicago for 11 years, where he did radio and television commercials and appeared in many productions with The Steep Theatre, Appetite Theater, and Life Line Theatre.
Suzanne Davies is the reporter we see periodically throughout The Best Man. She last appeared as Annie Clark in Calendar Girls, which was Davies first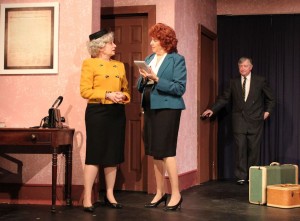 role at Lab Theater, although she previously danced at Lab Theater. Suzanne has also enjoyed "treading the boards" as Charlotte Hay in Moon over Buffalo, Aida Gianelli in Over the River & Through the Woods, and Florence Stuart in You're Never Too Old, an original comedy by local playwright Cart Megill. A veteran stage manager, Suzanne has served as stage manager for The Best
Man, An Empty Plate in the Café du Grand Boeuf and Miss Witherspoon. Singing and dancing with Betty Dentzau's Performing Arts troupe round out Suzanne's theatrical experience and allows her to frequently dress in the glitzy costumes she adores.
Posted October 18, 2016.
RELATED POSTS.