'Last Night of Ballyhoo' opens at Lab Theater on April 14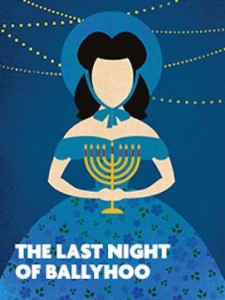 The 1997 Tony Award-winning comedy/drama The Last Night of Ballyhoo opens at the Laboratory Theater of Florida on April 14.
Written by Alfred Uhry (Driving Miss Daisy), The Last Night of Ballyhoo takes place in Atlanta, Georgia in December of 1939. Gone with the Wind is having its world premiere, and overseas, German armies are massing on the borders as France, Holland, Belgium and Luxembourg brace for the blitzkrieg that felled Poland in a scant 35 days while the continent's churches and museums rush to evacuate mankind's greatest works of art to hidden repositories before the bombing begins. But Atlanta's elitist German Jews are much more concerned with who is going to Ballyhoo, the social event of the season. Chief among them are the Freitags.
The family gets pulled apart and then mended back together with plenty of comedy, romance and revelations along the way. Events take several unexpected turns as the characters face where they come from and are forced to deal with who they really are. Themes of prejudice, romance, self-revelations, expectations and family obligations are masterfully woven into this award-winning play.
"This heartwarming play is disarmingly funny," says director Annette Trossbach. "Social boundaries and prejudice are overcome by love and the Freitag family rekindles its faith. It is a beautifully-written story and a delight to work on."
After the performance on April 20, the theater will host a talk-back to include Holocaust-survivor Steen Metz and Florida Weekly journalist Ella Nayor. Attendees of this performance are invited to stay participate in this discussion.
The show stars Bonnie Knapp (I'll Eat You Last: a Chat with Sue Mengers), Amy Tardif (True Colors), John Repa (The Best Man), Kate Dirrigl (Bad Jews), Steven Coe (Play On!), Lexie Anne Cole (The Best Man), and Tyler Charpentier, who makes his Lab Theater debut.
Artistic Director Annette Trossbach directs.
March 31, 2017.
RELATED POSTS.