Rob Green goes from Blanche to Michael in 'Act of God'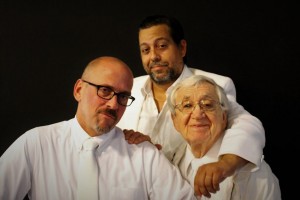 After more than 2,000 years of self-imposed silence, God is coming to Fort Myers to answer some of the deepest questions plaguing mankind since Creation. It happens at Lab Theater, whose home is fittingly an old church. And the forum is An Act of God, an outrageous comedy from the mind of playwright David Javerbaum. Rob Green plays the role of the archangel Gabriel.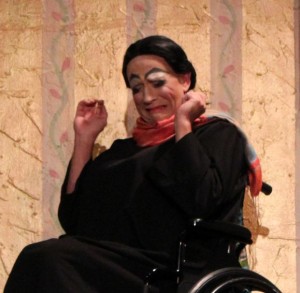 Wow. What a difference four months makes! When Lab Theater audiences last saw Rob, he was wheel-chair-bound and dressed in black, portraying the Queen of the Hollywood Melodrama in Whatever Happened to Baby Jane: a Parody of the Horror. It was a career-defining role that still has local theater-goers jawing, and Green excelled in the campy role. Of course he made the most of the part. After all, "how many chances do you get to play a part made famous by Joan Crawford?"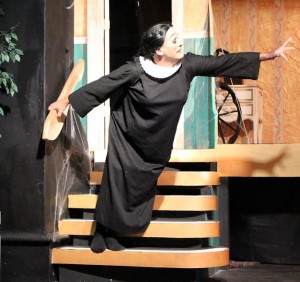 Or play one of God's top two archangels? In Act of God, Rob plays Michael, the archangel who serves as commander-in-chief of the angelic forces engaged in battle with Satan. Some biblical scholars even contend that Michael and Jesus are one and the same. If that's the case, then it would seem that this role really does trump (no pun intended) playing a part made famous by Joan Crawford.
Prior to Baby Jane, Rob was in Burn This. That show marked R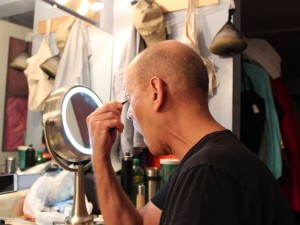 ob's return to the boards after a whopping  three-year hiatus. Prior to his lay-off, Rob was Hal Robinson in The Graduate, Biff Loman in Death of a Salesman and various roles in Miss Witherspoon, Polish Joke, Cat on a Hot Tin Roof, and Picasso at The Lapin Agile.
November 2, 2017.
RELATED POSTS.