Ken Johnson's performance as Brother Boy award-worthy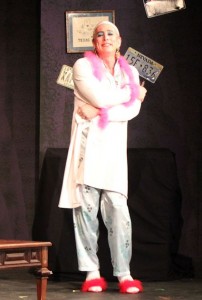 On stage for ten scintillating performances at Lab Theater is Del Shores' cult classic Sordid Lives. The show features a preposterous backstory, volatile characters and a gem of cast compliments of Director Scott Carpenter. Playing the part of Earl "Brother Boy" Ingram is Ken Johnson.
Sordid Lives is jam packed with quirky, troubled souls, but none as beset upon as Earl "Brother Boy" Ingram. Twenty-three years ago, his mother put him in an asylum because she could not abide having a gay, cross-dressing son traipsing about the strict Southern Baptist town of Winters, Texas dressed up like country diva Tammy Wynette. Although subjected to verbal and physical abuse at the hands of both the inmates and staff, continuing efforts to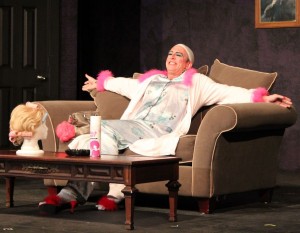 "dehomosexualize" him have failed – as the audience sees when he shows up in the office of Dr. Eve Bollinger for his latest session.
The play is billed as a "black comedy about white trash," and Johnson plays Brother Boy with fifty shades of pitch. In spite of all of the degradation and abuse he's received during his two-plus d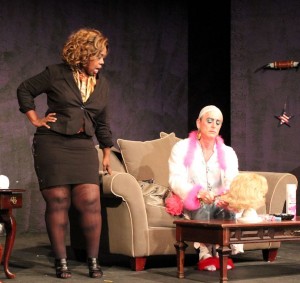 ecades in the asylum, Johnson's Earl Ingram is resolute, dignified and serenely self-aware. But he's also managed to maintain a self-deprecating sense of humor. When Dr. Evil railed against him for still dressing like the country songstress, Brother Boy simply replies that now that she's gone, someone has to carry on her legacy. And when she demands to know how he explained impersonating her prior to her death, he replies disarmingly, "My mind's a blank."
O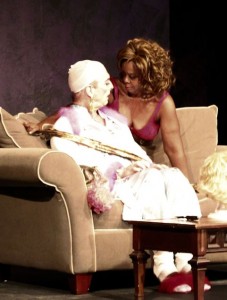 ne of the funniest exchanges in the entire play occurs when Earl tells Dr. Eve that, no offense intended, when he tried imagining her during one of the masturbation exercises she prescribed, his stiffy deflated in a jiffy. But the scene goes beyond clever content and dialogue. Johnson's delivery makes it work.
The mark of an excellent actor is the ease with which he or she handles props, moves about the set and wears his or her costume. To his credit, Johnson seems right at home in his Tammy Wynette pink boa-edged lounging pajamas and red furry slippers. But he's a sight to behold as the woman in red. Perched atop 6-inch stilettos, Johnson cut a fabulously fetching figure dressed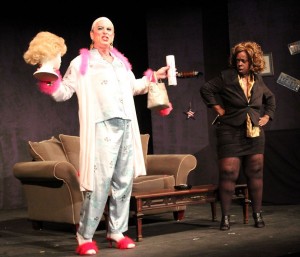 in a diagonally-ruffled, off –the –shoulder Flamenco dress that showed just the right amount of fishnet-stockinged thigh. You could say it was a statement dress. But the ensemble did not just make a statement to his shocked and awed family. It was just what the doctor ordered for making a statement to his casketed mother.
Johnson's performance as Brother Boy is award-worthy. But negotiating a stage in heels that tall deserves special mention. A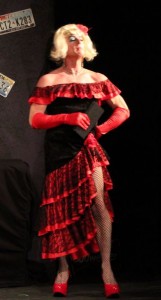 nd compliments to Director Scott Carpenter on his choice of pumps. The women in the cast will be arm-wrestling for those babies after the show ends its run.
Ken started in community theater with his dad. He was just eight years old at the time. He then progressed to high school comedies and musicals with his teacher, Florene Villane, who helped him prepare for John Houseman's Conservatory of Acting program at the University of Southern California (USC) in Los Angeles. He retired in 2001 after a 25 year professional career in theater. Now he fashions himself as a "once-in-awhile" player.
Johnson describes his last "once-in-awhile" role as "the mysterious man" in Theatre Conspiracy's production of Noli Timere (Don't Be Afraid).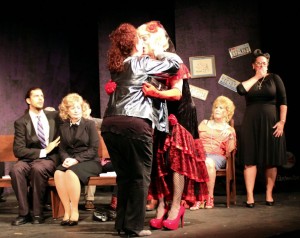 Ken's being humble.
As the play unfolds, it becomes increasingly likely that Johnson's character is Satan himself. Johnson's performance was a cross (no pun intended) between De Niro in Angel Heart (1987) and that "man of wealth and taste" from the Stones' Sympathy for the Devil. [You can read the review of Noli Timere here.]
B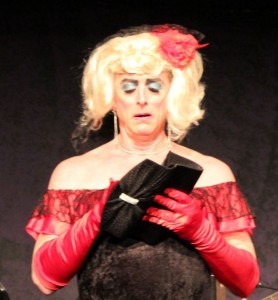 ased upon his performances in Noli Timere and Sordid Lives, we can only hope that Ken is on again more than he's off again. Time will tell.
September 22, 2017.
RELATED POSTS.