'Musical Comedy Murders' play dates, times and ticket info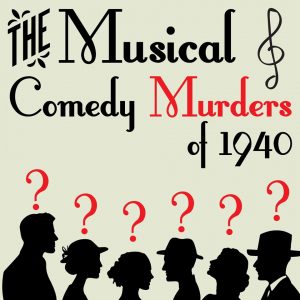 Play: The Musical Comedy Murders of the 1940s
Playwright: John Bishop
Synopsis: The creative team responsible for a recent Broadway flop (in which three chorus girls were murdered by the mysterious "Stage Door Slasher") assembles for a backer's audition of their new show at the Westchester estate of a wealthy "angel." The house is replete with sliding panels, secret passageways and a German maid who is apparently four different people – all of which figure diabolically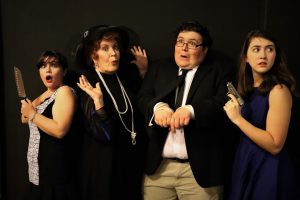 in the comical mayhem that follows when the infamous "slasher" strikes again.
Director: Carmen Crussard
Cast: The ensemble cast includes
Danielle Channell (Crimes of the Heart)
Kayleigh O'Connell (Whatever Happened to Baby Jane: a parody of the horror)
Stacy Stauffer (Scrooge TV)
Mike Edouard (I and You)
Patricia Clopton (Sordid Lives)
Maddy Hayes (Stop Kiss)
Dave Cheseboro (The Rauschenberg Project Play)
Mark King
Nathan Ross
Play Dates and Times: March 9, 10, 15, 16, 17, 22, 23, 24, 29, 30, 31 at 8:00 p.m., with 2:00 p.m. matinees on March 11, 18, 25, 31
Tickets: Tickets are available to purchase on Brownpapertickets.com or by calling the box office.
March 1, 2018.
RELATED POSTS.