Shows you'll see during rest of Lab Theater's current season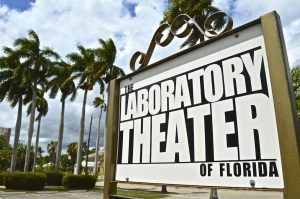 Lab Theater has scheduled plenty of other high-quality, high-energy productions during its 2018-2019 season. Following It's Only a Play, The Lab will produce:
Anna In The Tropics – September 14-30
Picture it: Ybor City, Tampa in 1929. Its hot and humid inside a small cigar factory. Workers are hand-rolling tobacco leaves, while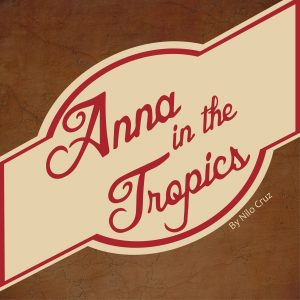 a lector reads anything from newspapers to poetry to novels to entertain them. But when the new hire reads from the novel Anna Karenina , it sets in motion the major events of the story. Themes in this Pulitzer Prize-winning play range from love, lust and infidelity to violence and debt. And they turn the lives of these Cuban-American families into the very story to which they've been listening. "The passions of love and lust are delicately observed….The characters are sympathetic and true," says TheaterMania.com.
Directed by Artistic Director Annette Trossbach and celebrating Hispanic Heritage Month, performances are 8:00 p.m. on September 14, 15, 20, 21, 22, 27, 28 and 29, with 2:00 p.m. matinee performances on September 23, 29 and 3 and a special preview performance at 8:00 p.m. on September 13.
Hand To God October 19-November 4 Sponsored By Art Zupko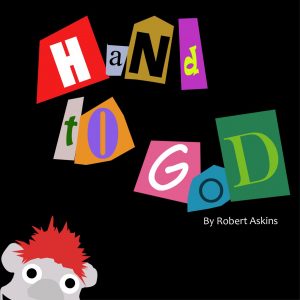 Admit it. You've had certain…impulses, right? Ones you've thought about, but would never actually say out loud or act upon? It's human nature. And that darkest human nature is exposed when a Texas church youth-group assignment to create original hand puppets goes strangely awry. Chosen the Best New Play in 2014 by Off-Broadway Alliance, Hand to God is described as "darkly delightful … filthy hilarity" by The New York Times and "ribald and wickedly funny … Sesame Street meets The Exorcist" by the Wall Street Journal. Written by Robert Askins and directed by Nykkie Rizley, the Southwest Florida premiere of Hand to God will be performed at 8:00 p.m. on October 19, 20, 25, 26 and 27 and November 1, 2 and 3, with 2:00 p.m. matinees on October 21 and 28 and November 3 and 4, with a preview performance at 8:00 p.m. on October 18.
24-Hour Playwriting Project – November 17 Sponsored By Stacy Lee-Williams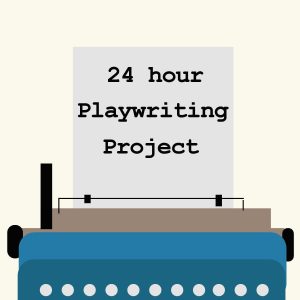 Playwrights will bring their sleeping bags and coffee mugs to Lab Theater, where they will be assigned a theme, a director, and actors. Within just twenty-four hours, you will see the fruits of their labor when we stage all of their 20-minute one-act plays! Judged by a panel of area theater and arts professionals, the 24-Hour Playwriting Project is a hugely popular event! The actors take the stage at 8:00 p.m. on Saturday, November 17.
Every Christmas Story Ever Told – November 30 – December 22 Sponsored By The Patterson Family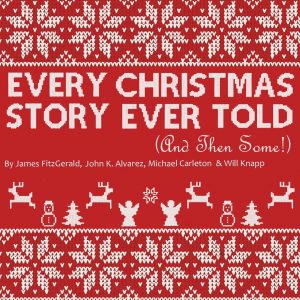 It's the holidays! Time for the classics – Rudolph, Frosty, Ebenezer Scrooge, the Nutcracker and many more! But maybe not the way we're accustomed to hearing them. In what can best be called a holiday mash-up, actors take beloved stories and traditions from around the world and turn them upside-down and sideways! Says Orlando Weekly, "The play accomplishes the small miracle of making all Christmas myths seem both utterly ridiculous and absolutely essential. Yes, Virginia, you can have your fruitcake and eat it, too." Written by James FitzGerald, John K. Alvarez, Michael Carleton & Will Knapp, Every Christmas Story Ever Told (And Then Some) will be performed at 8:00 p.m. on December 1, 6, 7, 8, 13, 14, 15, 20, 21 and 22, with 2:00 p.m. matinees on December 9, 16 and 22. There will also be an 8:00 p.m. preview performance on November 29.
A Guy, A Girl, A Piano (Cabaret Act) January 4-6, 2019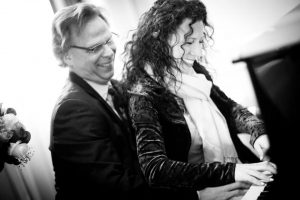 Theresa Quinn and Randy Kramer will join The Lab with their 4-hands-1-piano cabaret. Enjoy an evening of virtuosic 4-hand piano arrangements, vocal solos and duets, featuring the music of Gershwin, Sondheim, the Beatles, Beethoven, Joplin, Bernstein, Fats Waller, and others. There are just three performances: two at 8:00 p.m. on January 4 and 5, and a 2:00 p.m. matinee on January 6.
Hedwig And The Angry Inch January 18-February 3, 2019 Sponsored By The Bireley Family Foundation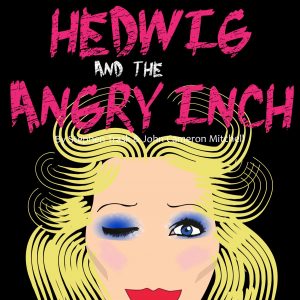 Meet Hedwig, one of the most unique characters to hit the stage in this wickedly funny, innovative, and heartbreaking rock musical sensation. Winner of four 2014 Tony Awards, Entertainment Weekly calls the show groundbreaking and undoubtedly ahead of its time. "Foulmouthed, electrically tuneful, and furiously funny," adds The New York Times. "Smart lyrics and beautiful melodies," says the New York Daily News. Written by Stephen Trask and John Cameron Mitchell and directed by Paul Graffy, Hedwig and the Angry Inch will be performed at 8:00 p.m. on January 18, 19, 24, 25, 26 and 31 as well as on February 1 and 2, with 2:00 p.m. matinees on January 20 and 27 and February 2 and 3. There will also be an 8:00 p.m. preview performance on January 17.
And The Winner Is… February 22 – March 16, 2010 Sponsored By Arlene Foreman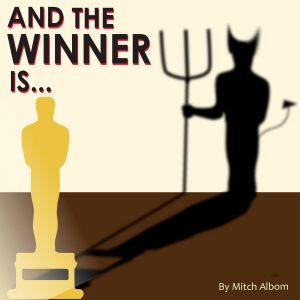 Tyler Johnes just wants to make it to the Oscars to accept his award for Best Supporting Actor. There's just one problem – he seems to be stuck in a bar where things are not quite…normal. Seamus the bartender isn't helping matters, either. While Tyler continues to try to make it onto the red carpet, he is interrupted by unusual visitors. Filled with humor and emotion, this play will win your heart. Performances are at 8:00 p.m. on February 22, 23 and 28 and March 1, 2, 7, 8, 9, 14, 15 and 16 and 2:00 p.m. on February 24 and March 3, 10 and 16, with a preview performance at 8:00 p.m. on February 21.
Andorra – March 29-April 14 Sponsored By Ella Nayor & Jeffrey Cull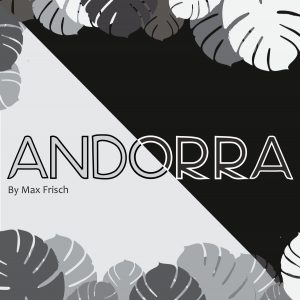 One of the most oft-produced plays in Europe, this parable about racism and prejudice is a great example of epic-theater. Set in fictionalized Andorra, Andri is adopted by a teacher and raised as a Jew. Throughout the play, Andri is faced with outright prejudice and complicit silence from his fellow townspeople. Playwright Max Frisch's message is loud and clear: prejudice happens in every country, both in the past and the present, and we must learn to accept everyone's differences if we are to lead happy, productive lives. "The guilty are sitting in the stalls … They are to be frightened: they should, when they have seen the play, lie awake at night," says Time Magazine. The Southwest Florida premiere of Andorra will be performed at 8:00 p.m. on March 29 and 30 and April 4, 5, 6, 11, 12, 13, 18, 19 and 20; at 2:00 p.m. on March 31 and April 7, 14 and 20; with a special 8:00 p.m. preview performance on March 28.
Tickets are $25 for adults and $12 for students at the door. However, discounts are available for season ticket and snowbird ticket holders. You can purchase tickets here.
Posted August 1, 2018.