Juan Alejandro plays Richard Miller in Lab Theater's 'Sirens'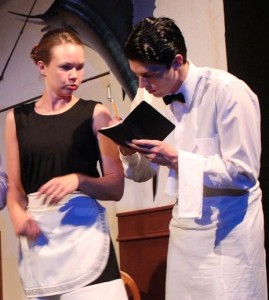 Opening on Friday at Lab Theater is Deborah Zoe Laufer's Sirens, starring Patrick Day as songwriter Sam Abrams, Brenda Kensler as his wife of 35 years, Rose, Holly Hagan as the Siren (as well as Leah Adams and the waitress) and Juan Alejandro as Richard Miller.
Alejandro has enjoyed an incredibly busy year. He just completed An Empty Plate in the Café du Grand Boeuf, where he played the part of waiter-in-training Antoine, a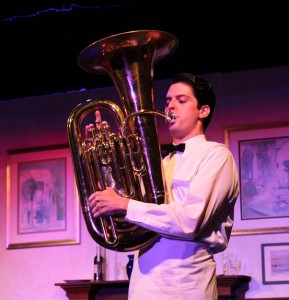 role that presented him with two challenges and therefore two opportunities to stretch and grow as an evolving young actor. First, his character stutters, a drawback that blocks him from the career in journalism he'd rather pursue. Secondly, he had to learn to play the tuba for the role. He only had to learn one song for purposes of the play, that being Lady in Spain. And the script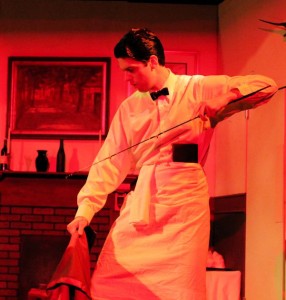 directions call for him to play that song poorly, even painfully, which Alejandro did in good humor. But this goes to show the effort and extent to which Alejandro is willing to go in order to hone his craft and improve his on-stage skills.
I did not have the pleasure of seeing Alejandro in earlier productions with the Naples Players and other theater groups in the Naples/Fort Myers area.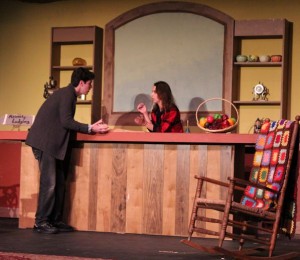 His acting credits for those companies included Septimus Hodge in Theatre Conspiracy's 2015 production of Arcadia, Patrick Chibas in Spinning into Butter, Steve Grimes in Good People at the Naples Players, and Percy Bysshe Shelley in Bloody Poetry at the FGCU Theatre Lab. But his progress and development in just the past seven months has been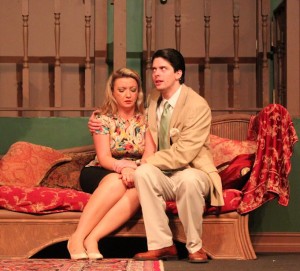 remarkable. From Ty in last December's Laboratory Theater 24-Hour Playwriting Project winner, The Bird Flew, to Theatre Conspiracy's production of Kayak in January, where he played the part of Peter Iversen alongside Lauren Drexler and Alex Holmes, and March's production of Arsenic & Old Lace at the Centers for Performing Arts Bonita Springs,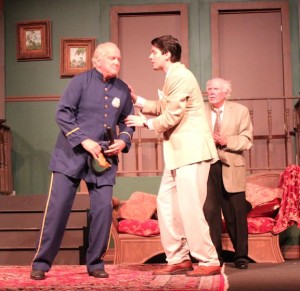 lejandro has demonstrated steady growth in his acting skills.
Posted July 14, 2016.
Related Posts: