'Putnam County Spelling Bee' play dates, times and ticket information
Play: The 25th Annual Putnam County Spelling Bee
Book: Rachel Sheinkin (Tony and Drama Desk awards for Best Book)
Score: William Finn (Tony nominated)
Synopsis: An eclectic group of six mid-pubescents vie for the spelling championship of a lifetime. While candidly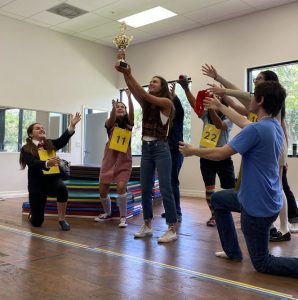 disclosing hilarious and touching stories from their home lives, the tweens spell their way through a series of (potentially made-up) words, hoping never to hear the soul-crushing, pout-inducing, life-un-affirming "ding" of the bell that signals a spelling mistake. Six spellers enter; one speller leaves! But at least the losers get a juice box
Director: Artistic Director Dan Alvarez
Musical Director: Dana Alvarez and Christopher Alan Russell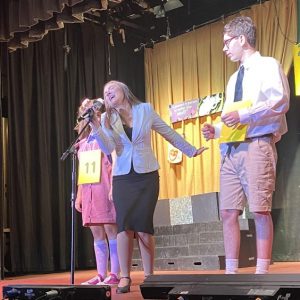 Choreographer:  Sami Doherty
Cast: 
Rona Lisa Perretti: Shannon Gray
Chip Tolentino: Gianni Gizzi
Olive Ostrovski: Autumn Pepper Rhodes
William Barfee: Matthew Clay
Marcy Park: Marianna Young
Leaf Coneybear: Jeremy Garzon
Logainne Schwartzandgrubenierre: Sophia Albrecht and Julia Styner
Douglas Panch: Joshua Clay
Mitch Mahoney: David Hernandez
Jesus/Swing: Adelle Rivera
Play dates and times:
7:30 p.m., Saturday, January 9, 2021; and
two 3:00 p.m. matinees, the first on Saturday, January 9 and the second on Sunday, January 10, 2021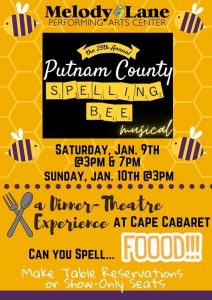 Place:  Cape Cabaret
Ticket Info: You may either purchase tickets for the show only or choose the dinner theatre experience with appetizers and drinks. Here is the ticket link:https://forms.gle/4Bf5PTVCNXVPNaSVA
For more information: Email melodylanepac@gmail.com for more information.
December 21, 2020.
RELATED POSTS.
'Putnam County Spelling Bee' filled with hilarious catchy songs