Actors, artists, filmmakers and events in the news December 22-31, 2020
Grouped under headings that include art openings, film, outdoor art fairs and festivals and theater are advances, announcements and articles about the actors, artists, filmmakers and events making news in Southwest Florida this week:
1     ACTORS
Rachael Endrizzi in 'Great American Trailer Park Christmas Musical'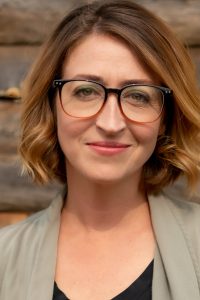 Rachael Endrizzi is appearing through December 26, 2020 at Off Broadway Palm in The Great American Trailer Park Christmas Musical. Her extensive and impressive acting resume includes A Christmas Carol: A Live Radio Show (Off Broadway Palm), The Medora Musical 2019 (Burning Hills Singer), Suzanne in Don't Dress for Dinner, Actor/Violinist in The Temple Bombing, Lady Capulet in Romeo & Juliet, Maggie Saunders in Lend Me a Tenor, Dinah in The Dixie Swim Club, Suzette in Don't Dress for Dinner, Lana Sherwood in It's a Wonderful Life: a Live Radio Play, Bamby Lynn in Knock 'Em Dead, Mrs. Little in Stuart Little and Wendy Darling in The Terrible Tragedy of Peter Pan. Go here for Rachael's full profile.
____________________________________________________
Rachael Lord in 'Great American Trailer Park Christmas Musical'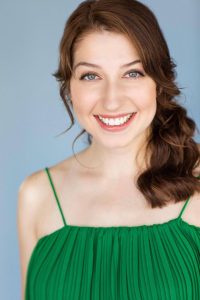 Rachael Lord is appearing through December 26, 2020 at Off Broadway Palm in The Great American Trailer Park Christmas Musical. Lord's other stage credits include Snow White in Lab Theater's hybrid film-theater production of Disenchanted: A New Musical Comedy!, Sabine in In Flight: The Story of Sabine Van Dam (Gulfshore Playhouse touring production), ensemble in Shipwrecked (an adaptation of Shakespeare's The Tempest for Gulfshore Playhouse and The Naples Philharmonic at Artis-Naples), Showgirl in Step Right Up (RWS Entertainment Group), Faith in Respect: A Musical Journey of Women (Clandestine Arts), Cherry in The Impossible Club (a staged reading for the Winter Park Playhouse) and Martha in The Secret Garden (Florida Southern College). Go here for her full profile.
___________________________________________________
Erica Sample in 'Great American Trailer Park Christmas Musical'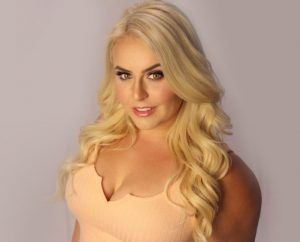 Erica Sample is appearing through December 26, 2020 at Off Broadway Palm in the role of Darlene in The Great American Trailer Park Christmas Musical. Erica's recent credits include Roxie Hart in Chicago, Judy Haynes in White Christmas, Sister Mary Robert in Sister Act and Sophie in Mamma Mia for The Naples Players) and Maggie in Kinky Boots and Charlotte in Charlotte's Web in Broadway Palm/Prather Entertainment's Children's Theater, Off Broadway and main stage productions. Go here for Erica's full profile.
__________________________
2    THEATER
Great American Trail Park Christmas Musical at Off Broadway Palm thru Dec. 26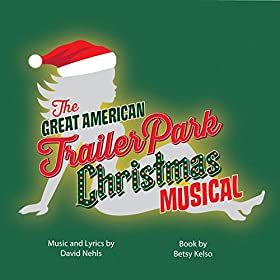 The Great American Trailer Park Christmas Musical is on stage in the Off Broadway Palm through December 26. It's Christmastime in Armadillo Acres mobile home community in Starke, Florida and everyone is filled with visions of kegnog and beer. But while the residents are preparing to decorate for a holiday contest, a new Scrooge-like resident begins to wreak havoc on the festivities.
Betty, Linoleum, Pickles and Rufus are bound and determined to break the "Armadillo Acres curse" and finally win this year's contest for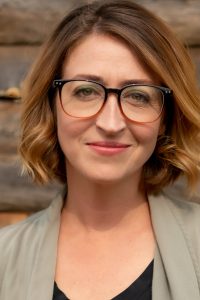 the most festive trailer park in Northern Florida, but newcomer Darlene is having none of it. Her trailer is sans decorations save for a few "no trespassing" signs. What ensues is a cat-fightin', sun-worshippin', chair-throwin' rowdy good time!
The show stars Rachel Endrizzi (A Christmas Carol: A Live Radio Show, Don't Dress for Dinner), Rachael Lord (Snow White in LabTV's Disenchanted: Stay-At-Home Version, In Flight: The Story of Sabine Van Dam for Gulfshore Playhouse), Ken Quiricone, Erica Sample (Judy Haynes in White Christmas, Roxy Hart in Chicago for The Naples Players), Dianne Stone Fussaro (Murder in Paradise) and Rob Summers. The show runs through December 26.
_______________________________________________________________
'Holiday Inn the Broadway Musical' at Broadway Palm on through December 26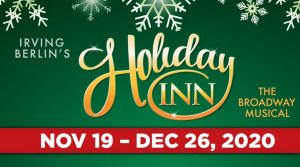 Holiday Inn the Broadway Musical is on the Broadway Palm Dinner Theatre mainstage through December 26. This heart-warming story follows Jim as he leaves the bright lights of show business as well as his dance partner and fiance' to settle down in a farmhouse in Connecticut. His luck takes a 
turn for the better when he meets a spirited schoolteacher by the name of Linda who has talent to spare. Together, they turn the farmhouse into a seasonal inn with show-stopping performances to celebrate each holiday from Thanksgiving to the Fourth of July. But when Jim's best friend, Ted, tries to lure Linda away to be his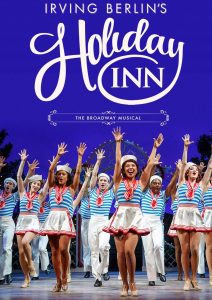 new dance partner in Hollywood, will Jim be able to salvage his latest chance at love?"
Based on the 1942 film starring Bing Crosby and Fred Astaire, the Holiday Inn plot serves as the perfect backdrop for spectacular choreography and such Irving Berlin classics "Shaking the Blues Away," "Blue Skies," "Easter Parade," "Heat Wave," Cheek to Cheek," "It's a Lovely Day Today" and "White Christmas."
The show runs through December 26. Please go here for show pricing, times and dates or call the box office at 239-278-4422. Broadway Palm Dinner Theatre is located in Royal Palm Plaza, which is located at 1380 Colonial Boulevard in Fort Myers.
_______________________________________________
'Happy Days' musical coming to Broadway Palm main stage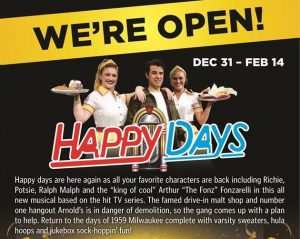 Goodbye gray skies, hello blue! Happy Days, A New Musical is sock-hopping its way onto the Broadway Palm stage from December 31, 2020 through February 14, 2021. Based on the hit Paramount Pictures television series, Happy Days, this all-new musical will bring you back to 1959 complete with varsity sweaters, hula hoops and jukebox fun. This family friendly musical will have you rockin' and rollin' all night long!
Happy days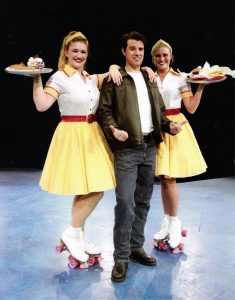 are here again with Richie, Potsie, Ralph Malph and the unforgettable "king of cool" Arthur "The Fonz" Fonzarelli. The famed drive-in malt shop and number one hangout, Arnold's, is in danger of demolition. The gang comes up with a plan to save it with a dance contest and a TV-worthy wrestling match. Even Pinky Tuscadero, Fonzie's childhood sweetheart, returns to help and, what do you know, they rekindle their old flame. With delightful music from Oscar-winner Paul Williams and a book by the TV series original creator Garry Marshall, this is one trip down memory lane you will not want to miss!
Broadway Palm is continuing to follow CDC guidelines while providing a delicious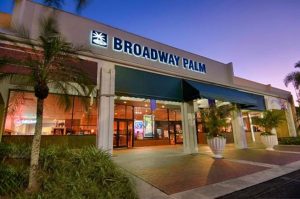 meal and exceptional entertainment in a safe and socially distanced environment. For a list of the extensive health and safety measures they have taken, please visit BroadwayPalm.com. It is important to note that guests are required to wear masks while not eating or drinking. In addition, a temperature check will be performed on everyone that enters the building and admittance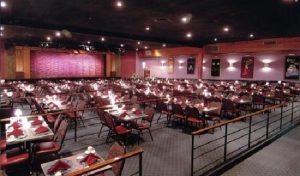 will not be allowed to anyone with a temperature of 100.4 degrees or higher.
Performances are Tuesday through Sunday evenings with selected matinees. Tickets are $48 to $73, with the exception of New Year's Eve which is $125 per person. Children and group prices are available.

Tickets are now on sale and can be reserved by calling (239) 278-4422, visiting BroadwayPalm.com or in person at 1380 Colonial Boulevard in Fort Myers.
__________________________________________________
'Putnam County Spelling Bee' filled with hilarious catchy songs
The 25th Annual Putnam County Spelling Bee is known for its edgy humor, effortless wit, originality, and heartfelt story. And it comes to Melody Lane Performing Arts Center for three performances only – at 3:00 and 7:00 p.m. on Saturday, January 9, and at 3:00 p.m. on Sunday, January 10.
"Our production of The 25th Annual Putnam County Spelling Bee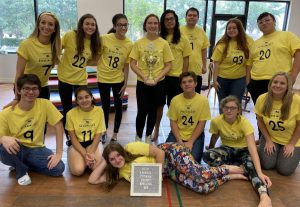 is finally happening," exclaims over-the-moon Drama Director Dana Alvarez. As happened with so many other productions, the riotous musical comedy was postponed in May because of the COVID-19 pandemic.
Go here for the rest of this advance.
Go here for cast, play dates, times and ticket information.
___________________________________________________
The Naples Players hosting Drive-In Movie Nights off 5th Avenue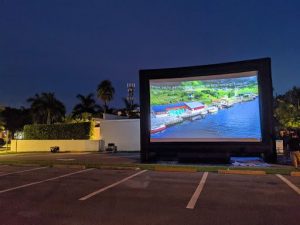 The Naples Players (TNP) is hosting bi-monthly TNP Drive-In Movie Nights. Sponsored by The Inn on 5th, these events are held in the newly refinished 50-car lot located at 300 8th Street South, just one block north of the iconic 5th Avenue South home of The Naples Players Community Theatre.
Drive-In Movie Nights are part of Discover Culture in Collier,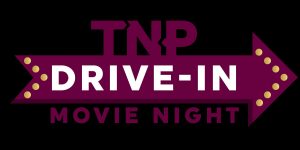 an alternative season of outdoor arts and culture events recently announced by The Naples Players. Each month, two different films will featured.  The scheduled films  will be projected onto a 33-foot screen using a state-of-the-art projection system.  The movie soundtracks will be broadcast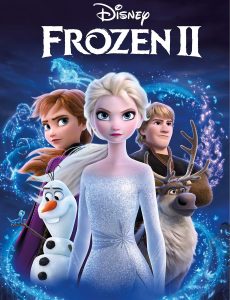 over short-range FM radio to the cars in attendance.
The series continues with Frozen II on December 29 & 30. The rest of the schedule through April 2021 is as follows:
January 12-13: Singin' In the Rain
January 26-27: Ghostbusters
February 2-3: Twister
February 16-17: Hairspray
March 9-10: Breakfast at Tiffany's
March 23-24: Beauty & The Beast
April 6-7 :Dirty Dancing
The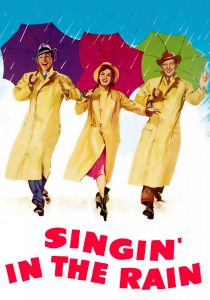 lot opens for parking at 7:00 p.m. and movies begin promptly at 8:00 p.m. Concessions and non-alcoholic refreshments are available for purchase.
Due to space, ticketing is required in advance. General admission is $45 per vehicle, but current TNP Season Ticket Subscribers receive free admission on select "Season Ticket Holder Nights."
Tickets are available for purchase now at NaplesPlayers.org or by calling the TNP Box Office at (239) 263-7990.
__________________________________________________________
TNP optimistic that 'Calendar Girls' a go for live performance this Spring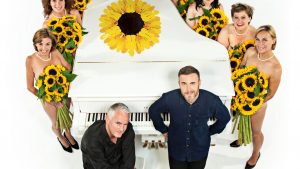 Leadership at The Naples Players has expressed optimism that with the vaccine rollout, the implementation of additional safety precautions in the theater and the recent installation of state-of-the-art sanitation equipment they will be able to move forward with the Spring 2021 production of the rousing comedy Calendar Girls, as planned.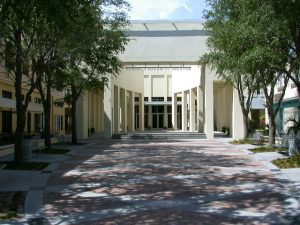 Calendar Girls will also re-open the theatre – with shows beginning on April 28, 2021 and running through May 23rd. Tickets for Calendar Girls are available at www.naplesplayers.org/calendargirls – running April 28 to May 23, 2021 – $35 for subscribers, veterans, and first responders; $42 for the General Public.
___________________________________
Studio Players casting for 'One Slight Hitch'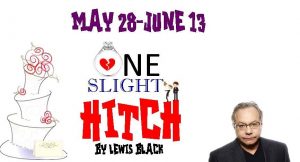 The Studio Players is holding open auditions from 7:00-8:30 p.m. on January 4, 2021 for Lewis Black's One Slight Hitch, a fast-paced, door-slamming farce. It's Courtney's wedding day in 1981, and her mom, Delia, is making sure that everything is PERFECT! The groom is PERFECT. The dress is PERFECT.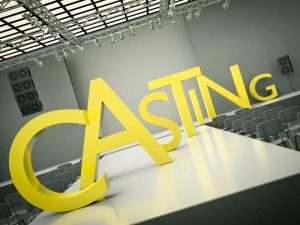 And the decorations (assuming they arrive) will be PERFECT! Then, like in any good farce, the doorbell rings and all hell breaks loose. So much for perfect!
The Studio Players are casting for the following roles:
Doc Coleman – The Father; a general practitioner; a charming, eccentric conservative who's usually straight up.
Ryan – Late 20's to early 30's, he's the ex. In fact, he had lived with Courtney for two and a half years until seven months ago.
P.B – Sixteen-year-old daughter and the loosest in the family.
Melanie – 30-something daughter, a nurse, attractive and deeply psychotic.
Courtney – the bride, 20's to 30's, a freelance writer who has just published her first novel, which was "almost" successful.
Harper – Courtney's fiance'; in his early 30's, he is logical and wealthy.
Sides are available on The Naples Players' website.
The character of Courtney's mom, Delia Coleman, a woman who is in a constant state of panic, has already been cast.
Rehearsals will be three nights per week (M/W/F from 7:00-9:00 p.m.) beginning in March. The show will be performed May 28-June 13.
The Studio Players perform in the Joan Jenks Auditorium at the Golden Gate Community Center, 4701 Golden Gate Parkway, Naples, Florida 34116.
_______________________________________________________
More than a memory play, Waverly Gallery focuses on family in crisis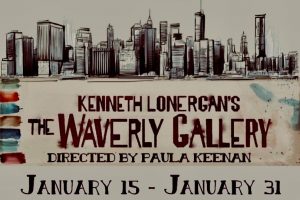 The Studio Players' production of award-winning playwright Kenneth Lonergan's Waverly Gallery opens January 15, 2021 in the Joan Jenks Auditorium at Golden Gate Cultural Center.
Powerful, poignant and often hilarious, The Waverly Gallery follows the final years of a grandmother's battle against Alzheimer's disease and explores her fight to retain her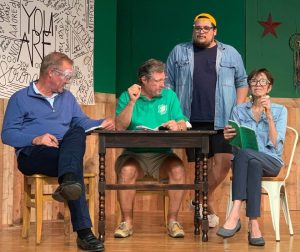 independence and the effect her decline has on her family (which, ironically, includes two psychiatrists). Inspired by Lonergan's own grandmother, it's an ode to an extraordinary woman and to the humor and strength of a family in crisis. More than a memory play, The Waverly Gallery captures the humor and strength of a family in the face of crisis.
The rest of this advance is here.
Go here for play dates and ticket information.
_____________________________________________
Focus on 'Waverly Gallery' playwright Kenneth Lonergan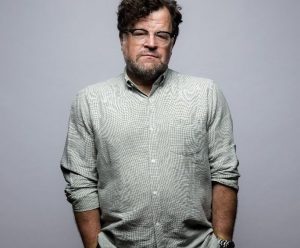 The Studio Players' production of The Waverly Gallery opens January 15 in the Joan Jenks Auditorium at Golden Gate Cultural Center. It comes from the desk of playwright Kenneth Lonergan.
Lonergan playwriting credits include The Starry Messenger (New Group), Lobby Hero (Playwrights Horizons, John Houseman Theatre, Drama Desk Best Play Nominee, Outer Critics Circle Best Play and John Gassner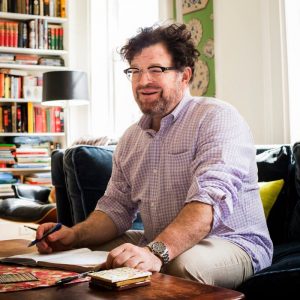 Playwriting Nominee, included in the 2000-2001 Best Plays Annual), The Waverly Gallery (Williamstown Theatre Festival, Promenade; 2001 Pulitzer Prize finalist), and This Is Our Youth (Drama Desk Best Play Nominee). Lobby Hero (Olivier Award Nominee for Best Play) and This Is Our Youth have also received productions on London's West End.
The rest of Kenneth Lonergan's profile is here.
____________________________
3        ARTISTS
Jansen solo show at Winter Park's Cornell Fine Arts Museum closes January 3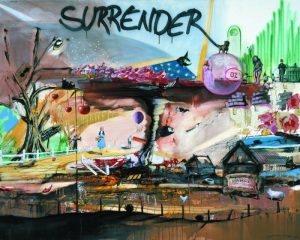 The Cornell Fine Arts Museum is exhibiting a solo show of work by Marcus Jansen through January 3, 2021. Titled E Pluribus Unum, the exhibition focuses on works Jansen created in the last 15 years and is comprised of both large scale paintings and a selection of works on paper (among them a select number of new pieces on view for the first time) that examine Jansen's visual explorations of structures of power and the struggle to grapple with the nuanced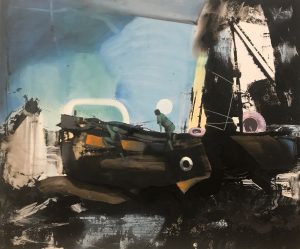 reality of our time. The exhibition is accompanied by an illustrated catalogue.
E Pluribus Unum represents Jansen's first solo museum show in the United States. The Bronx/Fort Myers artist has enjoyed a number of solo shows abroad, however, including shows at La Triennale di Milano Museum in Milan and the Museum Zitadelle  in Berlin, and he participated in the 12th International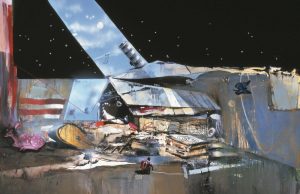 Print and Drawing Biennial in Taiwan at the National Taiwan Museum of Fine Art. Works by Jansen are in collections of the Moscow Museum of Modern Art (MMOMA), The University of Michigan Museum of Art, The New Britain Museum of American Art, The Kemper Museum of Contemporary Art, The National Taiwan Museum of Fine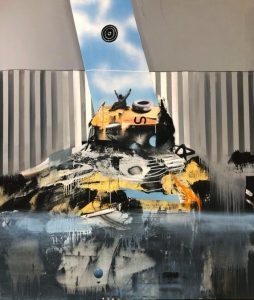 Art, The Housatonic Museum of Art and the Smithsonian Institution in Washington D.C.
Jansen is known for powerful, monumental canvases that address poignant social and political themes. Through the use of an arresting visual language characterized by colorful and expressive brushwork, and references to contemporary and historical issues, Jansen invites viewers to engage in a reflection about the human condition. Jansen continues to explore surveillance and social divides in society and will place his iconic 2010 piece Obscure Line Between Fact and Fiction (3rd photo) to the museum for the show.
_______________________________________________
4     ART SHOWS, EXHIBITIONS & ARTS ORGANIZATIONS
Diana Stetson solo show on exhibit at Sanibel's Watson MacRae Gallery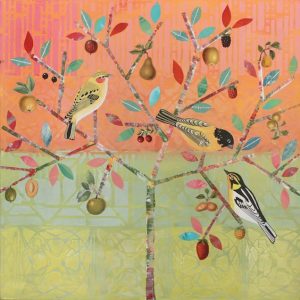 Online and in the gallery at Sanibel's Watson MacRae Gallery is Diana Stetson: In Love with this Earth. Using various media and techniques, Stetson layers acrylic paint, Frank Lloyd Wright stencils, vintage papers, antique lithographs and creatures painted in oil to create beautiful, uplifting paintings and collages that combine realism and abstraction. Though multi-layered, Stetson's work is clear and fresh allowing each medium to be seen.
"To create my paintings I use custom wood panels of Baltic birch,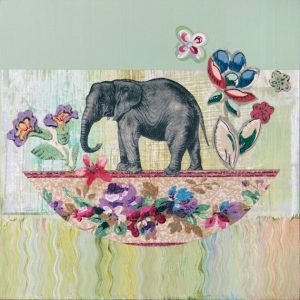 which have high integrity," Diana notes. "After I seal them, I can throw buckets of paint on them, sand, layer, scratch, splatter, mark, collage, stencil, throw more paint forming the abstract background. This is the atmosphere for the graphic images to be laid down. On this I paint birds, animals and/or plants, carefully rendered in oils. This layering allows me to take advantage of abstraction, as well as both graphic and representational imagery."
Although Stetson resides in New Mexico, she is a citizen of the world,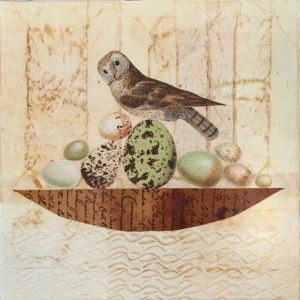 having worked and studied in various parts of the world – Greece, France, London, Japan, and Turkmenistan, as well as both coasts of the United States. These experiences inform her work, which incorporates lyrical images from the natural world in her monotypes and mixed media paintings.
You can view selected works from Diana's oeuvre here or visit the gallery between 10:30 a.m. and 5:00 p.m. Monday through Friday. Watson MacRae is located in Unit B3 at 2340 Periwinkle Way on Sanibel Island. For more information, please telephone 239-472-3386.
__________________________________________________________
Carmelo Blandino exhibit at Naples Botanical Garden through January 10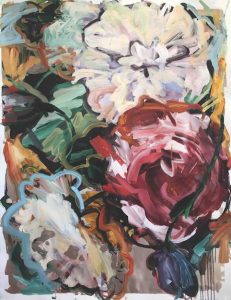 Carmelo Blandino: Convergence​ is on view now through January 10, 2021 in Kapnick Hall at the Naples Botanical Gardens. The paintings in the show were inspired by the Gardens. ​
Blandino is known for luscious, abstract floral paintings that combine the subtleties of classicism with the crackling energy of contemporary expressionism, and this new exhibition brings the viewer in contemplative observation of our interconnected biosphere. Consisting of large-scale, mixed-media paintings featuring flora and fauna in their various stages of magnificent beauty and delicate vulnerability, t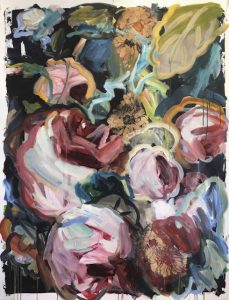 hese paintings reflect human connection to nature and communicate the urgency of our role in its preservation.
Blandino—whose interactive painting process and creative energy encourage the viewer to become part of his work—has produced a new series for this exhibition, drawing inspiration from the living collection at the Garden.
This exhibition is part of the Garden's 2020-21 season dedicated to ​Roots: Power of the Unseen, which seeks to explore the underground foundations that are the lifeblood of our plants, their energy source and their connection to the earth.
Naples Botanical Garden​ is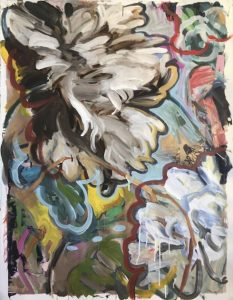 a 170-acre, world-class garden paradise that features plants from around the world. The Garden provides arts, culture, youth and adult education, conservation, wellness and volunteer programs that contribute to the quality of life in Southwest Florida onsite and online at naplesgarden.org. The Garden's living collections are always growing and evolving, leaving our audiences with a deeper engagement with our curated gardens and preserve. Beginning October 1, seasonal hours of 9:00 a.m to 5:00 p.m. Timed entry tickets must be purchased in advance at naplesgarden.org. Regular admission is$20 for adults, $10 for children (4–14). Members and children three and under get in free.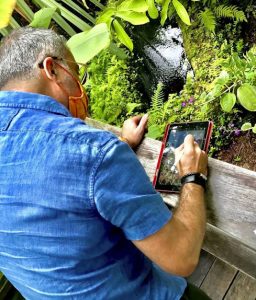 The exhibition has been staged in collaboration with METHOD & CONCEPT. Located at 111​ 10th St South, Unit 112, ​Naples, METHOD & CONCEPT is a gallery, art consultancy and design atelier serving as an incubator, catalyst and purveyor of international emerging and mid-career interdisciplinary artists. METHOD & CONCEPT believes that contemporary craft, fine art and design share a symbiotic relationship, each building upon the other to form a holistic view of the world in which we live. METHOD & CONCEPT is a Thomas Riley Company.
____________________________________________
DAAS December show seeks to process 2020 pictorially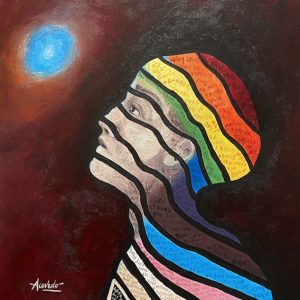 DAAS CO-OP Art Gallery & Gifts has inaugurated a new invitational exhibition this month. It features the art of Southwest Florida creatives who seek to transfer their thoughts about the year 2020 into 20-by-20-inch works of art. The concept for the show evolved from conversations regarding the year's numerous ups and downs, twists and turns and unexpected developments.
For many, 2020 has presented an array of devastating circumstances, social issues and economic crises. The COVID-19 pandemic has cost many lives, with the loss approaching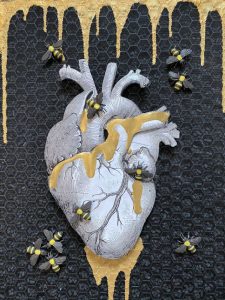 250,000 here in America alone. By contrast, 2020 seemed like a year of resilience and fortitude for others, who see the current times as a way to restore, regroup and reorganize many aspects of their environment.
"We are looking forward to the show and to see how these artists interpreted the theme," says DAAS co-founder, artist and curator David Acevedo. "I hope it serves as a way for artists to let go of the negative aspects of this year and heal. We need to look past this year to a brighter future."
The opening reception is scheduled for Friday, December 4, 2020 from 6:00 to 9:30 p.m. in conjunction with the monthly Fort Myers Art Walk event.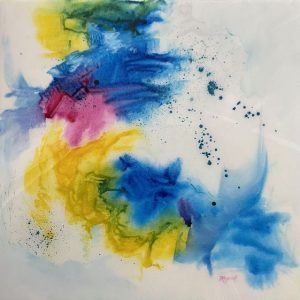 The collective will be on display through January 2, 2021.
"We invite all Southwest Florida art collectors, supporters and enthusiasts to join us for the opening reception on the evening of December 4," states the gallery. DAAS CO-OP Art Gallery & Gifts is located at 1815 Fowler Street in the Butterfly Estates complex in Fort Myers, FL. The gallery's temporary business hours are 10:00 a.m. to 3:00 p.m. Thursday to Sunday. For more information about gallery and/or how to become a member, please visit daascoop.com or call 239-590-8645.
___________________________________________________
DAAS January show will feature wood print works of Lafe James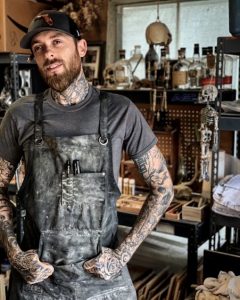 In January, DAAS CO-OP Art Gallery & Gifts is starting the year right by presenting the works of multifaceted artist Lafe James. The exhibition will feature a selection of old Florida inspired works printed on wood, from the artist's 1923 Trading Co. project. The opening reception is scheduled for Friday, January 8, 2021 from 6:00 to 9:30 p.m. in conjunction with Fort Myers Art Walk event. The exhibition will be on display through January 30, 2021.
The art created for the 1923 Trading Co. Project and this exhibition is inspired by the old Florida way of life. This is a wood print project that features old Florida map designs,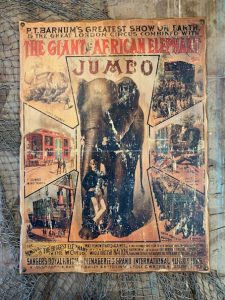 Florida wildlife photography, and vintage posters and postcard designs. James has created a unique print process that gives the wood print a distressed, vintage aesthetic. Each print is 100% unique and individually handcrafted in Cape Coral, Florida.
"I am a 90's kid raised on gangster rap and death metal, poisoned by television, guided by the internet, misled by society, educated through experience, self-medicated and overly analytical, but optimist and realistic with a mind polluted with images and information," James confesses.
While the visual arts were always a hobby, a different art from was actually his first calling. He spent "the first half of my life working my way through the culinary arts."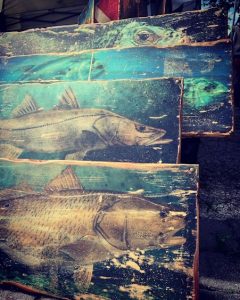 But then the glow of a computer monitor lured him away.
"I've spent the past 18 years weaving through all facets of visual design: photography, print layout, web design, brand development, packaging design, and all the posters and tee shirt graphics in between."
James currently serves as the Art Director for a Fort Myers-based marine and paddle sport accessory development agency. But when he's not designing for them, he's running and working on his own business and projects. The latter include his wood print project (1923 Trading Co.) and clothing line (Nineteen Twenty Three).
The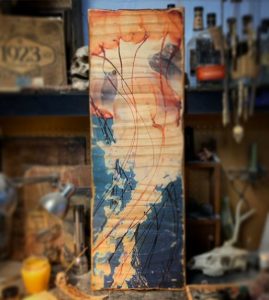 personal artworks of this talented visionary can be found online, along with his music project Massive Degree at lafejames.com.
DAAS CO-OP is located at 1815 Fowler Street, in the Butterfly Estates complex in Fort Myers, FL. The gallery's temporary business hours are from 10:00 a.m. to 3:00 p.m. Wednesday through Sunday. More information about the venue and/or how to become a member can be found at daascoop.com or by calling 239-590-8645.
_____________________________________________________
Alliance's 'Off the Wall' holiday exhibit runs through December 31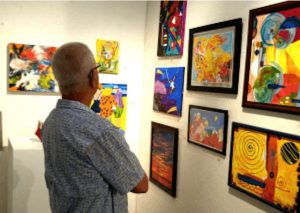 Each year, the Alliance for the Arts invites 100 members to submit two original 2D or 3D artworks for exhibition in the gallery beginning with the onset of the holiday shopping season. Called Off the Wall, this non-traditional art show features works in all mediums priced at $200 or less. All sales are "cash and carry," meaning purchasers will get to take the piece with them when they buy it, rather than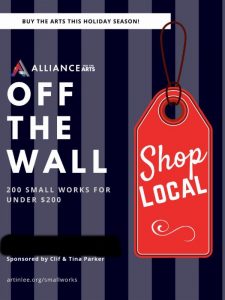 waiting until the end of the exhibit.
Make supporting local arts tops on your list this year by giving a gift that gives back. Make plans to do your Christmas shopping at the Alliance for the Arts this year. Betcha there's 100 member-artists who would be delighted to have their art under your tree.
This year's show runs through December 31. For more information, please visit www.artinlee.org or telephone 239-939-2787.
_________________________________________________________
Artists have until January 25 to submit for 35th Annual All Florida Show
The Alliance for the Arts' annual All Florida Exhibition is the most anticipated art show of the year. As the name suggests, this exhibition features pieces created by artists working in a wide variety of media from all over the 65,000 square miles that make up Florida. The juried entries come together for an award-winning and exciting exhibition representing today's contemporary Florida artists.
The show is open to all artists residing in Florida, but only original artwork will be accepted. Categories are
painting (including oil, acrylic, collage, watercolor and mixed media),
drawing,
photography,
sculpture,
ceramics,
metalsmithing,
glass,
digital media,
video,
printmaking,
fiber and
textiles.
Awards include $1000 cash for Best in Show, 2nd Place- $250 Gift Certificate TBD, 3rd Place-$100 cash, Jurors Choice Award-Artist Membership ($55).
The 35th Annual All Florida Exhibition will open March 5 and run through March 27, 2021. The deadline for entries is Monday, January 25. Acceptance/rejection notices will be emailed on Friday, February 12.
___________________________
5       ART FESTIVALS
Estero Fine Art Show at JetBlue Park on January 2 and 3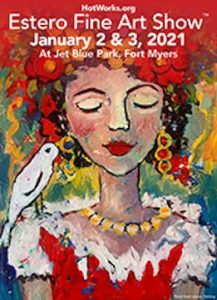 The 25th Estero Fine Art Show  comes to JetBlue Park (winter home of the Boston Red Sox) on Saturday, January 2, and Sunday, January 3. Since 2003 Hot Works has earned a national reputation for producing high end fine art and fine craft shows, and the Estero Fine Art Show lands in the top 100 outdoor shows in America every year. All work is original and personally handmade by the 70 quality juried artists who participate in the show. While at the art show, be sure to visit the Youth Art Competition for grades K-8 or ages 5-13 that is integrated within the art show. [Please note that while admission is free, JetBlue Park charges $5 for parking, good for both days with receipt.]
___________________________________
Naples New Year's Art Show is January 2 & 3
The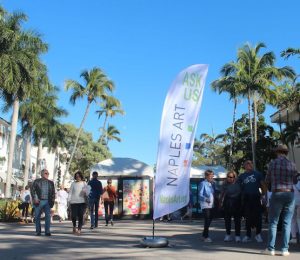 Naples Art Association's 25th annual Naples New Year's Art Show descends on Naples' Fifth Avenue South on the weekend of January 2 & 3, 2021. Each year, the artworks on display were valued collectively at more than $15 million. As in years past, every category will be represented, from original oils and acrylics on canvas, panel and galvanized aluminum to watercolors on paper, 2D and 3D mixed media, limited edition prints, photography, digital art, metal sculpture, wood carvings,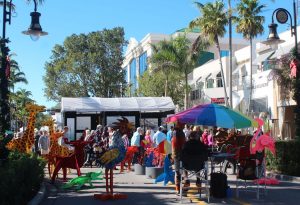 ceramics, hand-crafted jewelry, leather works and more. Because of its national ranking (Sunshine Artist consistently ranks it in its top 100 in the nation each year, and last year Naples New Year's came in at #15) and the beautiful weather in southwest Florida during this time of year, the Downtown Naples New Year's Art Fair draws 250 of the finest artists in the country, which explains why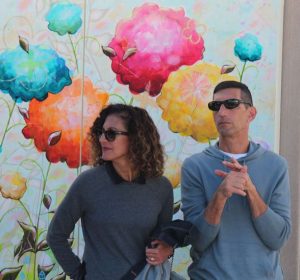 more than 15,000 art enthusiasts routinely turn out for this art fair last year. There's lots of art for every taste and pocketbook, so bring your credit card or checkbook.
Read on, and you'll notice that on Saturday, attendees get a bonus because the NAA's monthly members Art in the Park show coincides with Naples New Year's Art Show on Saturday.
________________________________
Art in the Park is on Saturday, January 2
Art in the Park will run alongside the Downtown Naples New Year's Art Fair on Saturday, January 2. Art in the Park not only features work by Naples Art Association member artists in booths set up in Cambier Park, but art demonstrations by NAA artists plus art projects for the whole family. Art in the Park is not just an add-on to the Downtown Naples New Year's Art Fair. It is a festival that has stood on its own merits for more than 63 years.
__________________________________________________
1st Wednesday Studio and Gallery Tour of 2021 is on January 6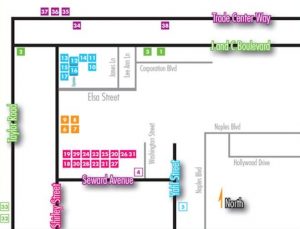 On Wednesday, January 6, the 1st Wednesday Studio and Gallery Tour returns to the Naples Art District with its full complement of two dozen plus galleries and over 50 professional artists for a 1:00-7:00 p.m. drive-and-park event that affords casual, curious art lovers and serious art collectors alike an unparalleled opportunity to visit some of Southwest Florida's most interesting artist studios and exhibitions. For directions, visit www.NaplesArtDistrict.com or just look for the magenta-and-white art flags.
____________________________________________________________
Remaining 2020-2021 season covered in Art Festival Calendar on ARTSWFL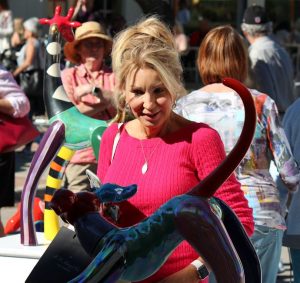 Given COVID-19, no one really knows what to expect from Southwest Florida's 2020-2021 art fair and festival season. At present, Florida has re-opened all venues, most at full capacity, and organizers are proceeding on the premise that they will be able to produce their outdoor art fairs and festivals as they have in the past. So subject to that caveat, here are the outdoor art fairs and festivals you will see throughout Southwest Florida through April 30, 2021.
_________________________
6      PUBLIC ART
Public Art Committee seeks artist for aesthetic centerpiece for new park at The Forum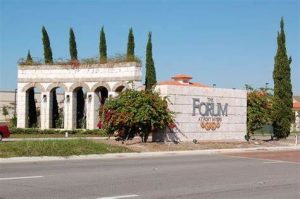 here's a new park being constructed out at The Forum, and the City's Public Art Committee is seeking an artist to create a $50,000 artwork to serve as the park's aesthetic centerpiece.
The Forum is a 706-acre master-planned, mixed-use development located between Colonial Boulevard and SR. 82 east of I-75. It contains retail, residential, and office sites.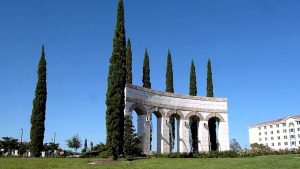 Originally developed by a group spearheaded by former NBA star and renowned coach Pat Riley, The Forum takes its name from the arena that is home to the world champion Los Angeles Lakers basketball team. Riley won an NBA title as a player for the Lakers in 1972 and coached the team to championships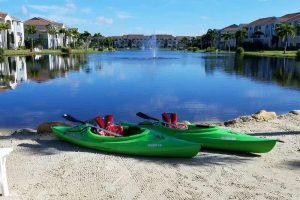 in 1982, 1985, 1987 and 1988.
Prior to its development, three generations of the Zipperer family raised gladiolus on the property. John O. Zipperer and his family were part of a group on entrepreneurs who established an industry based in Iona beginning in 1935 that millions of glads for more than five decades to every state in the Union east of the 

Rocky Mountains.