'The Tale of the Allergist's wife' a sassy, sophisticated metropolitan comedy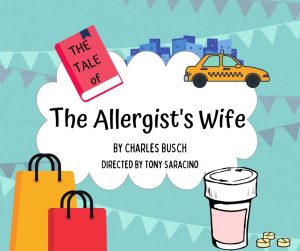 Up next at New Phoenix Theatre is The Tale of the Allergist's Wife, which had a 777-performance run on Broadway following its opening on November 2, 2000. Since then, the show has played around the country and now it plays locally, opening at New Phoenix Theatre on March 10 for twelve performances.
The storyline revolves around a pampered middle-aged Upper West Side doctor's wife by the name of Marjorie Taub, who spends her mornings at the Whitney, afternoons at MOMA and evenings at BAM. Her ongoing effort to improve her mind and soul has brought Marjorie to the conclusion she will never be more than mediocre, a feeling enhanced by her elderly mother's constant complaints about her shortcomings and her husband's altruistic dedication to serving the needs of the homeless. The sudden death of her therapist plunges Marjorie into a deep, dark state of depression that culminates in a meltdown of epic proportions in, of all places, a Disney store, she is delivered from the spiritual poverty of despair by the serendipitous appearance of her flamboyant childhood friend, Lee, a self-proclaimed "passionate pain in the ass" who's shared soup with Andy Warhol, discussed landmines with Princess Di and marched with Martin Luther King, Jr. The next thing Marjorie knows, Lee is living with her and her husband and indulging in more than just their psychiatric red varietals wine.
The script has been updated since Busch wrote it in 2000. Yet, it retains the numerous cultural and historical references that have made the play a fan favorite no matter where it is performed. And, like Vampire Lesbians of Sodom and Psycho Beach Party, The Tale of the Allergist's Wife is sassy, sophisticated, irreverent metropolitan Manhattan comedy at its finest.
On Broadway, the roles of Marjorie and Lee were played by Linda Lavin (for whom Busch actually wrote the role) and Michele Lee. In L.A., Valerie Harper substituted for Lavin. For the New Phoenix production, Brenda Kensler and Director Tony Saracino have cast Stacy Stouffer and Gerrie Benzing in the roles of Marjorie and Lee. It's a perfect pairing. Not only do the two have history together (both played in DMV at Lab Theater), but each is perfect for her role. Stauffer sparkled in New Phoenix's production of Time Stands Still.  Disturbingly narcissistic as Theresa in Circle Mirror Transformation for The Studio Players, Benzing seems disposed to play the glamorous-albeit-mysterious ingénue.
Carolyn England tackles the role of Marjorie's foul-mouthed, feces-minded mother, Frieda.
The Tale of the Allergist's Wife plays at New Phoenix Theater from March 10 through March 27, 2022.
February 14, 2022.