'Allergist's Wife' play dates, times and ticket information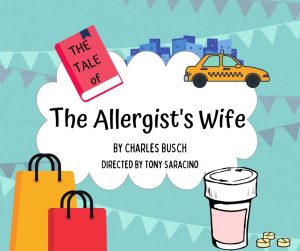 Play:  The Tale of the Allergist's Wife
Playwright:  Charles Busch (Vampire Lesbians of Sodom, Psycho Beach Party)
Synopsis: The storyline revolves around a pampered middle-aged Upper West Side doctor's wife by the name of Marjorie Taub, who falls into a deep, dark state of depression that culminates in a meltdown of epic proportions in, of all places, a Disney store. However, she is delivered from despair by the serendipitous appearance of her flamboyant childhood friend, Lee, a self-proclaimed "passionate pain in the ass" who's shared soup with Andy Warhol, discussed landmines with Princess Di and marched with Martin Luther King, Jr. The next thing Marjorie knows, Lee is living with her and her husband and indulging in more than just their psychiatric red varietals wine.
Awards: Winner of the Outer Critics Circle John Gassner Award
What the Critics Said:
"A window rattling comedy of mid life malaise…Mr. Busch has swum straight into the mainstream… The Allergist's Wifeearns its wall to wall laughs." – The New York Times
Director:  Tony Saracino
Cast:
Play Dates and Times: 
8:00 p.m. shows are on Thursdays, Fridays and Saturdays, March 10, 11 & 12, 17, 18 & 19, and 24, 25 & 26.
3:00 p.m. matinees are on Sundays, March 13, 20 and 27
Tickets:  $25. Please telephone 239-284-5214 or visit https://www.newphoenixtheatrefortmyers.org/box-office.
COVID Protocols: Everyone in the cast and crew at New Phoenix Theatre are vaccinated for your safety. For the safety of all, masks will be required while inside the theater.
Location: New Phoenix Theatre is located at 13211 McGregor Blvd., Suite 1 & 2, Fort Myers, FL 33919.
February 14, 2022.