'Night and Day' unfolds entirely through the lyrics of Cole Porter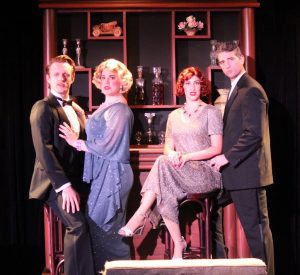 On stage at Players Circle Theatre for five more shows is Night and Day.  It follows two couples who try to recapture the love they once shared before they embarked on improvident dalliances. But make no mistake. Night and Day is no juke box musical, an excuse to merely pay homage to one of America's most beloved songwriters. Rather, co-creators Robert Cacioppo and Victoria Casella have woven together some 39 of Porter's songs to tell a story that does not include a single line of spoken dialogue!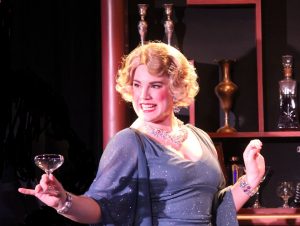 "The story unfolds entirely through the lyrics of Cole Porter," reveals Casella. "It's very sophisticated. It's very clever. Very unique."
And pure '30s – the era that Cole Porter so expertly encapsulated in his canon of Broadway standards.
A composer, songwriter and playwright, Cole Porter was best known for a series of successful musicals that included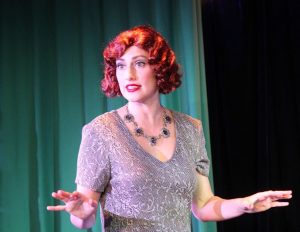 Kiss Me Kate (which won the very first Tony Award for a musical), Anything Goes, Can-Can and Silk Stockings. But he also wrote the music for Hollywood films.
Casella refers to his catalogue of songs as "the bible." It includes "I Get a Kick Out of You" (Anything Goes), "After You, Who?" (Gay Divorce), "Begin the Beguine" and "Just One of Those Things" (both from Jubilee),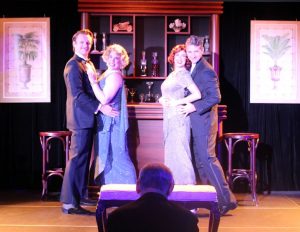 "Easy to Love" and "I've Got You Under My Skin" (both from the film Born to Dance), "Down in the Depths" (Red, Hot and Blue), "In the Still of the Night" (the film Rosalie), "Do I Love You?" (Du Barry Was a Lady), "Too Darn Hot," "So in Love" (from Kiss Me Kate) and, of course, "Night and Day."
Individually and collectively, Porter's music "express[es] erotic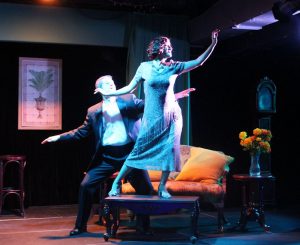 feeling rather than tenderness or exhilaration; in them ardor is firmly controlled, even subordinated, to elegance of style," wrote Dale Harris for the New York Times in 1973. "Porter was a master of worldliness. In his music he showed himself to be wise to the ways of life, cagey, self‐protective, something of an aristocrat in preferring restraint to the open display of passion."
And he often chose to express his feeling through wry wit and droll humor,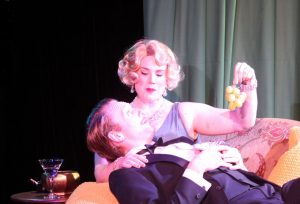 as in "I Get a Kick Out of You" and "You're the Top."
But what lends Porter's anthology to Cacioppo and Casella's unique brand of storytelling is Porter's lyrics.
"Even though I love the music of Cole Porter, the thing that makes him so incredibly special are his lyrics," says Casella.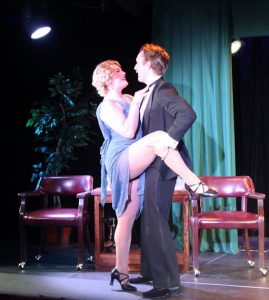 "His lyrics are so beautifully crafted. That was his true gift."
If you're familiar with Cole Porter, Casella points out, then you'll undoubtedly recognize most of the verses and songs that she's incorporated into the storyline of Night and Day.
"But there will be a few that you don't know because there's actually one song in the show (in Act Two) that was never published," Casella relates.
To synthesize the songs into a cohesive and cogent storyline, Casella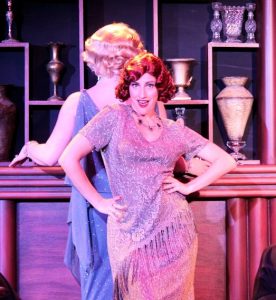 painstakingly pieced together medleys and transitions that lead from one song to the next, and over the course of several months she rearranged others into solos with harmonies, duets and, of course, quartets that feature all four actors, Natalie Brouwer (Linda), Elizabeth D'Aiuto (Tilly), Matt Michael (Donald) and Andrew Scoggin (Charles).
Hers was not a solo effort.
Along the way, Casella collaborated with Bob Cacioppo and Director Artie D'Alessio.
For example, Cacioppo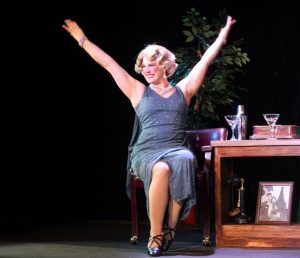 insisted that she use "But in the Morning No" to open the second act. Although she had her doubts, Victoria quickly discovered that it fits perfectly in terms of the story that Night and Day tells.
As for the title song, "Night and Day" is not only her favorite Cole Porter standard, but perhaps the most perfect song he ever wrote.
"It's romantic. It's passionate. It's beautiful. The words are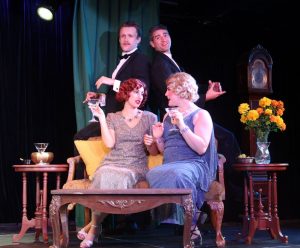 gorgeous."
While audiences won't see Casella during the performance, she's very much in evidence throughout the show. Not only is she responsible for the arrangements, she accompanies the actors on piano throughout the 90-minute performance – albeit off stage, ensconced in a darkened space she affectionately refers to as "the garage."
Victoria Casella is an actor, singer, musical director,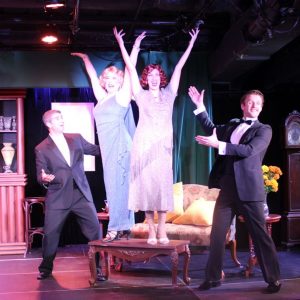 pianist and arranger. Some of her recent MD/Arranger/Creative Team credits include Let's Fall in Love, Night and Day: Love Lost and Found Through the Eyes of Cole Porter and Fascinatin' Gershwin for Florida Repertory Theatre; The Green Crow Caws for The Irish Repertory Theatre in New York; and Night and Day for The Theatre Barn.
Her Musical Directing credits include A Gentleman's Guide to Love and Murder, Tenderly: The Rosemary Clooney Musical and Spelling Bee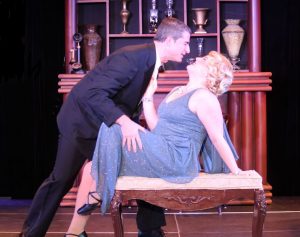 for Florida Rep and Elliot and Me for Hudson Theater Works, including a pandemic livestream for Laguna Playhouse and Sonoma Arts Theatre.
Acting credits Susanna in Daredevil, Mrs. Aaronson in The Gold (NYMF) and Marie (understudy) in The Most Happy Fella (Goodspeed). Most recently, she is co-author and musical arranger of Where The Time Goes, formerly titled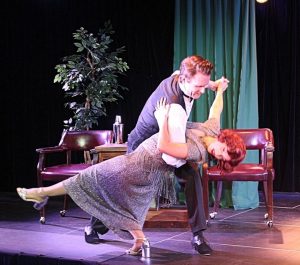 The Circle Game (spring PlayLab, Florida Rep).
Victoria was recently awarded Broadway World Best Musical Direction for Regional Theater (Fort Myers/Naples, Florida) for her work on Night and Day at Florida Rep.
For remaining play dates, times and ticket information, please go here.
January 11, 2022.