'Other Desert Cities' no Currier & Ives Christmas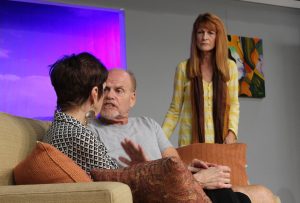 In Jon Robin Baitz' "Other Desert Cities," the kids of the Wyeth family have come home to celebrate Christmas with mom, dad and crazy Aunt Silda, but this isn't your typical feel-good holiday reunion.
"The daughter has written a book, and in that she covers her oldest brother's suicide," observes Director Paula Keenan.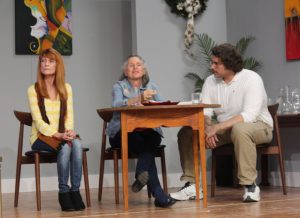 "It's not a happy time for Christmas Eve. This is not a Currier & Ives Christmas, okay?"
Written in 2011, "Other Desert Cities" enjoyed a successful Broadway run and seven-month stint at Lincoln Center. Since then, it has been widely produced around the country in regional and community theaters. Among its accolades are the Outer Critics Circle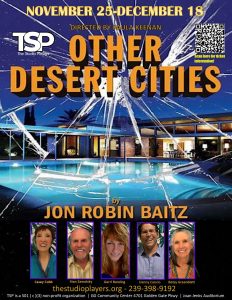 Award for Outstanding New Off-Broadway Play and five Tony Award nominations. It was also a Pulitzer Prize finalist.
Go to WGCU to find out more about the show from Ms. Keenan, Casey Cobb and Gerrie Benzing, who play Brooke Wyeth and her aggrieved mother Polly.
November 19, 2022.
RELATED POSTS: