Much more going on in 'Golden Pond' than love story between Norman and Ethel Thayer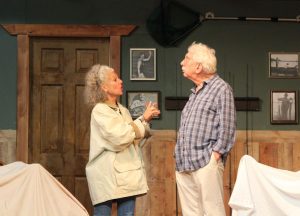 On stage in the Joan Jenks auditorium in the Golden Gate Community Center this weekend and next is The Studio Players' production of Ernest Thompson's On Golden Pond. It's a remarkably crafted character study thanks in large measure to Ernest Thompson's script, Brett Marston's direction and the amazing performances rendered by his entire cast.
On Golden Pond was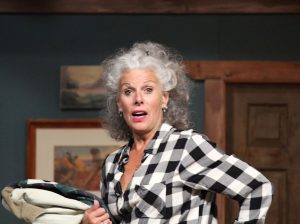 originally written for the stage. First performed in 1979, it earned two Tony nominations, including one for Frances Sternhagen as Norman's wife Ethel. The role earned Katherine Hepburn an Oscar in the movie. The show was again produced on Broadway in 2005. This time, James Earl Jones played Norman Thayer; Leslie Uggams played Ethel. Jones earned a Tony nomination as did the play for Best Revival.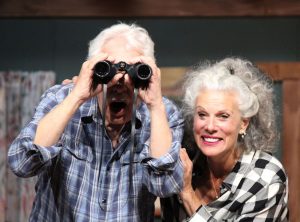 Distilled to its essence, On Golden Pond is a love story between Norman and Ethel. But against that backdrop, there's so much more going on.
For one, Norman is contending with chronic congestive heart failure and the early stages of dementia. As the storyline makes clear, illnesses like these don't just affect one spouse. Ethel is equally involved – not only as Norman's loving partner, but as his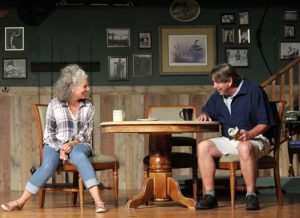 patient and supportive caretaker.
Norman is preparing to observe (as opposed to celebrate) his 80th birthday and, given his medical maladies, it's an occasion that prompts him ponder his impending mortality. His coping mechanism of choice is gallows humor. He jokes that his 80th and their 48th summer on Golden Pond will be his last.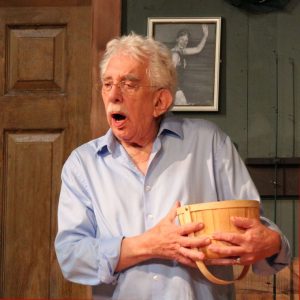 When the time comes, he tells Ethel, "Prop me up on the mantel so I can throw myself in the fireplace," just as Ethel's old doll, Elmer, had done. Cantankerous bordering on contumacious, Norman isn't just kvetching about losing his health and his hair. The morbid jokes get a rise out of his wife. "Your fascination with dying is beginning to frazzle my good humor," she chides in response. But from her point of view, his incessant joking underscores the likelihood that she'll be called upon to forge on without him sooner than later.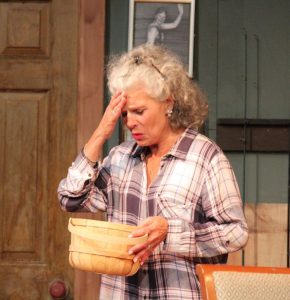 Victor Caroli plays the sardonic glass-half-empty college professor. Under Brett Marston's careful direction, Caroli brings out the irony implicit in Norman's situation. As a younger and even middle-age man, Norman possessed an intellect far superior to those around him, including his wife and daughter. As a Mensa-level Brainiac, he enjoyed playing mind games with people for his own perverse amusement. Now his mind is slipping and he struggles to keep up not only with Ethel, but the Golden Pond mailman, Charlie Martin, played by Keith Gahagan.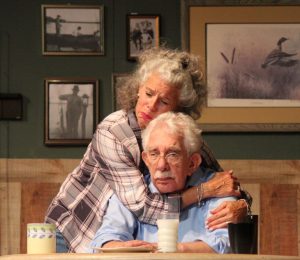 Caroli excels at playing complex, nuanced characters. He was brilliant in his last Studio Players' production, Cat on a Hot Tin Roof, where he portrayed Big Daddy. He's just as good here. Caroli doesn't just make the abrasive curmudgeon lovable at the appropriate times, he actually elicits sympathy, if not empathy, from the audience as he grapples with the increasing erosion of his mental acuity and desperately resorts to only partially successful strategies intended to keep his wife, daughter and even the mailman from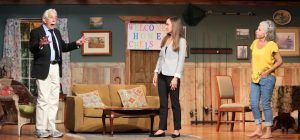 realizing the extent of his growing cognitive deficits.
Hollis Galman is equally good in the role of Ethel Thayer. Under Marston's direction, Galman leaves no question about the depth of her love for Norman. In spite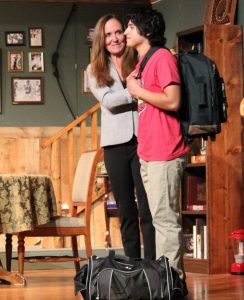 of his many flaws and failings, she adores her husband even after the passage of decades. A realist to the core, she's cognizant of his foibles but loves him notwithstanding their existence. She gets that he is and has always been a man who is unable to reconcile his mental and emotional lives. Rather than deny, become angry or withdraw in the face of her husband's growing dementia, she accepts him and the condition with grace and equanimity. Rather than criticize him for what he doesn't do, she celebrates the small things he is still able to accomplish. Sure, that places a greater physical and emotional burden on her, but that's just the way it is.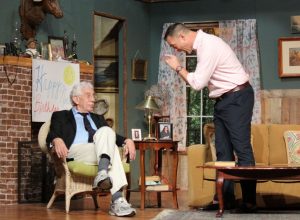 This point is best illustrated by an incident that occurs early in the play's first act. To get Norman out of the cottage for a bit, Ethel hand him a pail and tells him to go down the path and pick some berries. He returns somewhat frazzled not long after. He tells her he's going to add the berries he picked to those she'd gathered earlier, but his pail is empty. She knows intuitively that he's not being ornery. Rather he's frightened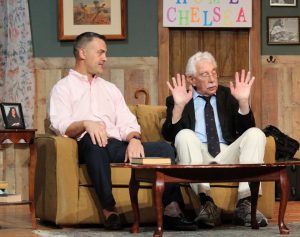 and confused by a world he no longer recognizes. Rather than dismiss his fears as silly or irrational, she acknowledges their validity and provides him the comfort of her embrace. Galman doesn't just bring a palatable degree of patience and tenderness to this scene; she reveals through her facial features and body language just how frightened she is for her husband and for herself.
While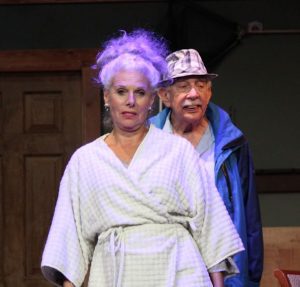 Ernest Thompson's prescient script admittedly controls the action and character development over the course of the play, Marston and Galman deftly mine several life lessons from the script that give direction and solace to the 16 million American spouses and other family members who are caring for someone with dementia. Ethel Thayer allows herself to become exasperated without giving in to frustration. She keeps her communications with Norman short, simple and clear. She gets in his face, makes eye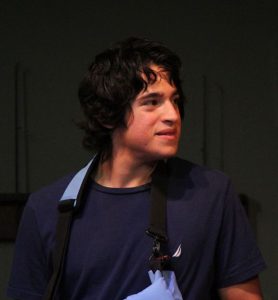 contact and uses gestures and touch to get his attention. And she makes sure that Norman gets plenty of sensory stimulation and socialization.
And that's the chief reason she continually invites the mailman inside for coffee and muffins, and her primary motivation for having her daughter, Chelsea, and her boyfriend, Bill Ray, leave his son at Golden Pond for a month while they vacation in Europe. Oh, she couches the idea as a conciliatory gesture toward Chelsea, but it's apparent that the boy's presence in the cottage provides Norman with a level of mental stimulation and physical activity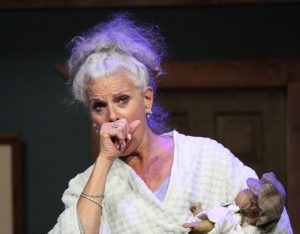 that Ethel is not prepared or equipped to provide. Plus, it gives her a much needed respite from doting on her husband while discharging a laundry list of daily chores.
But herein lies the most intriguing subplot of the entire play.
As any grandparent will eagerly attest, trying to keep up with a grandchild will get you moving better than any gym or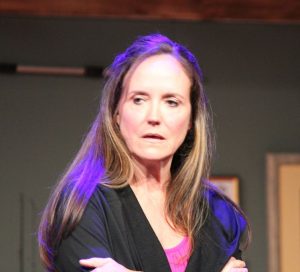 exercise regimen. And trying to learn the lingo and keep pace with a teen is better than any crossword or jigsaw puzzle ever invented. So it is with Norman and Billy Ray. Where he was fazed and unnerved by the prospect of picking berries, Norman cannot wait to get out on the water to fish with the young urban L.A. teen.
At the time Thompson wrote On Golden Pond, our collective knowledge of Alzheimer's and dementia was only just emerging.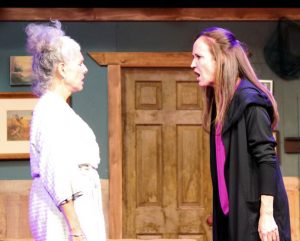 But the script was prescient. We now know, for example, that there's nothing like grandchildren to keep older adults active and joyful.
In fact, a recent (2018) study shows that babysitting grandchildren may actually prevent or retard Alzheimer's disease by increasing brain function and memory and decreasing rates of depression. The study was conducted by the Women's Health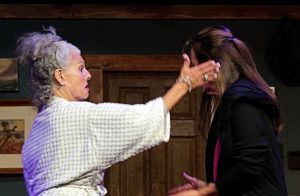 Aging Project in Australia, and the results indicated that postmenopausal women who spend one day a week caring for their grandchildren may have a lower risk of developing Alzheimer's and other cognitive disorders. While the reason for the correlation is not clear, it is thought that regular social interaction can have a positive effect on the mental health of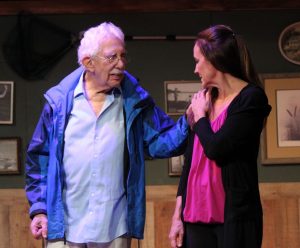 seniors and lower their risk for Alzheimer's and even prevent an early demise. [A much larger study conducted by the Survey of Health, Aging and Retirement in Europe (of 6,274 women between the ages of 50 and 80) found that caring for grandchildren improved cognitive function, verbal fluency and both immediate and delayed recall.]
Regardless of the reasons and research,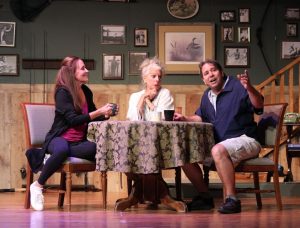 Norman thrives as his relationship with Billy Ray grows. In fact, interactions between the two is a reason the audience develops such affection for the character of Norman, a result that is facilitated by the onstage chemistry shared by Caroli and Jay Carmona, who makes his theatrical debut in the role of Billy Ray.
The relationship between Norman and Billy Ray is interesting for another reason.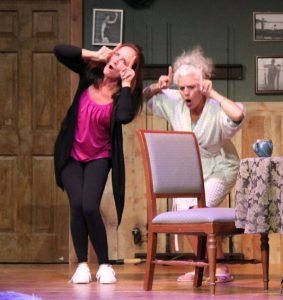 It underscores just how poor Norman's relationship is with his own daughter, played by Dede Tucker Brownlee. Chelsea was apparently a sensitive girl who yearned for but never won the love and acceptance of her demanding, overbearing and emotionally unavailable father.  At the crux of the problem is the sad fact that Chelsea turned out to be something of a disappointment. To complicate matters, Norman resorted to using his dry wit not only to tease her, but as a prod. That combination proved deleterious over time not only to their relationship, but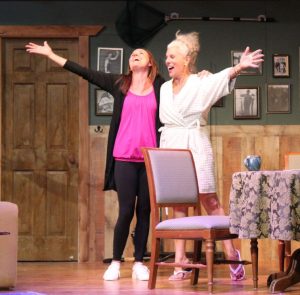 to his daughter's ego and self-esteem. It's probably fair to say that she'd have nothing to do with the crusty old bird if it weren't for her mother. Brownlee is exceptional as the tortured young woman who must realize in the end that if it weren't for Billy Ray, her father would probably have little interest in either her or big Bill.
Keith Gahagan and Joe Logrippo are also terrific in their supporting roles as Charlie Martin the postman and Bill Ray the dentist. Both make invaluable contributions to the story and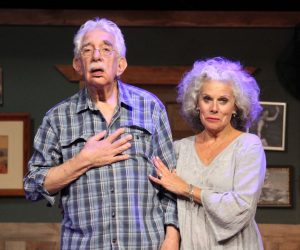 overall production. Gahagan is immensely enjoyable as the cheerfully simplistic mail carrier Charlie Martin and Logrippo, who is also making his theatrical debut, turns in a strong performance that portends well for him going forward.
It also bears mentioning that the set in this production also functions as a supporting character. Attention has been paid to even the smallest of details in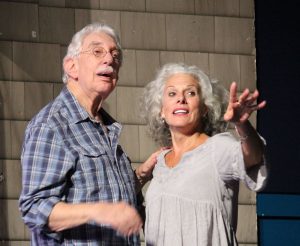 the successful effort to recreate the Thayers' summer cottage on Golden Pond in Maine.
So while On Golden Pond is a love letter between Norman and Ethel Thayer, the play is about so much more. It's another classic in the ilk of Cat on a Hot Tin Roof, and just as well directed and acted. On Golden Pond is on stage through April 4.
Go here for On Golden Pond's remaining play dates, times and ticket information.